Trump's LOW RATINGS Attention Grab. Wonkagenda For Wed., Jan. 25, 2017
Culture
January 25, 2017 09:04 AM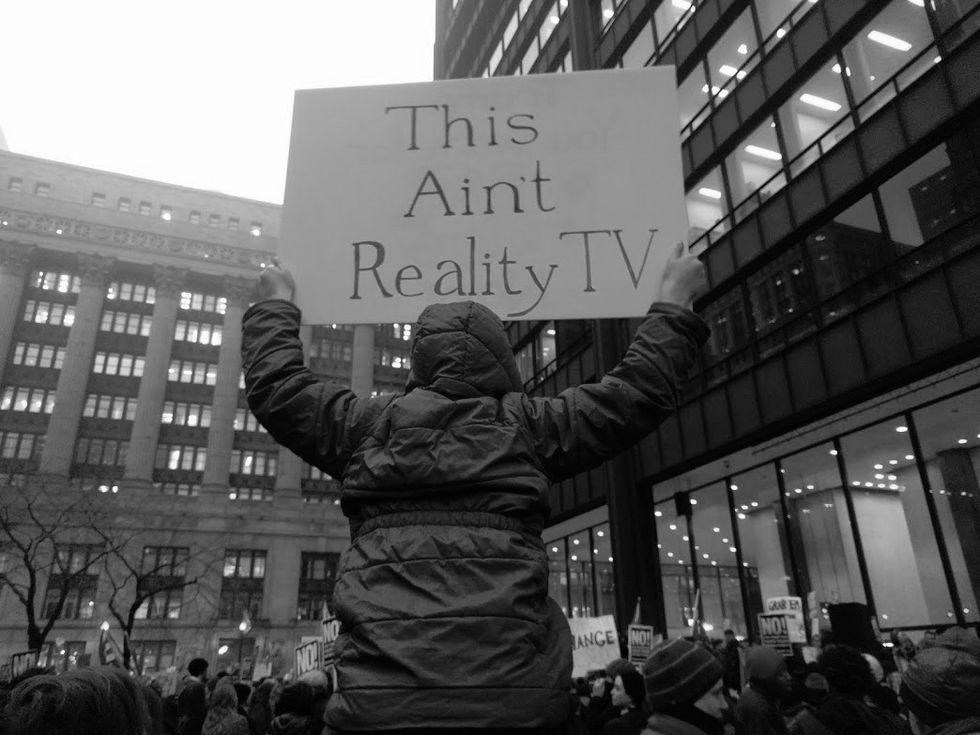 ---

The city of Chicago has once again told Donald Trump to go fuck himself after he threatened to impose martial law to quell gun and gang violence.
Multiple federal agencies are backing up climate science data in fear of a purge by Trump officials who clearly think you can just delete 70 years of climate research from the EPA. [Archive]
Trump will sign executive orders to build THE WALL and kick out all the spooky brown people who didn't vote for him.
Trump's Supreme Court nominees have apparently crossed the lake of fire, eaten enough bugs, and sold enough Trump bullshit, allowing him to announce that he SAYS he'll make his SCOTUS pick next Thursday.
Trump decided to piss all over you bleeding heart Earth-first hippies and woo-woo Americans, authorizing the construction of the Dakota Access and Keystone XL oil pipelines.
Trump is still trying to keep up with Yr Wonket's sleepless intern; tweeting from the shiter early this morning about investigating all the illegal votes that were never cast by Not Americans.
Wrasslin' lady Linda McMahon sailed through her confirmation hearing, because nothing says "small business" like a lady who can suplex a small business.
Wilbur Ross will bankrupt everything now that he is our new Commerce secretary. Hurray, poverty!
Mike Mulvaney, Trump's pick for Office of Management and Budget, had his confirmation hearing before the Senate yesterday, and damn did they rake his ass over the coals. In other words, they'll probably approve him too.
Former South Carolina Gov. Nikki Haley is your new U.N. Ambassador, at least until the U.S. pulls out of the U.N.
Republicans will fuck off to Philly to scheme this weekend with British Prime Minister Theresa May as part of some weird, annual retreat with lots of locked doors AND ABSOLUTELY NO PEE HOOKERS.
Looks like Peter Thiel bought himself New Zealand citizenship. So much for America first.
Have you wondered what the wealthy Trumpkin voters think now that they're content to sit on their rich, fat asses while Trump burns down the planet one tweet at a time? (Warning: hide heavy objects!)
If you thought that was bad, you'll absolutely believe what Trumpkins think about inauguration crowds when given the two photos, and what that actually means.
After Pat McCrory was called a bigot and "chased" down a non-existent alley in D.C., North Carolina legislators want to make it a crime to hurt the feefees of North Carolinian lawmakers.
Mexico will not be taking a siesta anytime soon now that Trump wants to kill NAFTA; and it plans to strong arm the U.S. by any means necessary.
Mike Huckabee doesn't know who these millions of voting illegals are, presumably because Jesus isn't telling him. Fool, J.C. ain't no snitch!
Donald Trump is home alone, and that means anything can happen! Will Donald's team keep him out of trouble, or will his wacky shenanigans plunge the United States into irreparable chaos? Find out this Spring, only on FOX!
In between his spastic conservative bitchfits and open-faced fellating of Donald Trump, Joe Scarborough shut the fuck up for 30 seconds and let Mika Brzezinski rag on Sean Spicer's hostage video. Of course, he immediately went right back to interrupting her with whiney man-splainers.
A smart professor person suggested news outlets ignore Kellyanne Conway because she's a goddamn liar (and a terrible comedian). Now it looks like some organizations are actively considering it.
Science bozos will march on Washington in March with their "facts" and "evidence" and bongs"graduated cylinders" in protest of cuts and digs to people working in to STEM fields. There's also protests being planned for April 15 (Tax Day).
And here's your morning nice time: BABY MONKEYS being abso-freaking-lutely adorable!
Dominic Gwinn
Dominic is a broke journalist in Chicago. You can find him in a dirty bar talking to weirdos, or in a gutter taking photos.