Tucker Carlson Doesn't Want To Wank To Fat Chicks
News
February 15, 2016 02:00 PM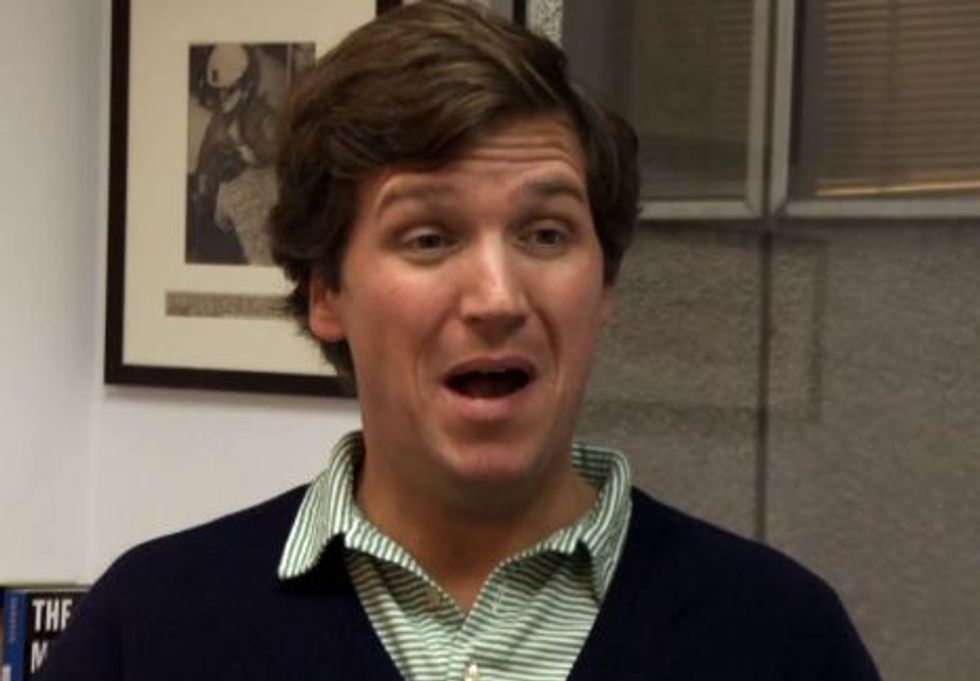 Tucker Carlson's "O" face
---
Have you been wondering what kind of Hot Sexxxytime Pix Tucker Carlson likes best? No, of course not, but that is not going to stop us from telling you. It turns out that when Tucker Carlson slides down his tighty-whities and looks at the swimsuit issue of Sports Illustrated (for the articles, uh uh), he does not want to see any of those hideous behemoth plus-size uggos, thank you very much. Just listen to him hissy-fitting about it on Fox News:
"Does it really need to be political?" Carlson whined. "You know what I mean? Politics now in the swimsuit issue. That is disgusting."

"Says the most politically energized man I know," [Fox host Sandra] Smith shot back.

"Keep it out of my swimsuit issue," Carson griped.
[contextly_sidebar id="z76vPknXySIDUODC0JcjxCuhGJYDfige"]It figures Tucker Carlson would consider hot curvy chicks on his fap 'zine "disgusting." Carlson is a proud sexist pig, after all, who has very clear ideas about how the ladies are supposed to behave in Tucker Carlson's universe. For example, "whiny and annoying" bitches should not write emails asking for corrections to stories on his "website" when his "facts" are wrong. That's just begging for a sneering response from Carlson:
Outside of New York City, adults generally write polite, cheerful emails to one another, even when asking for corrections. Something to keep in mind the next time you communicate with people who don't live on your island.
Such a charmer, that guy. No wonder he's so offended that Sports Illustrated went all radical feminist, undermining the sanctity of traditional chicken-choking, by featuring three practically naked chicks -- Ronda Rousey, Ashley Graham, Hailey Clauson -- on its softcore porn covers. Just look at this liberal claptrap from Assistant Managing Editor MJ Day: 
The three covers of Hailey, Ronda and Ashley celebrate the new SI Swimsuit. All three women are beautiful, sexy and strong. Beauty is not a cookie cutter. Beauty is not 'one size fits all.' Beauty is all around us and that became especially obvious to me while shooting and editing this year's issue.
Gross. Obviously, this MJ Day person should be fired, like, yesterday because wrong, wrong, wrong, SO WRONG. There is only one kind of beauty in the world, and it is blonde and size negative five, and how the hell is Tucker Carlson supposed to starburst to this?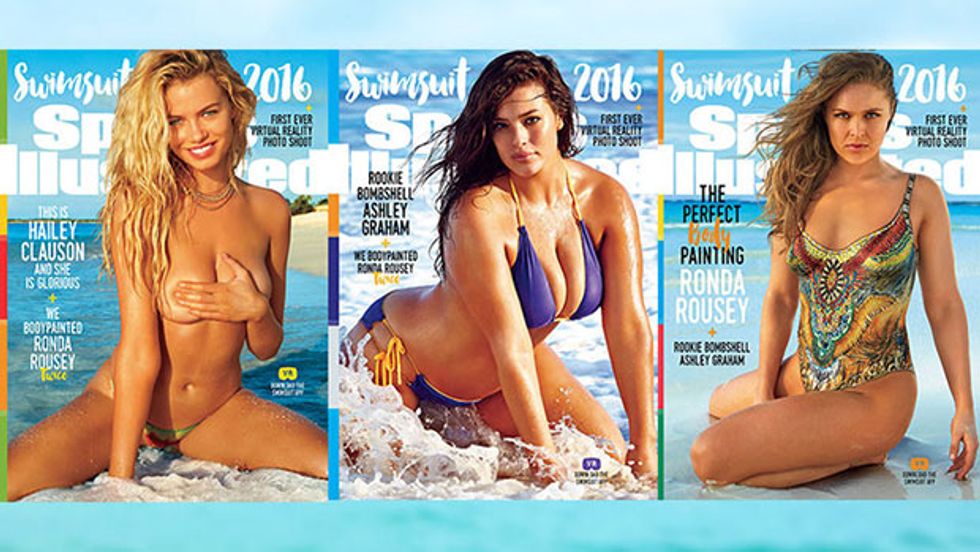 Gross
No wonder America is going straight down the toilet, when Tucker Carlson is forced to jerk off to models who look like they remember to eat lunch every now and then. THANKS OBAMA.
Do we even want to imagine what kind of broads Tucker Carlson considers acceptably apolitically spank-worthy? Heck no we do not because now we have to go throw up forever and so do you.