Tulsa To Trump: Stay Home
Trump
June 16, 2020 09:07 AM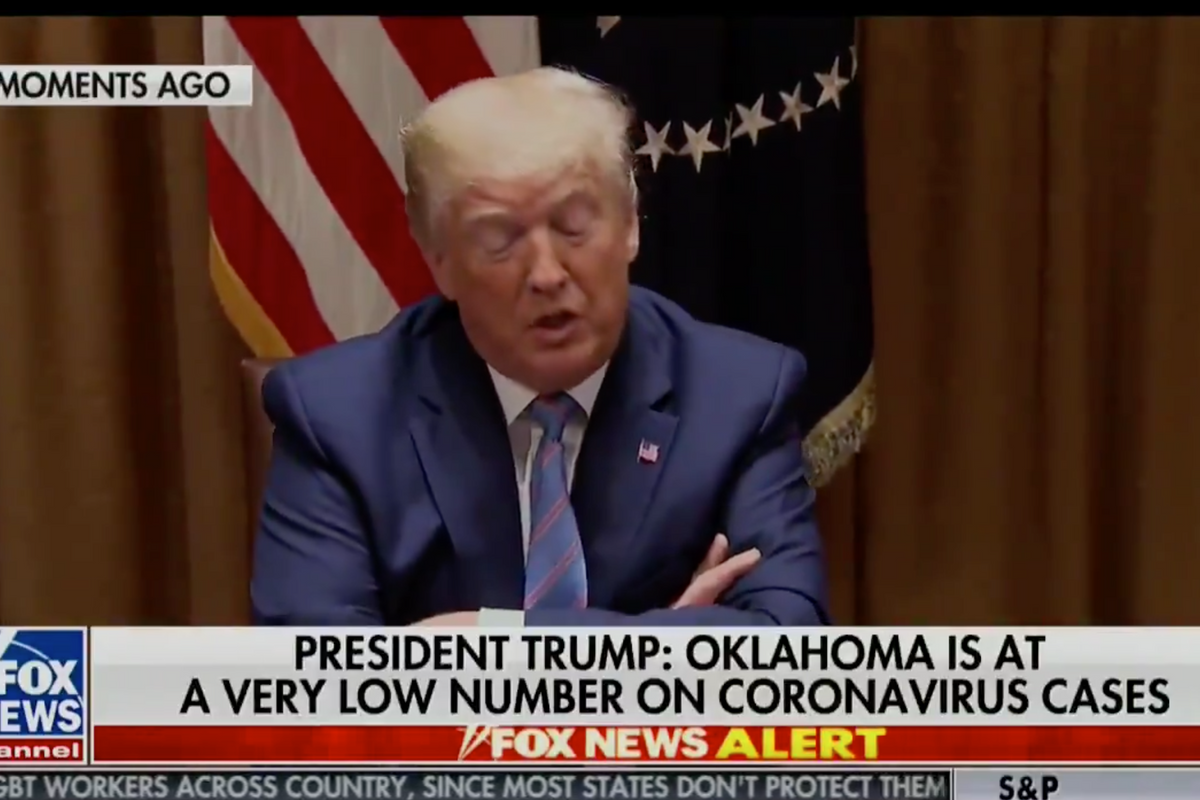 Reasonable people in Tulsa, Oklahoma, would rather Donald Trump not hold his Klan bake rally this Saturday. The BOK Center arena was already closed through July because of the pandemic, and is only opening, at great risk to all involved, for this showcase of the president's malignant vanity.

Dr. Bruce Dart, director of the Tulsa City-County Health Department, said he's just plain overjoyed Trump would choose Tulsa for this comeback special, but the "significant increase" in COVID-19 cases has him wondering if it's such a good idea:
"I think it's an honor for Tulsa to have a sitting president want to come and visit our community, but not during a pandemic," said Dart. "I'm concerned about our ability to protect anyone who attends a large, indoor event, and I'm also concerned about our ability to ensure the president stays safe as well."
Well played, doc. We all know Trump's an egomaniac who only cares about himself. If Trump could actually see the coronavirus coming his way, he'd probably try to use a baby as a human shield.
---
Trump defends plan to hold political rally in Oklahoma on Saturday, despite local officials urging him to postpone… https://t.co/VW7wN9o0j1

— Aaron Rupar (@Aaron Rupar) 1592252828.0
Tulsa reported 225 new coronavirus cases on Saturday. That's a new daily high for both the county and the state. Tulsa Mayor G.T Bynum lifted the city's stay-at-home order on May 1, despite infections still trending upward. He claimed he had no choice because the state as a whole was easing restrictions and Tulsa doesn't exist in a bubble (fact check: true!). Governor Kevin Stitt'sreopening plan for the state now permits events of any size while simultaneously advising citizens to "minimize time spent in crowded environments."
"A large indoor rally with 19-20,000 people is a huge risk factor today in Tulsa, Oklahoma," Dart said. " ... I want to make sure we can keep everyone in that building safe, including the president."
Naturally, when asked flat out Monday, Trump lied about the threat his rally poses. He said we're making "tremendous progress" on "COVID or coronavirus ... whatever you want to call it." We'd all feel more comfortable if the president knew what to call it.
Pence says Oklahoma has flattened the curve https://t.co/LvhkV51vca

— Acyn (@Acyn) 1592251992.0
Vice President Mike Pence was also happy to break a commandment or two. He claimed Oklahoma has "in a very real sense ... flattened the curve." The curve has sloped upward all month. Pence also reassured us Oklahoma's hospital capacity is "abundant." You'll notice Pence is a much better liar than Trump. He's far more relaxed, while Trump has his arms crossed and looks real sketchy. This is why Trump couldn't make money in the casino business, probably.

Pence boasted that Trump supporters will receive masks, hand sanitizer, and temperature checks before sitting in a packed arena for a few hours. He should inform the dormant live event industry how easy it is to assemble large groups of people safely.
The president whined earlier on Twitter that our concern for public health is just an attempt to "COVID-shame" him.
This is another thrilling installment of Trump's False Equivalency Theatre. Rioters and looters are, you know, breaking the law, and they were arrested. "Democrat-run cities" set curfews, and the police even arrested and tear gassed peaceful protesters. The people showing up for Trump's rally don't expect the cops to put out their eyes or shoot them in the nuts. They anticipate a nice, wholesome evening of race-baiting.
In a scathing editorial Monday,Tulsa World declared it "can't see any way that [Trump's] visit will be good for the city."
Tulsa is still dealing with the challenges created by a pandemic. The city and state have authorized reopening, but that doesn't make a mass indoor gathering of people pressed closely together and cheering a good idea. There is no treatment for COVID-19 and no vaccine. It will be our health care system that will have to deal with whatever effects follow.
The editorial board notes that Oklahoma is hardly a swing state, so the rally is not just reckless, it's pointless. Trump is a "divisive figure," which is a polite way of saying people fucking hate the guy. It's not like Bon Jovi is playing (his performance at BOK was cancelled). There are bound to be protests, especially because Trump deliberately chose the site of the worst race massacre in history. The rally was also originally scheduled on Juneteenth, a date of great significance to Black people, who he offends daily.
GOP Chairwoman Ronna ROMNEY McDaniel further demonstrated the party's contempt for Black Americans when she pointed out Democrats were supporting protests against police brutality while hypocritically slamming Trump's rally.
MCDANIEL: Thousands and thousands of people — especially with the African-American community that has been disproportionally affected by this — and you saw Democrat mayors and Democrat out there with these protesters, not talking about PPE.
Lady, Black folks are also disproportionately affected by cops choking us out on the street. McDaniel thought it was so unfair that there's all this much scrutiny now that Trump just wants to inflate his ego. She also couldn't confirm that the event will require people to wear masks.
MCDANIEL: But I think masks will be optional and people will be able to wear them if they bring them or want them. You know, the American people can make decisions for themselves. We're all pretty informed about COVID at this point.
If you're informed about COVID-19, you wouldn't attend an event with more than 20,000 people without wearing a mask or social distancing. Everyone there will have to wear shoes, and smelly feet never put anyone in the hospital. These fools have already presided over an appallingly high death toll but they can't help needlessly increasing it.
[Tulsa World / Raw Story]

Follow Stephen Robinson on Twitter.
Do your Amazon shopping through this link, because reasons.
Yr Wonkette is supported entirely by reader donations. Please click the clickie, if you are able!
Stephen Robinson
Stephen Robinson is a writer and social kibbitzer based in Portland, Oregon. He writes make believe for Cafe Nordo, an immersive theatre space in Seattle. Once, he wrote a novel called "Mahogany Slade," which you should read or at least buy. He's also on the board of the Portland Playhouse theatre. His son describes him as a "play typer guy."