QAnon People Still Trusting The Plan, Two Days From Biden Inauguration
Right Wing Extremism
January 18, 2021 11:41 AM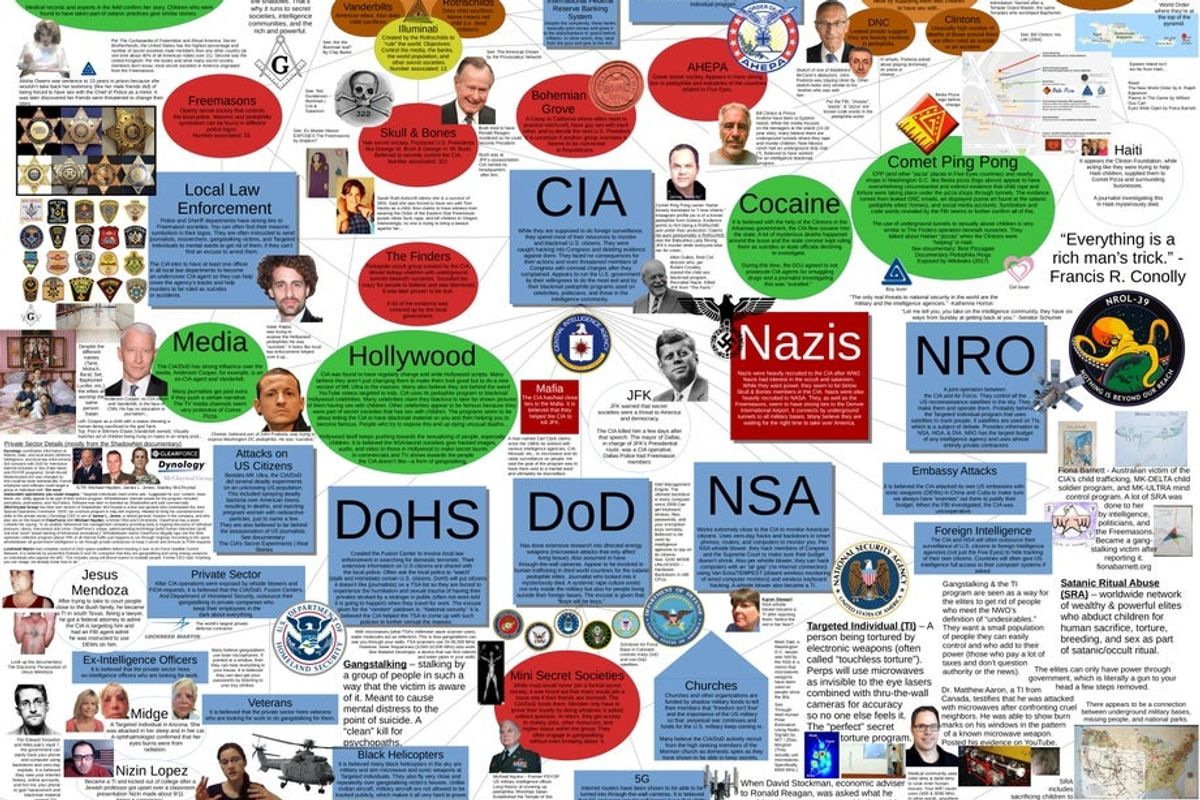 You would think, with it being only two days until Joe Biden's inauguration as president of the United States of America, that belief in QAnon conspiracies would be petering out. It is not. In fact, there are even a lot of posts on message boards like the GreatAwakening.win and the QStorm forum on Poal (yet another semi-Reddit clone where adherents migrated after Voat was shut down) from people saying they have just accepted all of this nonsense as true within the last couple weeks.
While a few are posting asking for "hopium" — by which they mean new conspiracy theories to help them maintain their faith — many, if not most, seem incredibly confident that this is all just part of "the plan." And that they should "trust the plan."
Since QAnon has mostly been purged from social media, some adherents have started communicating through text messages, which has not been pleasant for their family members. On Reddit, people are reporting getting strange messages from their conservative parents talking about how something big is coming in the next few days.
---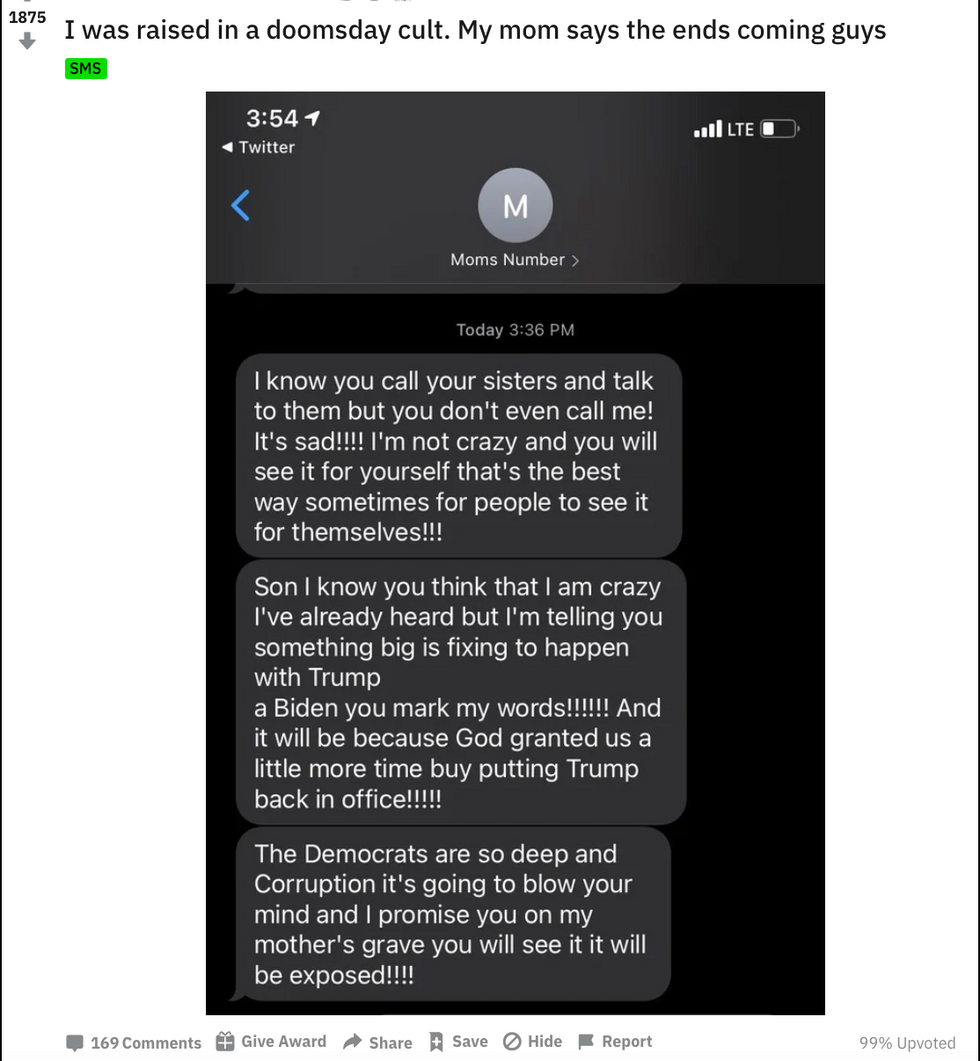 "I was raised in a doomsday cult. My mom says the end is coming guys."
Actual text from a QAnon mom to her son:
I know you call your sisters and talk to them but you don't even call me! It's sad!!! I'm not crazy and you will see it for yourself that's the best way sometimes for people to see it for themselves!!!

Son I know you think that I am crazy I've already heard but I'm telling you something big is fixing to happen with Trump a[nd] Biden you mark my words!!!!!! And it will be because God granted us a little more time buy[SIC] putting Trump back in office!!!!

The Democrats are so deep and Corruption it's going to blow your mind and I promise you on my mother's grave you will see it it will be exposed!!!!
The prevailing theory is centered on a three-year-old Q drop that just says "CHECKMATE. Q." Adherents believe this is related to the fact that the Biden team has hired a private security firm called Checkmate to provide security at the inauguration.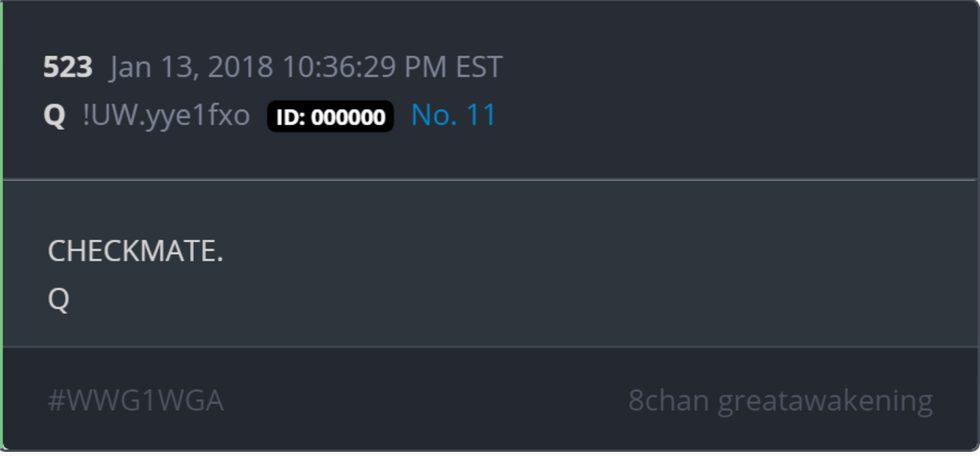 Apparently, as soon as Biden is sworn in, that will be all that is necessary to charge him with the crime of stealing the election from Donald Trump and he will be arrested and the other mass arrests will begin.

Checkmate has provided security for other presidential inaugurations, including Trump's. But sure, why not?
For some, the only proof they need is that Trump asked them to come out January 6, and that he would not have done that to them if there were going to be consequences for their actions.
Assuming this whole thing could go worst case scenario (gulags, purge, etc). We've all pretty much said "yep, I'd die for this" knowing they might be making lists now. This is how I know trump has a plan. He wouldn't request us come out on the 6th, just to be persecuted for doing so later.
They are all just so impressed with how well it's all going and what an incredible genius Trump is.
Can you see all these movies coming to an end?
Can you see all the perspectives?
Everything from CNN normies to us Qbros?
CAN YOU SEE IT UNFOLDING?! I don't care if you are my fellow WWG1WGA bros or paid shill/ low energy hater cucklord. The culmination will soon arrive.
THIS IS A MASTERPIECE - regardless of what happens Orchestrated by 41020
So many possibilities... which one will it be?
Remember, this is literally a fight between Good & Evil Was all these conspiracies a preparation for Q to use?
Pop culture references? Take a moment and marvel at its beauty.
Hope you are ready. Be prepared for EVERY scenario mentally. It shall be a cathartic moment.
OMG....DJT is a genius.
🍿🍿🍿
🐸
What can you see happening RIGHT NOW? Can you appreciate its beauty?
What will you do if something unexpected happens? Can you feel like being on the edge constantly?
WWG1WGA
Some have even theorized that the reason why there have been pictures of things like a bust of Abraham Lincoln being taken out of the White House is because Trump will be moving the new office of the President somewhere else, maybe in the middle of the country. In reality it is because they are going back to the museums from whence they came. (Presidents can decorate with some stuff from certain museums, but it has to go back once they're out.)
Some are thrilled to celebrate the imagined current contributions of "white hat military personnel" to their cause, but also quick to celebrate their own sacrifices as "digital soldiers."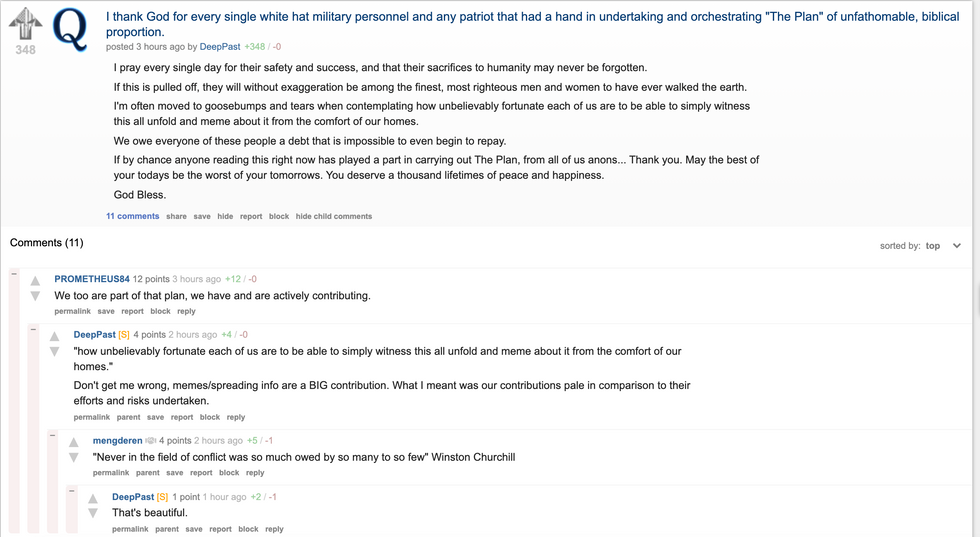 "Never in the field of conflict was so much owed by so many to so few" Winston Churchill
Text:
I thank God for every single white hat military personnel and any patriot that had a hand in undertaking and orchestrating "The Plan" of unfathomable, biblical proportion.
I pray every single day for their safety and success, and that their sacrifices to humanity may never be forgotten.
If this is pulled off, they will without exaggeration be among the finest, most righteous men and women to have ever walked the earth.
I'm often moved to goosebumps and tears when contemplating how unbelievably fortunate each of us are to be able to simply witness this all unfold and meme about it from the comfort of our homes.
We owe everyone of these people a debt that is impossible to even begin to repay.
If by chance anyone reading this right now has played a part in carrying out The Plan, from all of us anons... Thank you. May the best of your todays be the worst of your tomorrows. You deserve a thousand lifetimes of peace and happiness.
God Bless.
Reply text:
We too are part of that plan, we have and are actively contributing.
Yeah.
"Q" has not posted anything since December 8, the inauguration of Joe Biden is happening in two days, and these people are on tenterhooks waiting to celebrate their victory. This shit didn't end after the election, and it is not going to end after Wednesday. It will simply evolve, because these people are true believers and that is what true believers do. And in this case, it's not so much about the story Q is telling them, but the stories they are telling themselves about themselves. The stories where they are fearless patriots, willing to give up anything for a better world. They'd rather be that than lonely weirdos whose families won't talk to them anymore because they won't stop talking about how Tom Hanks is wearing shoes made from the skin of dead babies.
I am currently staying right down the street from Cobb's Hill, in Rochester, NY. Back when I was a teenager, Cobb's Hill was where you went to hang out, smoke pot, see everyone you knew and be super annoyed by hippie drum circles. But on October 22, 1844, Cobb's Hill was where hundreds, maybe thousands of faithful Millerites, AKA followers of preacher Joseph Miller, went to watch the world die.
Of course, the world didn't end, and while a few of them reportedly kill themselves, far more just found new, equally ridiculous things to believe in. With Palmyra, Lilydale and Oneida within a hundred miles, they were not at a loss. They were true believers, and true believers always find a way to work whatever happens into their belief system, because it's preferable to believing they are wrong. So are these Q people. They'll come up with something after Wednesday, too, just watch.
Do your Amazon shopping through this link, because reasons.
Wonkette is independent and fully funded by readers like you. Click below to tip us!
Robyn Pennacchia
Robyn Pennacchia is a brilliant, fabulously talented and visually stunning angel of a human being, who shrugged off what she is pretty sure would have been a Tony Award-winning career in musical theater in order to write about stuff on the internet. Follow her on Twitter at @RobynElyse