TX AG Ken Paxton Investigates Charges Against Him, Declares Self Most Innocent Man On Earth
State/Local Politics
August 25, 2021 02:45 PM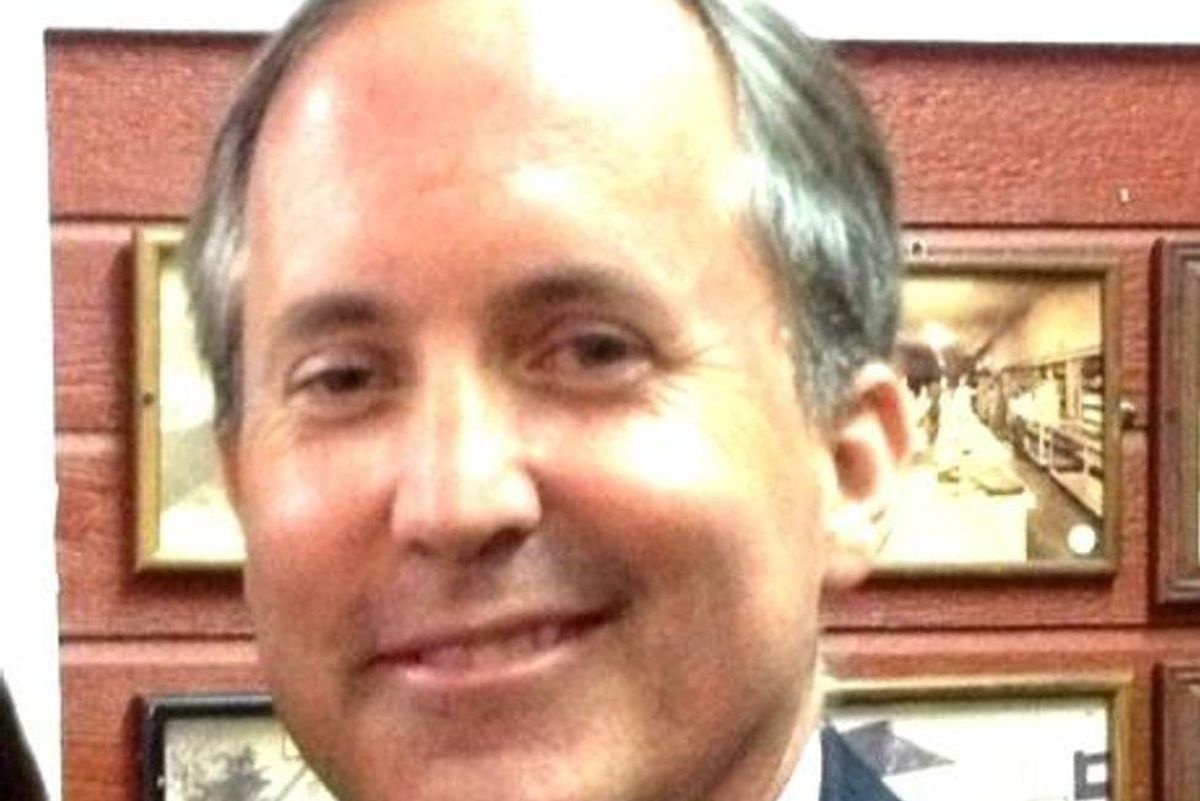 Shocking news, sports fans! Embattled Texas Attorney General Ken Paxton has just declared himself innocent of all charges. No bribery! No abuse of power! No quid pro quo exchange of favors for a major donor! But whoever wrote this extremely credible 374-page report and forgot to sign their name to it has discovered the real criminal, and — PLOT TWIST! — it is those whistleblowers who turned saintly Ken Paxton in.
Well, knock us over with a feather!
---
In October 2020, seven of Paxton's employees came forward with allegations that their boss had repeatedly used his position to benefit one of his major donors, a real estate developer named Nate Paul. After Paul's home and businesses were raided by federal and state officials in 2019, Paxton launched an investigation against the FBI, even going so far as to hire outside counsel when his own staff said that it was an appropriately predicated law enforcement action. According to the whistleblowers, Paxton also twisted arms to help Paul's lawyer with a state records request in the case. And to top it off, he allegedly intervened to get a favorable opinion letter to help Paul avoid foreclosure on some of his properties.
That's the quid. As for the quo, Paxton's employees claim that he accepted remodeling services from Paul and that the businessman gave a job to a woman Paxton was having an affair with. Which is how those employees wound up as former employees, since all seven have now been fired or quit, with four of them subsequently filing suit against Paxton.
All of which looks BAD, okay? But! Ken Paxton's office looked into it, see, and he discovered that the real crimers were the whistleblowers.
"AG Paxton's actions were lawful, and consistent with his legal duties and prior actions taken by Attorneys General of Texas. AG Paxton committed no crime," wrote someone in Paxton's office. "The Complainants provided no evidence to OAG of a bribe, and likewise the investigation otherwise uncovered no evidence of a quid pro quo relationship between Paul and AG Paxton. The actions taken by AG Paxton in his official capacity or his authorized designees were likewise proper pursuant to his legal obligations."
Well, there's that then. Done and dusted!
Then the unnamed analyst went on to accuse the accusers of violating various provisions of Texas criminal law.
As the investigation uncovered, it was in fact Vassar and Penley who violated Texas Code of Criminal Procedure article 20.02(h). Furthermore, Penley misled Don Clemmer to obtain copies of secret grand jury subpoenas for the unlawful purpose of providing those subpoenas to a third party, namely Johnny Sutton.

Penley misled the 460th Criminal District Court Judge in a court filing by not disclosing that Penley had, within his possession, a signed contract between AG Paxton and Cammack that designated Cammack as outside counsel for OAG. • Vassar, upon notice that an investigation was being conducted into his actions, deleted a government document and tampered with evidence (or attempted to tamper with evidence), likely violating Texas Penal Code sections 37.09 and 37.10.

Former Director of Law Enforcement David Maxwell instructed OAG forensic examiners Erin Mitchell and Les St. James not to document their findings nor to log the search in any official manner. This was a violation of OAG policy and best practices that could have jeopardized their investigation.
Probably a coincidence that Ryan Vassar, Mark Penley, and David Maxwell are all suing Paxton, right?
"Although Ken Paxton remains under active federal investigation, the people who still work for Paxton say he did nothing wrong," an attorney for the accusers told The Dallas Morning News, adding, "Notably, whoever in Paxton's office wrote this report was not willing to put their name on it."
And indeed Paxton is still the subject of a federal investigation after being indicted in 2015 for securities fraud. Not that it stopped him successfully winning reelection in 2018.
Nothing to see here, kids, just the most innocent and bestest lawyer in all the land. Move along!
[Texas Tribune / Dallas Morning News]
Follow Liz Dye on Twitter!

Smash that donate button to keep your Wonkette ad-free and feisty. And if you're ordering from Amazon, use this link, because reasons.
Liz Dye
Liz Dye lives in Baltimore with her wonderful husband and a houseful of teenagers. When she isn't being mad about a thing on the internet, she's hiding in plain sight in the carpool line. She's the one wearing yoga pants glaring at her phone.