Undeclared Republican Presidential Candidate Power Rankings
News
May 13, 2011 04:53 PM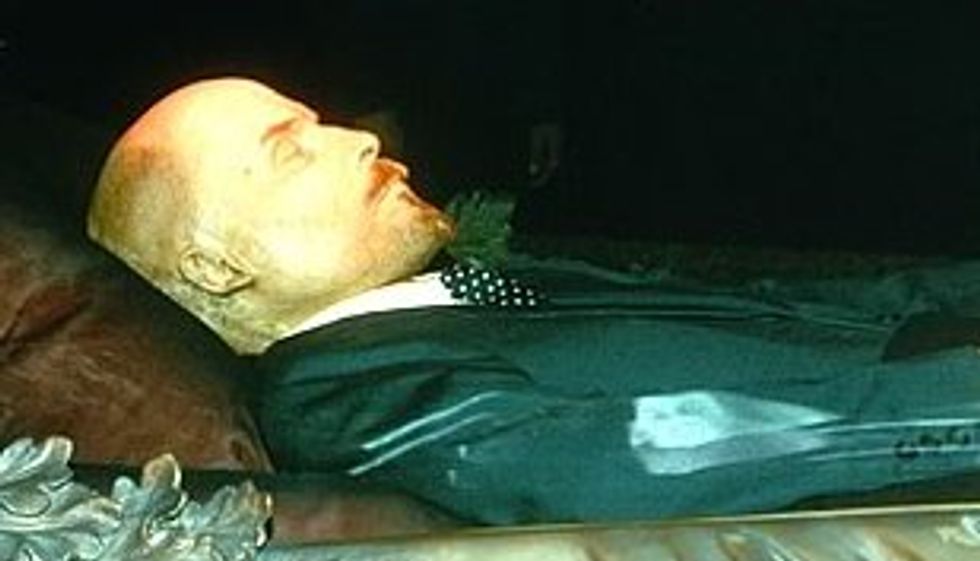 Ron Paulofficially entered the field for the Republican presidential nomination today. "That's nice," America replied. Let's face it: the GOP field is terrible—a collection of accidental governors who were made obsolete by the dawn of the beeper, a pizza expert, and two genial but off-putting Mormon men wearing nice shirts and ties who would like to talk to you about your feelings. The only shot at beating Obama is for the GOP to look at potential entrants who haven't taken any steps toward running for president. And the only shot at your editor hitting eight posts today is to do this: UNDECLARED REPUBLICAN PRESIDENTIAL CANDIDATE POWER RANKINGS. Who is up?! Who is down?! Et cetera?!
---
1. RONALD REAGAN
Why he could win: Just has to remind voters of Iran-Contra and his work with the mujahideen. People loved that! They can't get enough of it!
Why he probably won't win: Although 20 Republican-held state governments have redirected their Planned Parenthood funding to a team trying to reanimate his corpse, Reagan is getting really ratty and looks pretty skimpy in the football uniform they dressed him up in.
2. MIKE HUCKABEE
Why he could win: Could strike fear into the hearts of rogue dictators and terrorist masterminds by defeating them in pie-eating contests.
Why he probably won't win: Really likes where his life is right now; also, completely unaware the last presidential election wasn't just a one-time deal and actually happens every four years.
3. DICK CHENEY
Why he could win: If he sighs loud enough, people will be like, "Fine, Dick Cheney, you can be our candidate." And then he only has to torture, what, 10 million people into voting for him?
Why he probably won't win: The Constitution has amendments for what happens when a president dies, and he's not really technically alive.
4. MITCH DANIELS
Why he could win: We just had to look down three posts to remember what his name is. So he's not that objectionable.
Why he probably won't win: Lazy ass has been in office for six years and still hasn't killed a single Osama bin Laden.
5. PLANNED PARENTHOOD
Why they could win: Many states allow voters to switch parties or vote in another party's primary, and Planned Parenthood becoming their presidential candidate would be the funniest thing ever to happen to the Republican Party, so people would totally do it.
Why they probably won't win: Running mate ACORN would help black people vote fifteen times each so Obama wins in a landslide.
6. AN AMERICAN FLAG
Why it could win: What are Teabaggers gonna do, vote AGAINST the American flag?
Why it probably won't win: Hmm, it's not wearing a flag pin on its lapel. Must hate America.
7. MARK FOLEY
Why he could win: America loves a comeback!
Why he probably won't win: Too butch.
8. A FRIED PORK TENDERLOIN SANDWICH
Why it could win: Iowans love these huge, fatty things, and winning the first state gives a candidate a lot of momentum.
Why it probably won't win: Doesn't seem to be taking a position on ethanol.
9. GOD
Why He could win: Considering the winning Republican candidate always thanks God for His endorsement in his victory speech, this Guy is the ultimate king-maker and advisor. Seems like He has a weird sense for things.
Why He probably won't win: As much as God hates Obamacare, the antichrist's approval ratings seem to be doing pretty well these past two weeks after killing bin Laden.
10. SARAH PALIN
Why she could win: A scenario: Every other human being on Earth makes an obvious, very logical choice that somehow results in all their deaths.
Why she probably won't win: There'd be plenty of plant life around more in that scenario that would be more likable in an election matchup.
Stay tuned next Friday for updated rankings.