Vive La Résistance! Wonkagenda For Thurs., Jan. 26, 2017
Post-Racial America
January 26, 2017 09:09 AM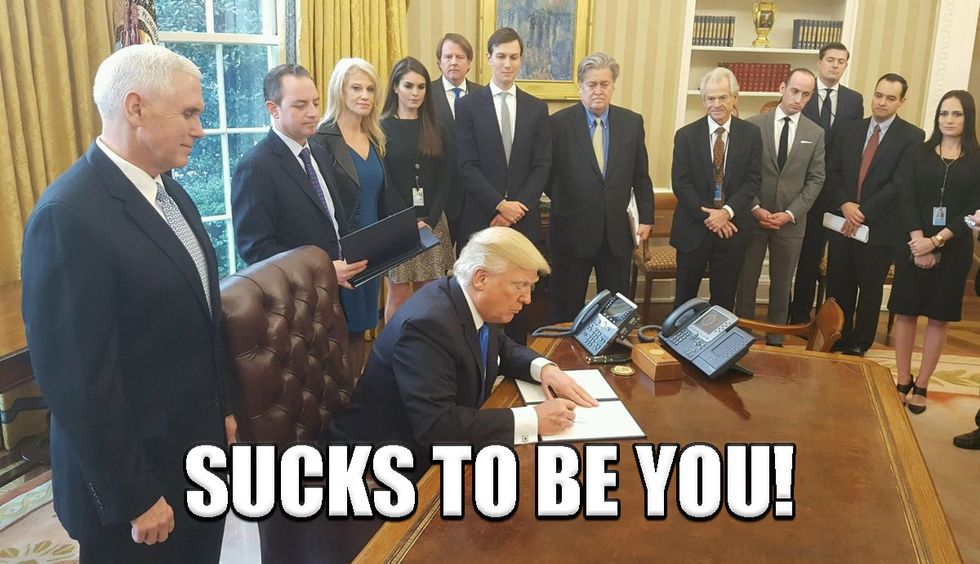 ---
Trump announced his plan to kick out all the bad brown dudes and stop the ugly, godless war poors from moving here. He calls it an "immigration block," not a "Muslim ban." Got it?
Sanctuary cities across the U.S. spoke out against Trump yesterday (because we love our taco trucks) amid threats to cut off billions in federal funding. You can have my burrito when you pry it from my cold, dead hands!
Sillyanne Conway was defending Tiffany Trump for being registered to vote in two states, just like Steve Mnuchin, and RACIST Steve Bannon. Remember, it's only voter fraud if you're not white, and voted for Clinton.
House Republicans are begging Mitch McConnell to kill the filibuster so that they can ram through laws that would finally stop all those baby aborting buttsexuals from going potty everywhere.
Trump gave an interview with teevee reporter person David Muir where he tried desperately to sound like a real human being who can construct coherent thoughts on his policies and narcissistic poll fetish.[Transcript and Interview]
Voice of America may sound really different soon, as two Trumpkin fake news hacks have been "temporarily assigned" to work with senior management at the Broadcasting Board of Governors.
One of Laura Ingraham's awful shit-heels masquerading as a writer is very pooper-peeved this morning after the AP wrote a story calling him a conservative shill when it was snubbed for the first question during the White House press briefing. UNFAIR!
A city councilman in San Jose, California, was sworn in with a Captain America shield, proof positive that ANYBODY can run for office (even super nerds). HINT! HINT!
Hollywood superstar Shia LeBeouf was arrested while protesting Trump in the Bronx when he got into a catfight while livestreaming some weird performance art piece where nobody got naked.
Members of the resistance have created alternative twitter accounts while agencies like NASA and the National Park Service are under occupation and being censored. It's GLORIOUS!
Here's Samantha Bee numbing the pain just a bit.

And now, your morning Nice Time: PYGMY HIPPOS!
Dominic Gwinn
Dominic is a broke journalist in Chicago. You can find him in a dirty bar talking to weirdos, or in a gutter taking photos.