Viva Puerto Rico!! You Did It!
Featured
July 26, 2019 09:17 AM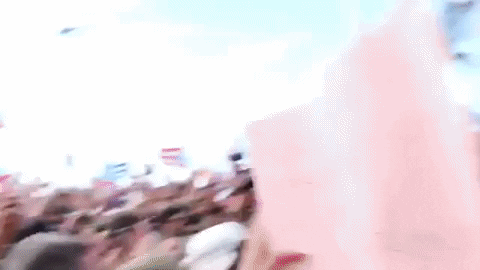 Following the leak of 889 pages of damning chatlogs involving Puerto Rico's governor and his cabinet (we covered it HERE), 15 days of protests, and a very disastrous Fox News interview we also covered HERE, Governor Ricardo Rosselló finally resigned late (almost midnight) Wednesday night on a Facebook Live video from the "La Fortaleza" (The Fortress, the name of the governor's mansion) Facebook page.

Here is a cellphone video of the exact moment protests turned to celebration.

The timing of Rosselló's resignation and celebrations are a magical, once in a lifetime moment for Puerto Rico:

---
This repudiation of decades of corruption, racism, misogyny, homophobia, mismanagement, and abuse led some to sing the revolutionary version of Puerto Rico's anthem, " La Borinqueña." (In 1868, Lola Rodríguez de Tió adapted the original lyrics to support the Puerto Rican revolution and motivate people to a rebellion against Spain. After the cession of Puerto Rico to the United States, the revolutionary lyrics were deemed too subversive for official adoption. So a "non-confrontational" set of lyrics were written in 1903 by Asturias-born Manuel Fernández Juncos, which is the march that is the official anthem today.)

The Puerto Rico Speaker of the House (who is from the same party) received the formal letter of resignation almost 12 hours after Rosselló's resigned publicly:

So...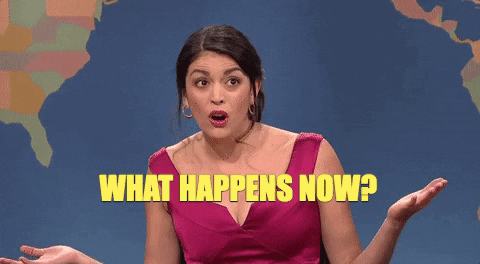 Giphy
Well, there are several options as David Begnaud explains in this tweet/video:

Article IV of the Constitution of Puerto Rico establishes that when a vacancy occurs in the post of Governor, said post shall devolve upon the Secretary of State. The Acting Governor shall hold it for the rest of the term and until a new governor has been elected and qualifies. In the event that vacancies exist at the same time in both the Governor and the Secretary of State, the law establishes a line of succession upon the Secretaries, starting with Secretary of Justice (followed by Treasury, Education, Labor, Transportation, Commerce and Health).
In this case the former Secretary of State, Luis G. Rivera Marín, also resigned because he was also involved in those text chats. (Full Disclosure: Mr. Rivera Marín and I have traded words before on Twitter.)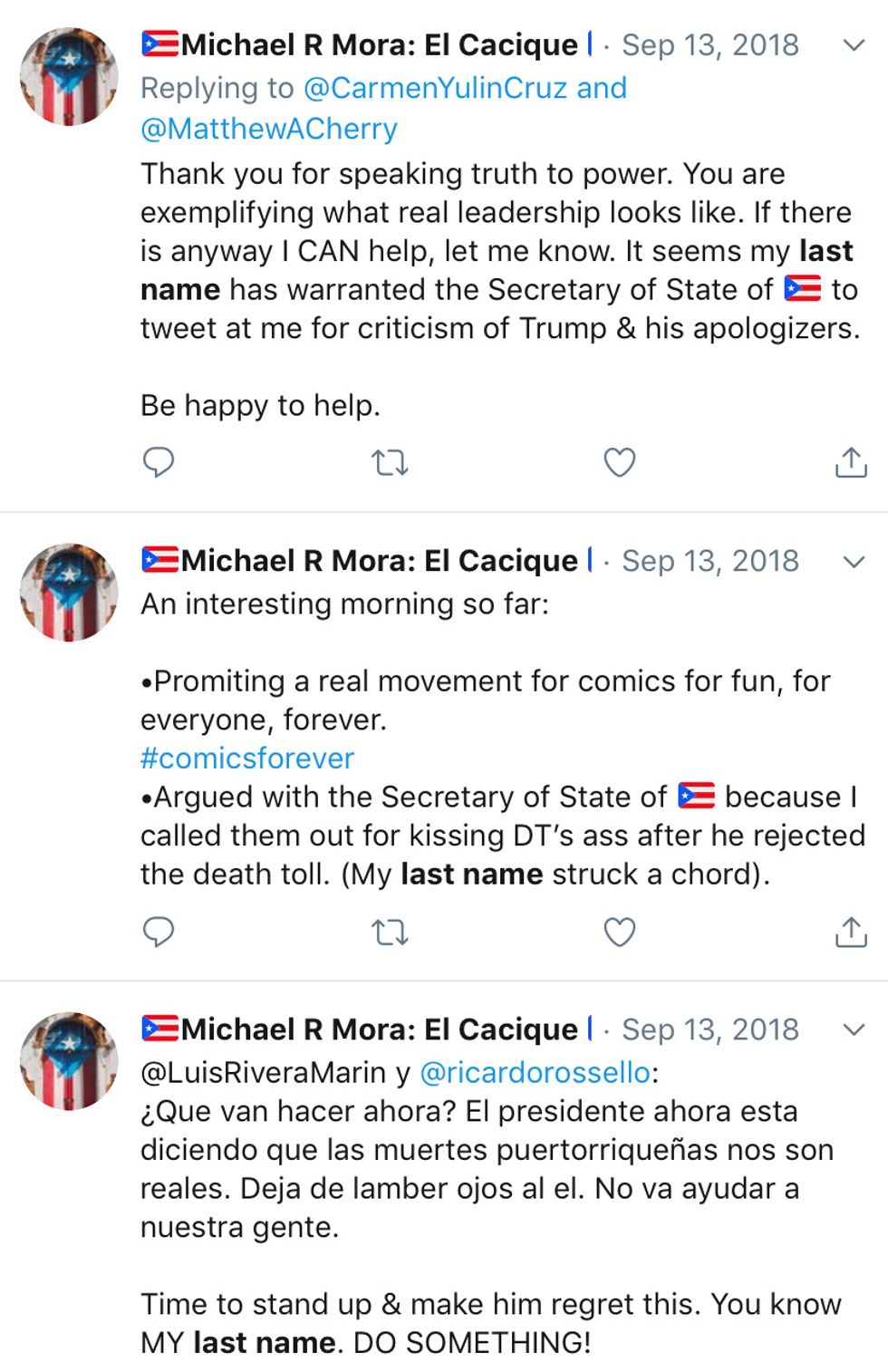 Seems they were bigger scumbags than I thought a year ago
So it seems that, unless Rosselló appoints a new Secretary of State within a week, the Secretary of Justice Wanda Vázquez Garced will be the Acting Governor until the 2020 elections. But according to the New York Times, that is already a problem. According to the NYT, "Some women's groups opposed Ms. Vázquez during her seven years as the head of the island's women's affairs office." Also according to NYT:
A lot of feminist groups were very critical of Wanda Vázquez," said Saadi Rosado of the Feminist Collective, an advocacy group. "She failed to address gender violence issues and was another piece of government bureaucracy.
She also, according to NYT, has clashed especially with Thomas Rivera Schatz, the president of the Senate:
Ms. Vázquez came under intense legal scrutiny herself last year amid ethical complaints filed by the Office of the Independent Special Prosecutor […] He called for her resignation, accused her of committing crimes and criticized her handling of several cases […] The bad blood between the two politicians has long played out in the local news. Mr. Rivera has called Ms. Vázquez "the secretary of nothing."
So the future is very uncertain. As "El Nuevo Día" (PR's most prominent newspaper) reporter Benjamín Torres Gotay (who was also criticized in those leaked chats for his reporting) points out, the people of Puerto Rico who just ousted Rosselló will have a lot of questions for Ms. Vázquez:

As the people are showing today the fight against corruption is not over:

Rosselló down (#RickyRenuncia). Looks like Vázquez is next (#WandaRenuncia). Wonkette will keep an eye on this and will update as needed.
But today, we raise our glasses to you and toast you on your victory. And personally, from this writer, I have never been prouder of my Puerto Rican people. Viva, Puerto Rico! We love you, Borinquén, tierra de mi corazón.
WEPA! YOU DID IT!!!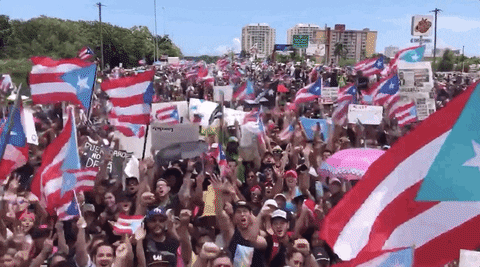 Giphy
Wonkette is ad-free and funded ONLY by YOU! Be a funder!
Michael Mora
Your friendly neighborhood Puerto Rican Political Freelance Writer for @wonkette. Pop Culture observer, Amateur Movie reviewer & Comics fan. Former Active Duty Marine. All opinions are mine only.