Want Even More Nasty Trump Gossip From Michael Wolff? What A Gluttonous Slut You Are!
Culture
January 04, 2018 03:56 PM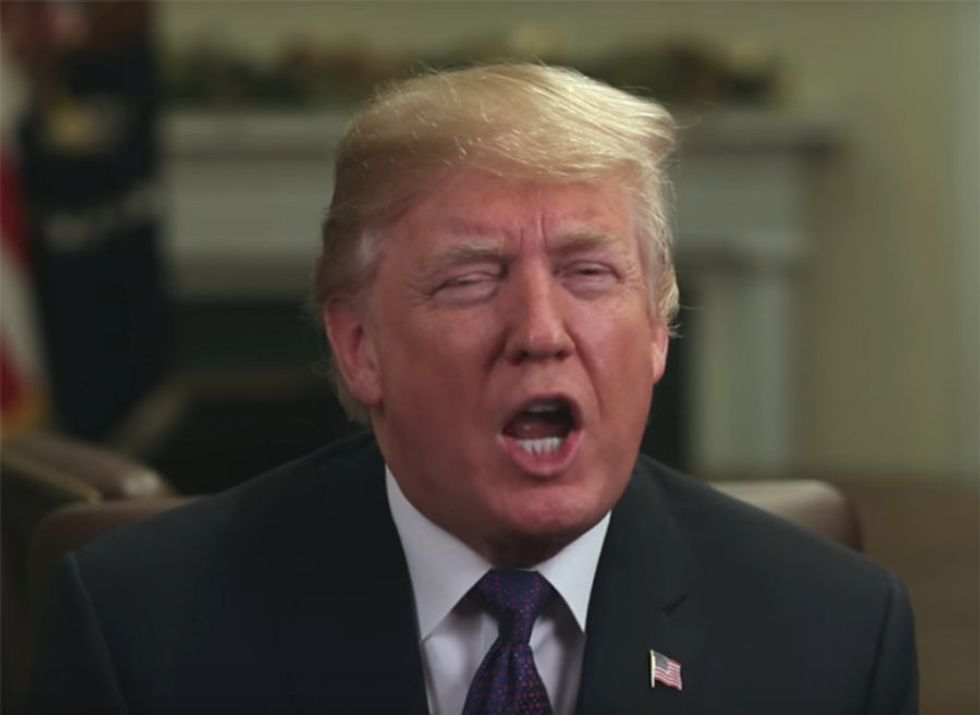 presidential thing
---
Nope, this story is not over yet. While we all know Michael Wolff has a history of shall we say "creative" reporting, and thus we should not automatically assume every single claim he made in his new sexxx book about the Trump White House is true, we did examine one of Thursday's exclusive excerpts through the lens of everything else we know about President High Chair Shits, and determined that Wolff isn't telling us anything particularly groundbreaking. Therefore, we have little reason to question the spirit of the document, do we?
Having said that, Michael Wolff has published another excerpt, this time in the Merry Olde Englande version of GQ! It includes more nasty revelations, for instance that Tucker Carlson was offered the press secretary position, but very sadly for white supremacists who punch gay dudes in the bathroom everywhere, he declined.
Seriously, America, you could have had this guy, instead of Sarah Huckabee "Poot Lips McGillicuddy Jones" Sanders behind that podium: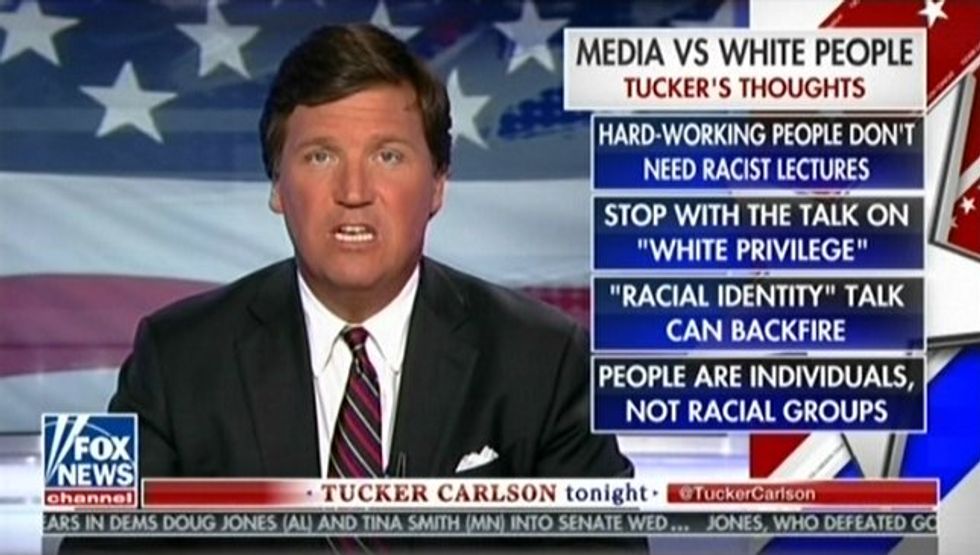 For real, y'all, this was his show LAST NIGHT.
Oh well, America, OUR LOSS.
Here's a funny anecdote, couched in a larger narrative about how Trump is too stupid to understand how the media works -- yet is so, SO desperate for its approval -- about how the White House just couldn't figure out how to handle the White House Correspondents' Dinner, considering how Trump is a thin-skinned loser with no sense of humor and a bad brain:
The central problem was that the president was neither inclined to make fun of himself, nor particularly funny himself – at least not, in [Kellyanne] Conway's description, "in that kind of humorous way".
Correct as usual, Kellyanne Conway! Trump is not "funny haha," he is more "funny OH MY GOD WHAT THE FUCK IS THAT THING."
"He doesn't appreciate cruel humour," said Conway. "His style is more old-fashioned," said [Hope] Hicks.
He doesn't appreciate cruel humor?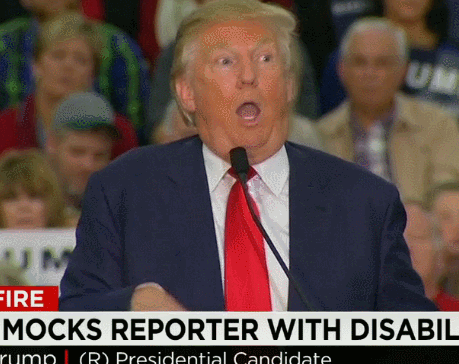 Guess that's just some of that "old-fashioned" humor Hope Hicks was talking about.
The burden here for Conway and Hicks was their understanding that the president did not see the media's lack of regard for him as part of a political divide on which he stood on a particular side. Instead, he perceived it as a deep personal attack on him: for ­entirely unfair reasons, ad hominem reasons, the media just did not like him. Ridiculed him. Cruelly. Why?
Can't imagine. Maybe he's just a real piece of shit with no redeeming qualities. SHRUGGIE EMOTICON!
According to Wolff, though, Trump really really really wanted to do the WHCD, because he thought he would be very funny and would improvise and it would be YOOGE! Nobody agreed:
Almost nobody except the president himself thought he could pull off the Correspondents' Dinner. His staff were terrified that he would die up there in front of a seething and contemptuous audience. Though he could dish it out, often very harshly, no one thought he could take it.
Because the entire West Wing staff knows how pathetic Trump really is. SAD!
In the end, it was reportedly Steve Bannon who convinced Trump not to do the WHCD, because THEY WERE AT WAR AGAINST THE #FAKENEWS, DAMMIT, WAR! Unfortunately, Bannon, despite how he is obviously a political genius, did not anticipate how this would make Trump look like the pajama boy cuck snowflake he really is.
The excerpt gives more background on the two women who plotted to keep Trump from shitting the bed at the White House Correspondents' Dinner. Regarding Kellyanne Conway, Wolff writes that she kinda seems in private like she hates Trump, but became Trump's favorite early on because of what a shameless liar she was. She was, as we all remember, shunted off the TV early in the administration, especially after "Morning Joe" turned on her, and according to Wolff, Jared 'n' Ivanka really hated her, derisively calling her "nails," because of her shitty fingernail manicures. But #YetShePersisted (IN BEING A LYING TRUMP ASSHOLE), so now she gets to be on TV sometimes.
And then there's Hope Hicks, who came from old Democratic Connecticut money to sit at the right hand of the Orange Shitmouth, and caters to his every need. We referenced this section earlier when we shared the anecdote about Trump telling Hicks what a hot piece of "tail" she was, awwwwwwww, Donald Trump is so caring and paternal. (He was trying to say, in his perverted sexual predator way, that Corey Lewandowski didn't deserve her. ALL THE FEELS!)
Finally, Wolff tells the story of why Trump and Hope Hicks are always begging NYT's Maggie Haberman for attention, and just how pathetic it is:
Beyond acknowledging that Trump was a boy from Queens yet in awe of the Times, nobody in the West Wing could explain why he and Hicks would so often turn to Haberman for what would so reliably be a mocking and hurtful portrayal. [...] But however intent he remained on getting good ink in the Times, the president saw Haberman as "mean and horrible". And yet, on a near-weekly basis, he and Hicks plotted when next to have the Times come in.
HIT ME AGAIN, MAGGIE HABERMAN! HIT ME! That is what Donald Trump says, we guess.
And occasionally, when she's not blocking people on Twitter or doing really shitty journalism, Maggie Haberman obliges.
Follow Evan Hurst on Twitter RIGHT HERE.
Wonkette is fully paid for by YOU! Please click here to pay Wonkette's salary.
[GQ]
Evan Hurst
Evan Hurst is the managing editor of Wonkette, which means he is the boss of you, unless you are Rebecca, who is boss of him. His dog Lula is judging you right now.
Follow him on Twitter RIGHT HERE.