Watch South Park Troll The Hell Out of Sportsball Team Owner Dan Snyder. It's Effing Awesome.
Featured
September 22, 2014 08:52 AM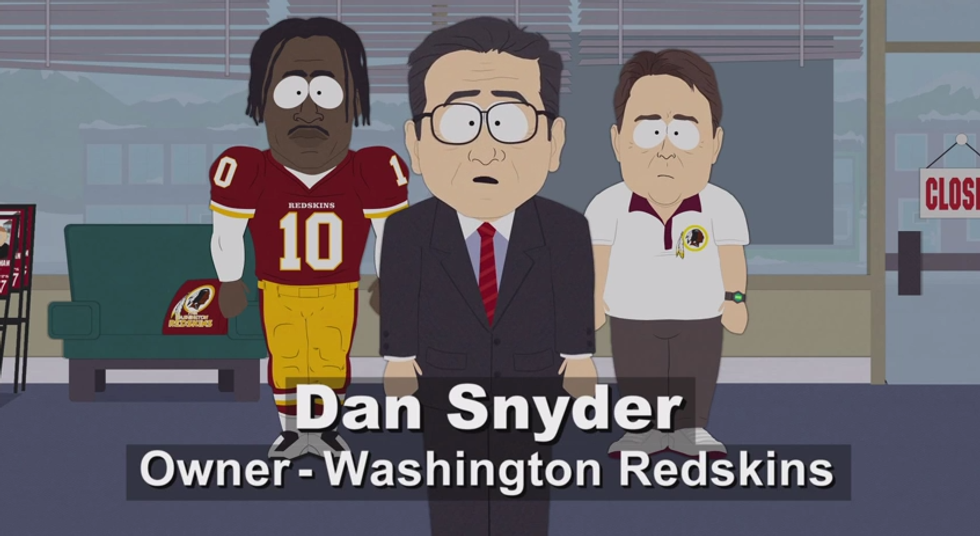 Now this is some Olympic level trollery, brought to us by the shy sweet "South Park" fellas who introduced themselves to the world nearly two decades ago with the Hallmark Channel-esque premiere episode "Cartman Gets An Anal Probe."
---
On Sunday, the perfectly selected target of scorn and derision was Dan Snyder, owner of The Washington Redskins, who still refuses to change his team's name, despite widespread condemnation -- not to mention the loss of the trademark for his team's name. In the clip previewing the new (eighteenth!) season of "South Park," Snyder visits Eric Cartman at the offices of his new company, coincidentally named The Washington Redskins, to demand that Cartman stop using the name.
"In the name of decency, I am asking that you please stop using the name Washington Redskins to refer to your company," Snyder says, because it's "offensive" and "derogatory."
And the best part? The ad aired Sunday in Washington D.C. during -- yup, that's right -- the Redskins-Eagles game.
Watch and enjoy!