We For One Welcome Our New Lyft Robot Car Overlords
US of America News
May 07, 2016 01:00 PM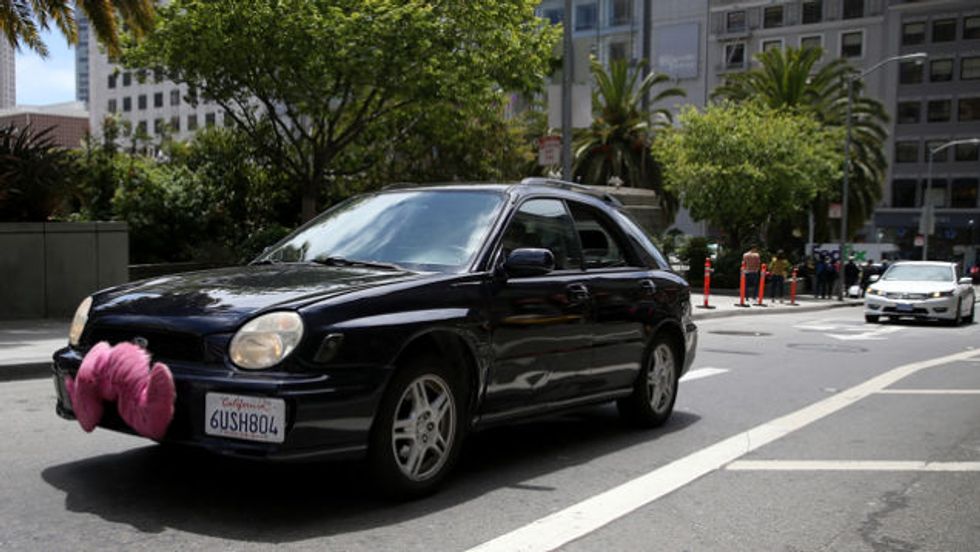 This week, Corporate People dropped a little bit of sad and a lot of terrifying.
---
Good luck out there.
Good News! Lyft finds solution to problems with its drivers
Ungrateful drivers continue to sue ride-sharing companies like they should even have the right to access our legal system. Why is it on Lyft to provide benefits for its workforce when so many of their greedy contractors are so rich they can hold down three jobs? Luckily, Lyft and General Motors are working on a solution.
General Motors Co. and Lyft Inc. within a year will begin testing a fleet of self-driving Chevrolet Bolt electric taxis on public roads, a move central to the companies' joint efforts to challenge Silicon Valley giants in the battle to reshape the auto industry.
Great stuff, guys! The Old Guard and the New Guard coming together to fluff each other and find common ground in their contempt for workers.
On the plus side, this story is likely the only thing that makes Marco Rubio's mouth water like a normal human.
But is this even legal?
Executives at Lyft and Uber have said one of the top hurdles to their success is navigating a patchwork of regulations that govern the use of autonomous vehicles and liabilities. In an effort to ease regulatory concerns, Lyft will start with autonomous cars that have drivers in the cockpit ready to intervene—but the driver is expected to eventually be obsolete.
Ah yes, those pesky regulators. Can't we replace them with algorithms already? What happens when the consumers need the seat from the Lyft compliance contractor who's just sitting behind the wheel with no responsibilities whatsoever? Will Chevy provide a Bolt sidecar? Do we strap him to the roof? (We will and he should be grateful or develop his own flippin' tech company.)
Facebook faces opposition to owning your face
A group of Illinois consumers sued facebook for allegedly collecting users' biometric data via pictures of you drunk, via pictures of your baby, and via pictures of your drunk baby.
Facebook sought to dismiss the case by challenging applicable law. Zuckerberg & Co. believed federal and California law applied and the company is too transcendent to be beholden to some statute from Flyover Land that's probably written in squirrel blood on a corn husk. But this week, a Northern California District Court rejected Facebook's motion to dismiss.
The lawsuit alleges that Facebook's photo-tagging system violated user privacy by creating faceprints — geometric representations of a person's face — without explicit consent. Those faceprints are typically used to identify users to suggest tags for uploaded photos. According to the complaint, that's a violation of Illinois's Biometric Information Privacy Act, which forbids the collection of biometric identifiers like fingerprints or faceprints without a person's explicit consent.
While the company technically gives users the right to "opt out" of these taggings, there's a question of whether this right that's buried in Facebook's data plan constitutes consent. Like we're not going to blindly click through 2500 words of 7-point legalease and agree with the terms of service so we can see if the hairwashing girl from Supercuts accepted our friend request.
As a proper Silicon Valley Corporate Person, Facebook righteously believes the suit is meritless but will respond in full once it's done logging all the protruding tongues and lazy eyes in our pictures from Cinco De Mayo, a day of reflection over Mexican military achievement and sacrifices and for margaritas to be made in our mouths.
Amateur CEO can't even bang subordinate without getting the boot
Priceline fired its CEO for a personal relationship with an employee who wasn't even his direct subordinate. What a world we live in where powerful executives can't even get dip into the employee pool for a little clandestine connection.
Darren Huston began his reign as Priceline CEO in 2014 and managed to acquire OpenTable during his time at the helm. Unfortunately, an internal investigation found Huston violated the Priceline Code of Conduct and too bad, so sad Mr. CEO.
From the Baseless Speculation Department, this move is definitely because of violation of the company handbook and not because Priceline stock dropped 30% between last October and February, 2016. Priceline PR Corpsplained that this is indeed the case:
The investigation and Huston's resignation was not related in any way to the company's operational performance or financial condition, Leslie Cafferty, a company spokeswoman, told Reuters in an email.
Only the highest standards for aggregators of travel discounts. The poor fella won't even get a Golden Parachute, but there's no price you can put on love. Although there is a price you can put on a flight to Tulsa, and you can find that on Priceline Dot Com!