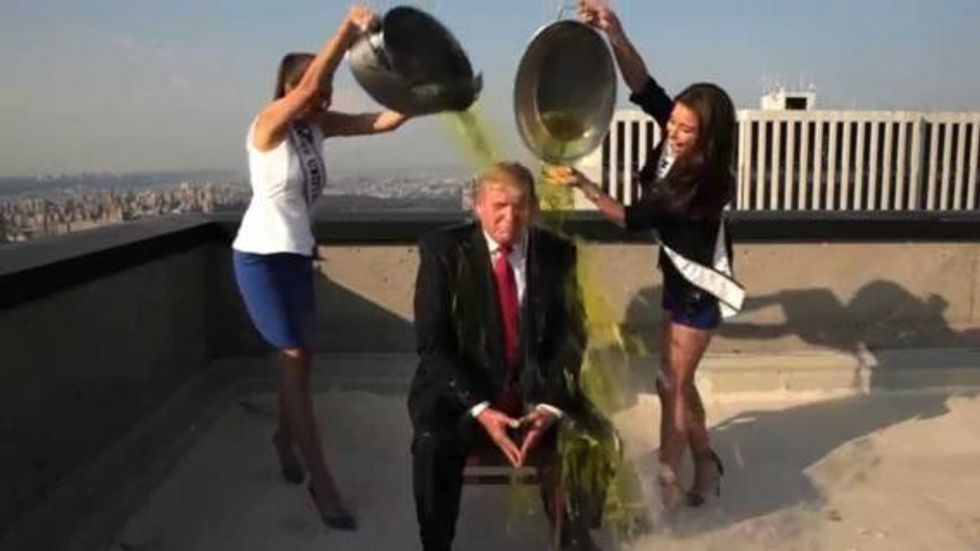 raaaaaaaain, feel it on my fingertips, see it on the windowpane, that pee's flowin' down like ...
---
NEW BOOK ALERT! It is by Mother Jones reporter David Corn and Yahoo News reporter Michael Isikoff, both of whom met with the DODGY DOSSIER before it was even released! The book is called Drip Drip Drip: How The 45th President Of The United States Is Always Covered In So Much Russian Hooker Pee. Just fooling! It is actually called Russian Roulette: The Inside Story of Putin's War on America and the Election of Donald Trump, and it comes out March 13!
To be clear, the excerpt released at Mother Jones isn't all about Trump and pee, but it is pee-adjacent. For one thing, part of it focuses on the 2013 Moscow Miss Universe pageant. You know, the one where ...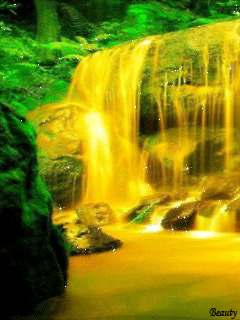 ALLEGEDLY!!!!!!1111GHAZI!!!!!!!!
'It was late in the afternoon of November 9, 2013, in Moscow, and Donald Trump was getting anxious.'
AND THEN THE MURDERS PEE BEGAN.
OK just fooling, but Corn and Isikoff report that Trump was going literally nuts because he wanted to meet Vladimir Putin SO BAD, and he was dancing around all nervous-like, constantly asking, "Where's Putin? Where's Putin? I need to meet Putin!" Indeed, many months before, he had tweeted this:
"Do you think Putin will be going to The Miss Universe Pageant in November in Moscow—if so, will he become my new best friend?"
Pathetic fangirl.
Trump had checked into the Moscow Ritz-Carlton the night before, into the suite the Obamas had once stayed in. (MM HMM.) The Kremlin had Snapchatted to say, "Mr. Putin would like to meet Mr. Trump," and Trump was soooooo excited, but then Putin never texted, he never called, and Trump was ANXIOUS! He was leaving Moscow after the pageant that night, and how could he ever be Putin's BFF if he couldn't show Putin in person how big his hands were? AW NUTS. But finally (finally!) Aras Agalarov, the Azerbaijani oligarch who threw the pageant with him (and who threw Donald Trump Jr.'s Dumbass Russian Treason Meeting!) got a call from Putin's BFF Dmitry Peskov.
But was Putin coming????????
Meanwhile, months before in Las Vegas ...
In June of 2013, Trump was in Vegas for Miss USA, because he owned that too, and all his gross new Russian best friends went out to dinner to celebrate that pageant and the upcoming Miss Universe pageant, to be held in the capital city of their native Shit-Hole-istan. Daddy Agalarov was there, Emin was there, his promoter Rob Goldstone (who sent Dumbass Junior all the emails about dirty Hillary dirts from Russia!) was there ... basically everybody who was nobody! Oh, also in attendance was Ike Kaveladze, who ran one of Agalarov's real estate companies, and who back in the '90s was "allegedly at the center of a 1.4 BILLION RUSSIAN MONEY LAUNDERING SCHEME," as Think Progress's Judd Legum put it on Twitter a while back. (Kaveladze alsoshowed up to Dumbass Junior's Russian meeting in Trump Tower. That's right, just Junior had a meeting that day with a BUNCHA STRANGERS his dad had NEVER MET.)
So, of course, Trump invited himself to dinner, because he's a pig. He brought his dicksnot little lawyer Michael Cohen with him! (SAYS WHO?)
After dinner, they all went out:
... [P]art of the group headed to an after-party at a raunchy nightclub in the Palazzo mall called The Act. [...] The club's management had heard that Trump might be there that night and had arranged to have plenty of Diet Coke on hand for the teetotaling Trump. (The owners had also discussed whether they should prepare a special performance for the developer, perhaps a dominatrix who would tie him up onstage or a little-person transvestite Trump impersonator—and nixed the idea.)
Aw, at least they were thinking of him! Moving on:
The club featured seminude women performing simulated sex acts of bestiality and grotesque sadomasochism—skits that a few months later would prompt a Nevada state judge to issue an injunction barring any more of its "lewd" and "offensive" performances. Among the club's regular acts cited by the judge was one called "Hot for Teacher," in which naked college girls simulate urinating on a professor. In another act, two women disrobe and then "one female stands over the other female and simulates urinating while the other female catches the urine in two wine glasses."
VEGAS PEE TAPE! VEGAS PEE TAPE! VEGAS PEE TAPE!
(To be clear, Corn and Isikoff said there's no public record of which pee pee shows Trump might or might not have watched with drool oozing out of his cat butthole mouth that night.)
Flash right back to Moscow!
Corn and Isikoff give an actual itinerary for what Trump did in Moscow the day before the pageant, minus the missing hours when Trump security guard Keith Schiller went to bed and MAYBE there was a big pee pee show:
Lunch: Meet with Russian oligarchs and bigwigs. In response to question about European debt crisis and Greece, talk about hit show "The Apprentice," have you guys seen it?
Afternoon: Look at swimsuit videos of pageant contestants judges have picked as Miss Universe finalists and make sure there aren't too many black chicks. (Not kidding. A Miss Universe staffer is quoted as saying, "If he didn't like a woman because she looked too ethnic, you could sometimes persuade him by telling him she was a princess and married to a football player.")
Dinner: Aras Agalarov birthday party!!!!
Late night: Go back to Ritz-Carlton. Keith Schiller says, "Hey they offered you some pee hookers." Trump and Schiller say "LMAO!" in unison. Schiller bodyguards outside Trump's room after he goes to bed, until he stops doing that. (Corn and Isikoff note that actually Schiller, according to Stormy Daniels, was the one who set up Trump's sexytime dalliances.)
PEEEEEEEEEEEEEEEEEEEEEEEEEEEEEEEEEEEEEEEEEEEEEEEEEEEEEEEE! (Allegedly.)
The next morning: Pageant Day!
But did Putin ever show up? DID HE DID HE DID HE?
Nah. Washing his cat that day. Big traffic. Kept hitting his snooze alarm. "Dutch royalty in town, gotta Netflix 'n' chill with them, bro."
But is it possible Putin DID visit Trump the night before, albeit in a different sort of way?
Anything else?
Well, funny thing! Corn and Isikoff report that a Putin meeting MIGHT have happened if Trump had been willing to stay in Russia another day or so. But he wasn't, because way back in 2013, Trump felt the need to go to that dead asshole Billy Graham's birthday party in North Carolina. And why?
In Russia, Trump told Goldstone that it had been necessary for him to show up at the Graham event: "There is something I'm planning down the road, and it's really important."
Trump was already planning on running for president in 2013, to the point he was already figuratively sucking the dick of Franklin Graham, who continues to be one of his most devoted rentboys. And Trump was obsessed with Putin, and with doing deals in Russia. (All of which would FAIL, because The Art Of The Deal.)
Ohhhhhhhhhh, what a convenient time for Putin to go ahead and secure some kompromat on the man he might one day make president of the United States, don't you think?
We are just saying!
Head to Mother Jones for the whole damn thing from David Corn and Michael Isikoff, and then buy the book, OK?
Follow Evan Hurst on Twitter RIGHT HERE. And if you love this article, tweet it and share it on the Facebooks!
Wonkette salaries and servers are fully paid for by YOU! Please pay our salaries, so we NEVER DIE.
Evan Hurst
Evan Hurst is the managing editor of Wonkette, which means he is the boss of you, unless you are Rebecca, who is boss of him. His dog Lula is judging you right now.
Follow him on Twitter RIGHT HERE.