We Talked To Trump's Virginia Supporters. They Seem Nice!
News
October 16, 2015 04:15 PM
Don't Trump on me.
---
The Donald Trump Traveling Merchandise Show came to Richmond International Raceway this week, giving yr Wonkette the opportunity to get to know the people who make up his populist movement. Who are they? What makes them tick? Do THEY have any favorite Bible verses? (SPOILER: nope.)
The timing and location of the event were planning genius. Just last month, NASCAR had a big ol' race here, and next month it hosts the Virginia Gun Show. Lots of people would have just left their RVs parked for two months, if it wasn't for the fucking fascist landlords running the RIR. So they're holed up at the Walmart parking lot over off Mechanicsville Turnpike.
An army of volunteers worked the raceway parking lot gathering signatures to get Trump on the Virginia Republican primary ballot. The tailgate atmosphere fell far short of the expected 1980s hair band concert vibe. Based on unscientific observation, the crowd was predominantly white, older than 40, and blue collar. The majority of youths in attendance were dressed strictly according to The Official Preppy Handbook. But at least George Washington showed up: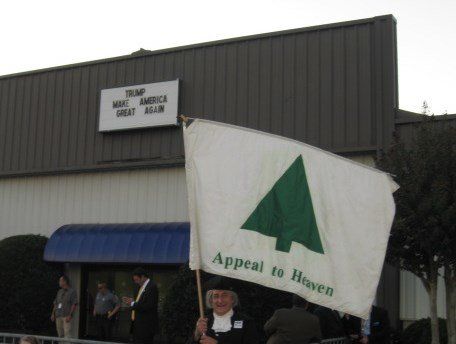 Pretty strong endorsement for the Virginia crowd.
Inside the rally, things got ugly.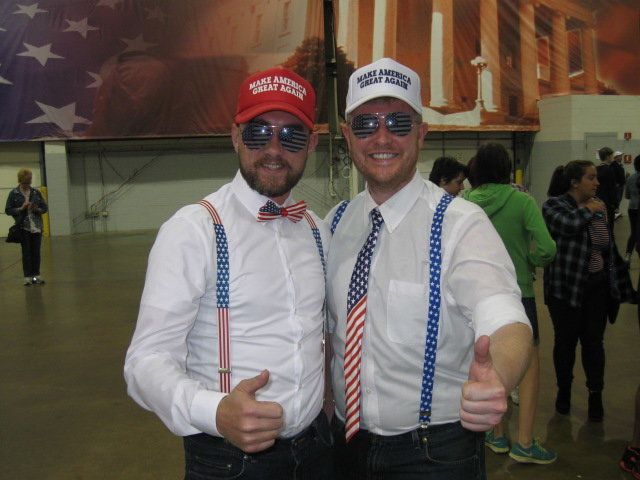 These guys! didn't want to talk or share their names, but they didn't mind sharing their image. Attire by the Halloween store.
Trump took the stage to Joe Esposito's "You're the Best." If this isn't what he uses at all of his rallies, it was a good choice for Richmond, because the local minor league baseball team takes the field to the same song. (Go Nutz!) Before launching into the Trump stump, The Donald did a two-minute ad for Trump Winery, near Charlottesville. It's the YOOOOOGEST vineyard on the east coast. And it's not just big; the wine they make there is so good, Dom Perignon would try to steal their trade secrets. Trump kissed the dead asses of Patrick Henry, Thomas Jefferson, James Madison, and George Washington. He must have forgotten to mention Robert E. Lee.
Trump then went for his greatest hits. At the first mention of building a wall on the border, about 10-20 people started protesting his position. They held up signs and chanted "Dump Trump." He remained calm at the lectern and said things like, "It's fine, it's fine, First Amendment and everything." He tried to rile the crowd to drown them out, but the cheering endurance of the Trump fans didn't outlast the protesters, who continued with a few more chants. This agitated the more irritable and itchin' to fight Trump supporters. The only logical thing to do when people disagree with you is to repeatedly yell "Fuck you" at them and then spit in their faces:
Immigration activists disrupt Trump rally. He gamely continues, but crowd raged. One spit on protestors @wusa9 pic.twitter.com/82T2s845Eu

— Garrett Haake (@GarrettHaake) October 14, 2015
Security separated the belligerent parties, took the signs from the protesters, ripped them up, and escorted the protesters from the building. Shortly thereafter, a young black woman on the edge of the crowd began to chant, "Black power, no violence." Some Trump supporters gathered around to heckle her. One woman responded to "black power" by saying, "White power, you fucking cunt." A man waited for her to say "Black power" again before responding, "Not after next year." (At about 2:35 of the video at the link.) All together now: They seem nice!
Trump spun it up on the spot, saying there were about eight people making a scene who would get the headlines while the 7,000 other people there would be ignored by the media. Raceway officials estimated attendance at about 4,000.
Mr. Trump, let's be perfectly clear: The headline is not that rabble rousers disrupted your rally -- it is that your supporters spat in their faces and smugly shouted racial epithets at them.
Going back to a more innocent time ... Walking into the rally, people were very polite and willing to talk. Fair skin, a red neck tie, and a Trump 2016 sticker procured by signing the ballot petition helped gain their trust, as did self-identifying as a "citizen journalist." (Introducing ourselves as "mommyblogging recipe hubster" netted no interviews.)
The most common answer to the question of when America was last great was (duh) when Reagan was in office. Most people said they found Trump to be more honest than other politicians, because he says things as soon as they pop into his head. A lot of his supporters really like the way he talks about immigration. Surprisingly, most said they're not particularly religious. Let's meet some Trumpskyites!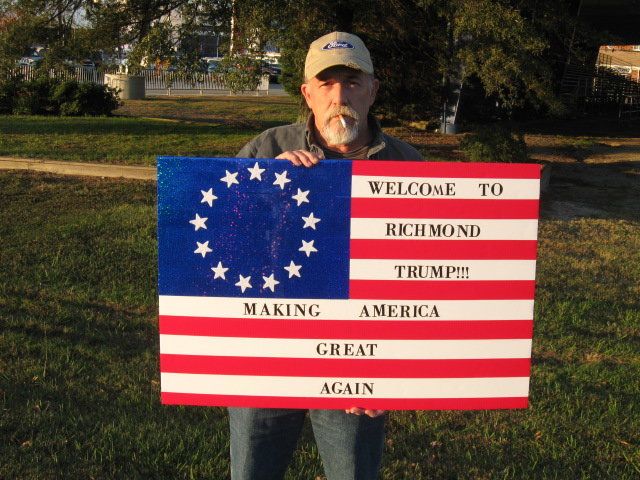 Fitz, Jr., does the same thing with "W"s when he runs out of "M" letter fridge magnets.
Dave from Prince George, Virginia, only had time for a few questions. He supports Trump because "he tells the truth about making America great again." He likes the Trump tax plan, but he didn't fall for a bullshit question about foreign policy toward Freedonia. Good on you, Dave from Prince George!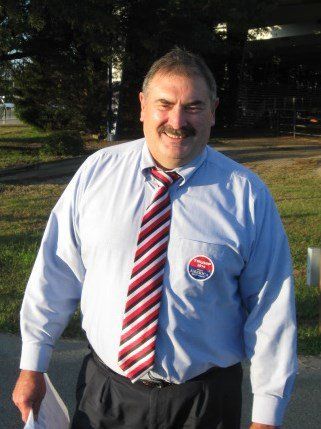 Made in the USA!
Here we have Douglas E. Barker, from Chesterfield. He's originally from Richmond and claims to be "one of the few natives that are actually not an import in Virginia." He likes Trump because Barker has always been a Republican, but he's looking for an outsider who's not "trying to open the floodgates for bringing in a lot of different illegal voters." It isn't clear if he's conflating illegal immigration and voter fraud, but yeah, he is.
Barker reads Breitbart News and the Drudge Report, and he listens to Mark Levin a lot. Before you snicker, he was one of the few who could identify where he gets his news beyond some variation of "All of them, Katie." Continuing to establish himself as the exceptional interviewee of the day, he was the only one to recite a favorite Bible verse (Proverbs 27:2), and it's a beaut, especially juxtaposed with support for Trump:
Do not praise yourself by your own lips -- have another person praise you for you.
Barker likes the Trump tax plan, but he thinks rich people already pay too much and shouldn't have their taxes hiked.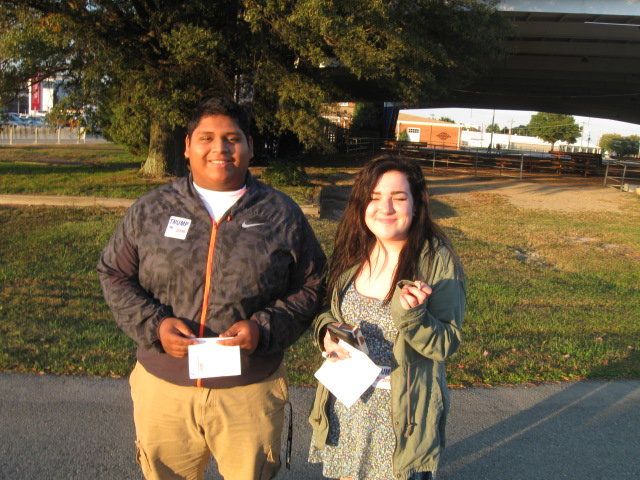 Puff, puff, pass, kiddos.
Hey there, teens! Stephen Hopkins of Richmond, Va., and an anonymous friend were here doing homework for their AP Government course. He's not a Trump supporter, but he thinks America sucks and never was great. It would take "like some shit" to make it great. He offered to rant and delivered "like some shit" about jobs, ending welfare, and international trade. Hopkins is doubtful things will change to make America great, ever. Then, the two of them pretended like they didn't know what it means to be "holding." Fucking bogarting teenagers!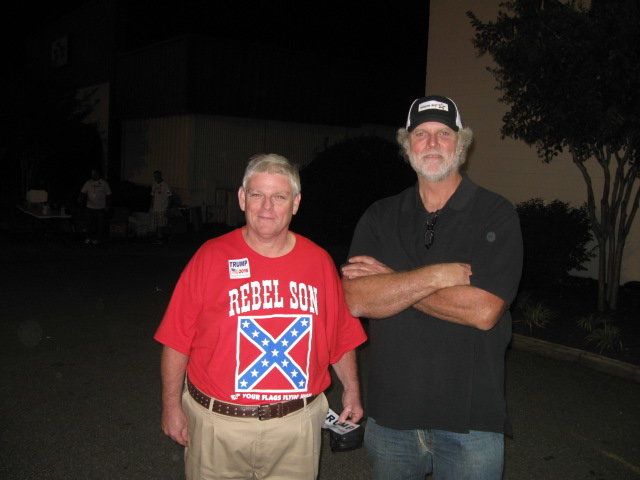 Tim (L) and Ronnie (R) - or is it Bo and Luke?
After the rally, old friends Tim Hatley of Chase City, Va., and Ronnie Doggett of Henrico County, Va., were outside catching up with one another. Doggett isn't 100 percent sure he'll be supporting Trump, but they both like Trump's stand on immigration. They upped the ante on the last time America was great by going all the way back to the 1950s. Doggett said that quality of life has really deteriorated since those days, when you could support a family on a single income ("The female, if she wanted to, could stay home") and schools were good. Let's just blockquote Hatley:
Television has been a detriment to our society, with its alien ideas. I mean the people behind television, they had a different outlook than the average Mr. and Mrs. America, and they have just destroyed the country through imposing their views because if you own the media, you basically control the population. You implant ideas, and you know, people jump on board with them.
Doggett jumped in at this point to say how great it is now that technology has enabled regular people (like yr Wonkette) to get their voices out there. These guys didn't fall for the Freedonia question either. (Thanks a lot, Editors!) Doggett and Hatley agreed to the use of their picture on the condition that it not be used on Match.com. They didn't mention Grindr!
UPDATE: An alert reader informed us that Ronnie Doggett (whose name was misspelled in the original post) isn't just a garden variety wingnut. He's a full-fledged David Duke disciple with a profile in the Southern Poverty Law Center's extremist files! That explains why he didn't want his picture on Match.com; they're one of the leading causes of miscegenation in America today.
[Garrett Haake-WUSA-9 / Active-RVA / Richmond Times-Dispatch / SPLC]
Follow Fitzgerald on Twitter (@ChestyFitz), if you please.