We'd Tell Susan Collins To Go F*ck Herself, But Alexandria Ocasio-Cortez Took Care Of That
Congress
March 23, 2020 04:21 PM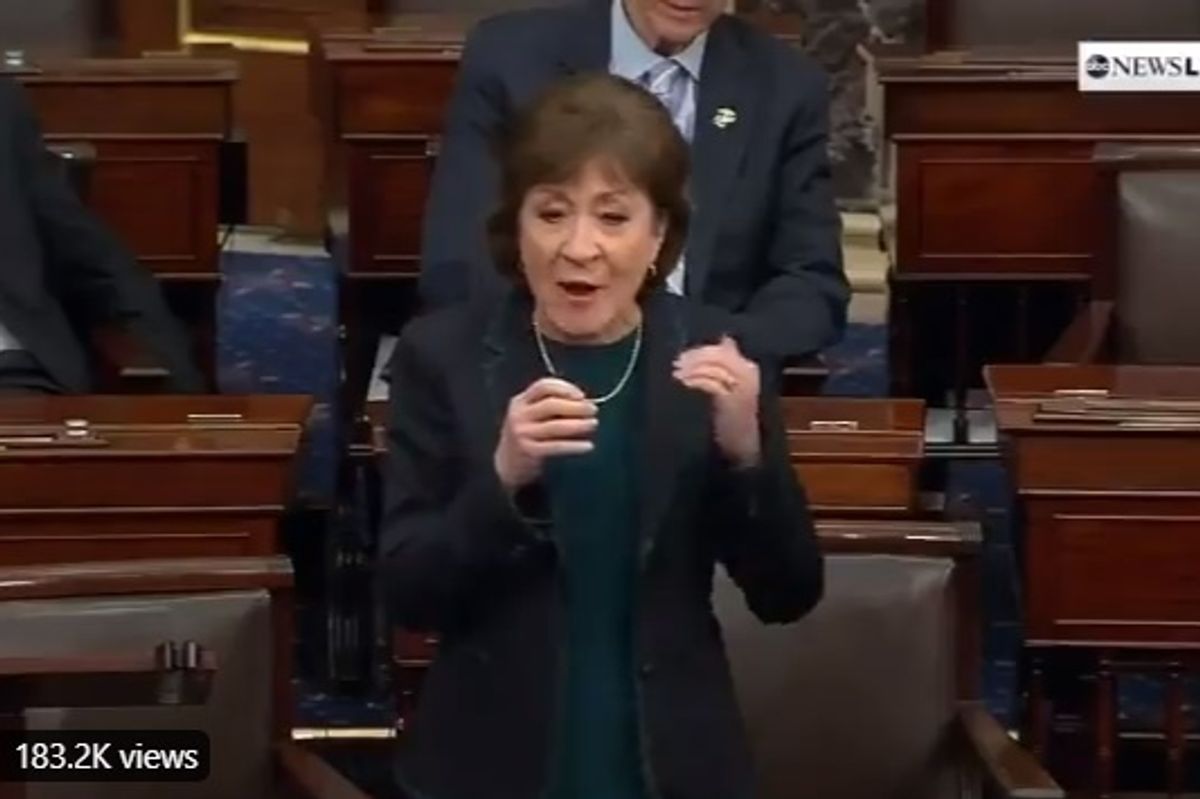 First we're gonna show you what Alexandria Ocasio-Cortez said, and then we're gonna tell you what happened before that:
That is just the beginning of AOC's thread, but she could have dropped the mic after she talked about Collins's "I'm a Moderate Lady" dance. AOC just told Collins to sit her ass down and shelter the fuck in place.
---
So, there was a mighty kerfuffle today on the Senate floor, and it wasn't because Rand Paul brought himself out of quarantine to play Dutch Ovens with all his fellow senators, like he usually does. (FACTCHECK: We do not know if Rand Paul has ever dutch ovened a fellow senator. We just would not be surprised.)
The kerfuffle was because Susan Collins was just MAD, because DECORUM REASONS, and also definitely for real not-at-all cynical reasons. You betcha.
You see, the GOP really thought it could write its own poison bill that was just a handout to its donors and Wall Street, and did little for the actual coronavirus crisis, and that Dems would be like "Welp, gotta pass it, we guess!" Obviously Dems are just so dumb that they think this would be a good time to let Republicans get away with giving Trump and Treasury Secretary Steven Mnuchin a half trlllion-dollar slush fund to use without oversight, to pay people off as he sees fit. Good god, even Joe Manchin is against this. (Though Dems do need to get their messaging more coordinated on what they are doing. This was always going to be the Republican game. That's why McConnell is allowing votes on the Senate floor that fail, so they can run to Fox News afterward and blame the Dems for not bipartisanly social distancing with them to save the world from coronavirus.)
"PBS Newshour" reporters Lisa Desjardins was in the room and live-tweeted Collins's WELL I NEVER and I DO DECLARE:
Golly gee willikers! (Talking Points Memo has more on the kerfuffling, if you'd like to read it, including some video of Joe Manchin and Mitch McConnell doing the kerfuffles! It is ... it is dumb.)
And here is some more video of concern troll Susan Collins being concerned:
OH THAT'S RIGHT, Susan Collins didpersonally strip $870 million for pandemic funding back in 2009, when America's last legitimate president had to do a giant stimulus to save the American economy from what Collins's party had done to it.
So, to review, even though AOC did it above. Collins:
1. Was cool with Brett Kavanaugh, who was credibly accused of sexual assault by multiple women, because he pinky swore to her that he wouldn't kill Roe.
2. Was cool with Trump extorting a foreign country to help him steal the 2020 election, and thus voted to acquit him in the sham impeachment trial.
3. Personally killed $870 million in pandemic preparedness funding in 2009.
4. Is just generally a fucking asshole.
But she is just really upset — agonizing over it, we tell you! — that Democrats won't just let Mitch McConnell give Donald Trump and Mnuchin a $500 billion slush fund, so that they might help their buddies out.
If you want the full crocodile tears AOC was referring to, here is a longer video of Collins on the floor, asking "IS THAT WHAT WE'VE COME TO? IS THAT WHAT WE'VE COME TO?"
Go fuck yourself.
Follow Evan Hurst on Twitter RIGHT HERE, DO IT RIGHT HERE!
Wonkette is fully funded by readers like YOU. If you love Wonkette, SUPPORT WONKETTE FINANCIALLY.

Evan Hurst
Evan Hurst is the managing editor of Wonkette, which means he is the boss of you, unless you are Rebecca, who is boss of him. His dog Lula is judging you right now.
Follow him on Twitter RIGHT HERE.