Weird Dilbert Guy Promises To Assassinate Donald Trump If He Becomes Hitler. O ... Kay?
News
October 24, 2016 12:17 PM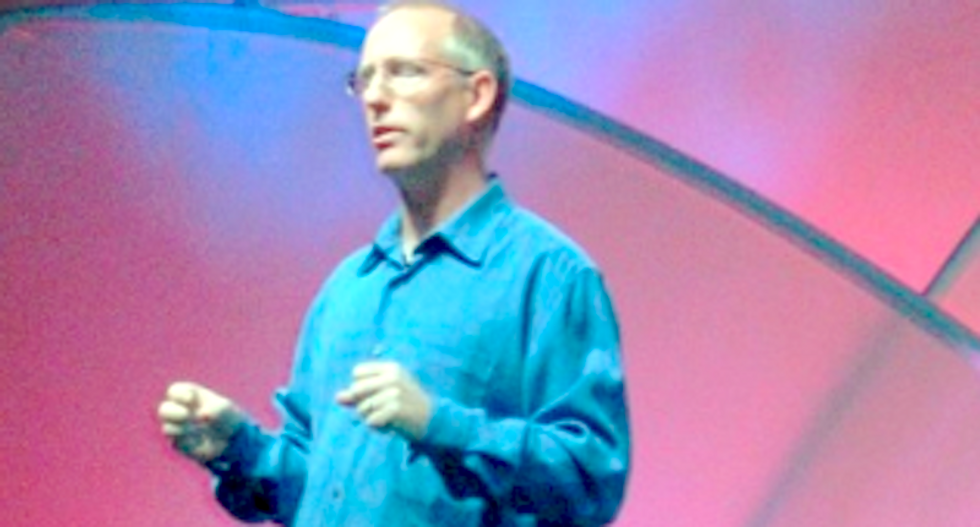 Ready to kill Hitler
---
Yay, Scott Adams, the creepy and weird guy who makes the Dilbert cartoons, is being creepy and weird again! He's fawned all over "polyamorous alpha male serial kisser" Donald Trump, even going so far as to suggest he thinks Trump is handsome. He's shared his thoughts about how men who support Trump are way sexxxier than men who support Hillary Clinton, because obviously. And he's "endorsed" Hillary, but ONLY because she is terrible and keeps acting like Donald Trump is Hitler, which means all Clinton supporters will murder him dead if he supports Hitler. Or something.
Now, Adams has a promise to make to America. He doesn't think Trump is ACTUALLY like Hitler, but if it turns out that he is just like Hitler, he will go ahead and murder Trumpy Hitler, because that's what you have to do when you accidentally elect Trumpy Hitler as president, you assassinate them:
My promise: If Trump gets elected, and he does anything that looks even slightly Hitler-ish in office, I will join the resistance movement and help kill him. That's an easy promise to make, and I hope my fellow citizens would use their Second Amendment rights to rise up and help me kill any Hitler-type person who rose to the top job in this country, no matter who it is.

As I often say, Democrats generally use guns to commit crimes. Republican use guns for sport and for self-defense. If you are a Republican gun-owner, and you value the principles of the Constitution, I'm confident you would join me in the resistance movement and help kill any leader that exhibited genuine animosity toward people because of their genitalia, sexual preference, or skin pigmentation.

In other words, I'm willing to bet my life that the "monster" view of Trump is an illusion.
THANK GOODNESS! Don't you feel safe and secure now? If Trump starts murdering Jewish people even a little bit, Scott Adams, valiant man-beast that he is, will kill him dead. If Trump genuinely acts like he hates women or gays or racial minorities, Scott Adams will go ahead and maketh murder upon him. Never mind the yooooge body of evidence that Trump really, for real, is a misogynist racist. We don't know what Trump would actually have to do that would be so bad that the weird Dilbert guy would kill him dead, but don't worry, Scott Adams has got this.
Adams's point, such as it is, is that Trump is not Hitler, therefore he won't have to kill Hitler at all. It's just that Lying Crooked Hillary has made everybody think Trump is a monster, when in reality, he is gentle and sexxxy and only a little bit racist and sexist and totally worthy of the fan-boy crush Scott Adams has on him.
But if Trump turns into Hitler, boy oh boy, the Dilbert guy is going to bring the pain on him, because being Hitler is NOT NICE.
We feel like we should add here:
EVEN IF IT IS TRUMP HITLER YOU ARE NOT SUPPOSED TO ASSASSINATE THE PRESIDENT.
YOU ARE NOT SUPPOSED TO SECOND AMENDMENT THEM.
YOU ARE NOT SUPPOSED TO WATER THE TREE OF LIBERTY WITH THEIR DRIPPING BLOODS.
Jesus Christ, these guys.
Evan Hurst
Evan Hurst is the managing editor of Wonkette, which means he is the boss of you, unless you are Rebecca, who is boss of him. His dog Lula is judging you right now.
Follow him on Twitter RIGHT HERE.