Well, At Least Donald Trump Is Getting Poorer
economics
October 03, 2018 02:45 PM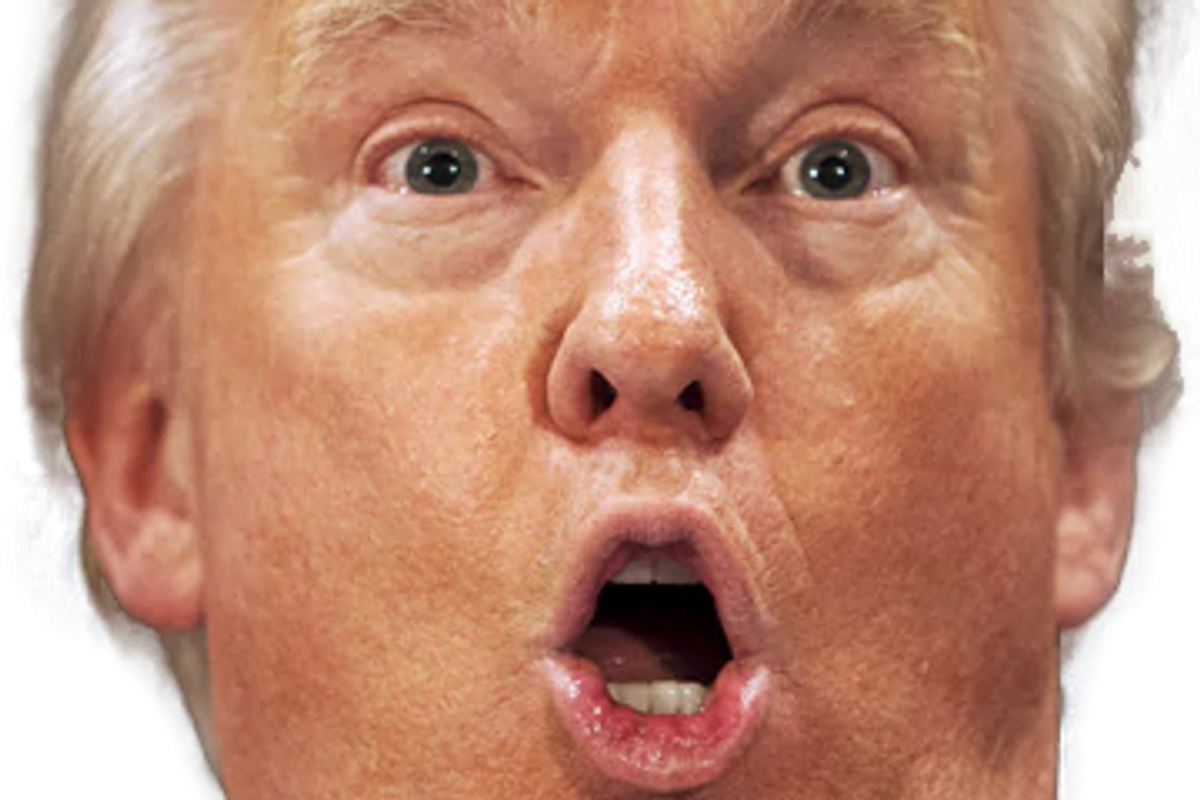 Sad news, Wonkers! Turns out Donald Trump, our genius businessman president, may be ... POOR! Well, if not poor, then a whole lot less rich than he used to be. Which is, in turn, a whole lot less rich than he claimed to be. And that's a whole lot less rich than he should have been, since he and his siblings skipped out on hundreds of millions of dollars in taxes owed to the IRS. Because he's always been a lying liar, but now he's a liar with empty (well, emptier) pockets.
This morning, Forbes published an article titled "How Trump Is Trying -- And Failing -- To Get Rich Off His Presidency." MEEE-OWW! We will never get tired of Forbes's white-hot rage at getting conned by every titan of bullshit who swore to being a multi-billionaire, Scout's honor. But when those con artists cap off their careers with a stint in the Grifter Administration, their financial disclosures tell a different story. Forbes's Dan Alexander will take you down, Wilbur Ross, if it's the last thing he does!
But today Alexander's focus is on Donald Trump, who just dropped 138 spots on the Forbes 400 List of People Who'll Be First Against the Wall When the Revolution Comes.
Much as he's trying — and he's definitely trying — Donald Trump is not getting richer off the presidency. Just the opposite. His net worth, by our calculation, has dropped from $4.5 billion in 2015 to $3.1 billion the last two years, knocking the president 138 spots lower on the Forbes 400.
Trump's downgrade is partly due to better reporting -- "for example, that the president had been lying about the size of his penthouse" -- and brick and mortar retail is down across the board. But most of Trump's declining fortunes can be traced to the fact that people just hate his damn guts, and now his brand is toxic. As the kids say: WOMP WOMP.
---
Take Trump Tower in New York, where net operating income is down 27% since 2014.
Gazing around, almost all the tenants are now gone. The hollowing-out began years ago, but it has only gotten worse since Trump entered politics. Nike abandoned its attached flagship store earlier this year, and Ivanka Trump's accessories business closed up shop as well. What's left is basically nothing but Gucci, Starbucks and The Donald, wall-to-wall. Trump Bar sits atop Trump Grille, next to Trump Café, the Trump Store and Trump's Ice Cream. It is unlikely Trump pays himself rent for any of them.
In 2000, Trump told Fortune, "It's very possible that I could be the first presidential candidate to run and make money on it." And he is making money hand over fist at the Trump Emoluments Hotel in DC, where Republican donors and foreign leaders line up to bribe the US president enjoy the legendary breakfast buffet. But revenue at Trump's golf courses fell 9% in 2017, and condo values have fallen about 20% at all three Trump-branded Manhattan properties. Formerly-Trump properties in Toronto, Panama, and SoHo have gone so far as to yank his name off the buildings and hire new management.
Turns out, association with a historically unpopular president, particularly in diverse, liberal areas on the coasts, like Miami where Trump's Doral Club is located, is really bad for business.
After Trump won the election, Doral lost 100,000 booked room nights, according to someone who knows the resort's business. While revenues for the Miami luxury hotel market jumped 4% overall in 2017 according to the data analytics firm STR, Doral's revenues fell by an estimated 16%. And that was before a deranged gunman wandered into the lobby earlier this year, draped an American flag over the front desk and began shooting at the chandeliers before he was apprehended by ­police.
It's getting so bad that Ivanka had to start wearing dresses from her own, tacky clothing line!
NO, NOT REALLY. And don't worry too much about our poor, self-sacrificing first family. Because Donald Trump and the GOP goon squad are busy rigging the tax code to make this whole president gig worth Trump's while. So even though you inexplicably refuse to buy his uglyass ties, or Vanky's plastic shoes, or stay in one of his garbage palaces, you're forking it over anyway by picking up the slack for the hundreds of millions of dollars the Trump kids won't be paying in income and estate taxes. Don't we all feel free-er now that the tax code has been re-written to release the market's animal spirits?
No?
Well, at least you won't be seeing any of the Trump clan at your local Denny's any time soon. Thank God for small favors, right?
[Forbes]
Follow your FDF on Twitter!
This week is going to be UGLY. Wonkette is here to keep you sane-ish. THANK YOU YOU'RE WELCOME.
Liz Dye
Liz Dye lives in Baltimore with her wonderful husband and a houseful of teenagers. When she isn't being mad about a thing on the internet, she's hiding in plain sight in the carpool line. She's the one wearing yoga pants glaring at her phone.