We're Starting To Suspect Donald Trump May Not Know How America Works (CORRECTION)
News
March 31, 2016 09:00 AM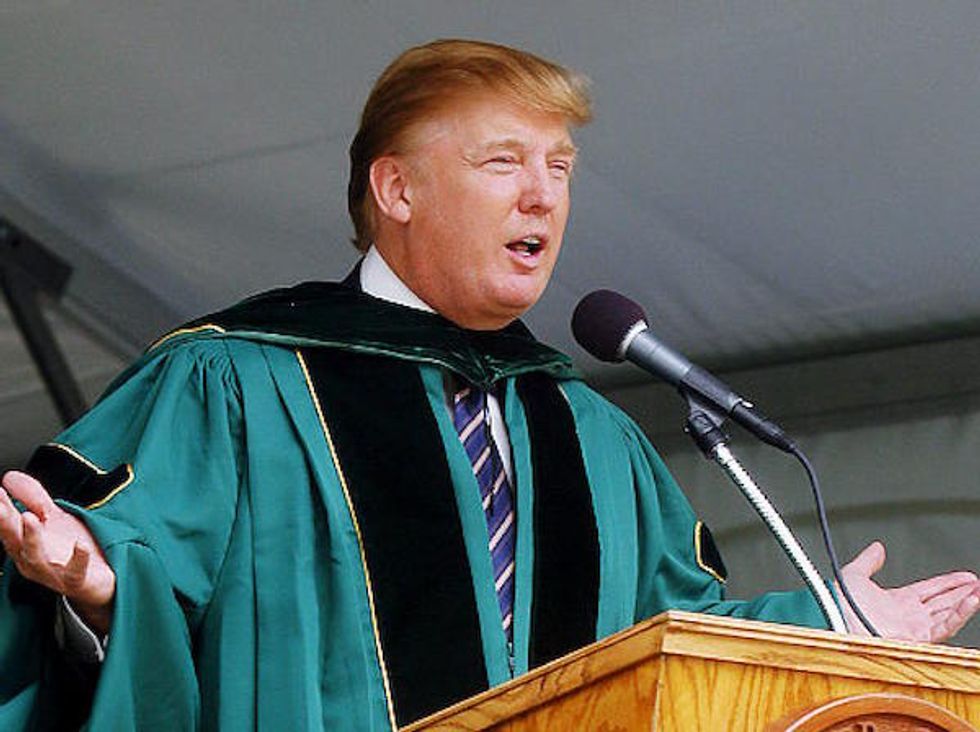 Nope.
---
Correction: While rolling on the floor laughing because Donald Trump was being as much of an idiot as he usually is, we failed to note what too many other outlets had also failed to note. The original question had asked about what Supreme Court justices Donald Trump would nominate ... and included a reference to what sort of person he might nominate for Attorney General. Because he cannot pay attention to anything besides the words coming out of his own mouth, we assume he homed in, like a dog who can't follow more than "good girl," on the last part of the question, about the AG, thus also allowing him to talk about how Hillary murdered people with her aol account.
Here is the original question.
SHE SAID QUOTE, "ASK YOURSELF WHAT KIND OF JUSTICE PRESIDENT TRUMP WOULD APPOINT, OR FOR THAT MATTER ATTORNEY GENERAL" CITING YOUR BELIEF THAT MUSLIMS SHOULD BE BANNED FROM ENTERING THIS COUNTRY BECAUSE OF THEIR FAITH. SHE SAID, "AS SCARY AS IT MIGHT SEEM, YOU HAVE TO ASK YOURSELF, WHO WOULD HE APPOINT?"
While there is a chance that we weren't even wrong, Occam's Razor would suggest that, having been asked about an Attorney General, and giving an answer that comports with the duties of the Attorney General, he was not actually replying that the Supreme Court would be "ruling in the case of I Found A Thing On The Internet And Like Whoa vs. Hillary Clinton! Get to work!"
Wonkette, being the most ethical of all the news-machine-thingies (SHUT UP YES WE ARE), hopes to be the first of many to Regret the Error.
The following #jokes are no longer operative:
We know we are proposing something radical here. Donald Trump -- who thinks the 14th Amendment "won't hold up in court" when it comes to deporting American birthright citizens -- may not in fact know what the fuck he is talking about at most times, and may have absolutely no idea what the president of the United States actually does, or how the rest of the American government actually works. We know it's a crazy idea, but pick your tits up off the floor and hear us out.
Here is what Trump has to say about what kind of Supreme Court appointments he'd like to make:
Well I'd probably appoint people that would look very seriously at [Hillary Clinton's] email disaster, because it's a criminal activity, and I would appoint people that would look very seriously at that, to start off with. What she's getting away with is absolutely murder. You talk about a case, now that's a real case. Now, nothing seems to be happening. But you can also poll people on that and you can see what happens to that because that is a real case. And if she's able to get away with that, you can get away with anything!
Does Donald J. Trump think Supreme Court justices go to work in the morning and scan Twitter to see what they'd like to make a rulin' on that day? He must think in an ideal world his better version of John Roberts will hear a thing on "Fox & Friends" about how Hillary murdered Vince Foster while les-boning Huma in a group email with Sidney Blumenthal and her dark lord Satan, and go, "Ruthie, Clarence, all y'all! Gather round! Today we are going to be ruling in the case of I Found A Thing On The Internet And Like Whoa vs. Hillary Clinton! Get to work!"
Does he think Barry Bamz The Gay Kenyan called the Supreme Court and whispered sweet sexes into Justice Kennedy's ear about how if he gaycrams America with gay marriage and keeps Obamacare legal forever, he will buy Kennedy those chocolates he likes?
Ahem, that is not how it works. (Unless Barry really does that, BAD BARRY!)
We could spend a paragraph sexplaining for Trump and any other candidates who might be confused about The Supreme Court, How Does It Work, but we are not going to. This is not middle school civics class, this is yr Wonkette, where you are expected to not be a dildo-brained gruntmouth stupidhead about such things.
And also, AHEM!, the email "scandal" is still a big fucking nothing. The same way it's BEEN a big fucking nothing, the way Benghazi is also too a big fucking nothing.
But don't tell that to Donald Trump, who does not #KnowThings. As his recent interviews with the Washington Post and the New York Times show, Trump is blissfully unaware of basic facts about stuff and things, and when he gets stumped, he changes the subject.
Hitler salutes? He's never heard of 'em. Torture? Tremendously legal as long as Donald Trump does it. Journalists? Fuck THOSE fools, and if they say mean things about Trump, he'll just change the libel laws so he can sue 'em or jail 'em or whatever he's feeling like doing that day.
The point is he's a goddamn moron, and that's why his "poorly educated" fan boys and girls love him so much.
[Politico]
Evan Hurst
Evan Hurst is the managing editor of Wonkette, which means he is the boss of you, unless you are Rebecca, who is boss of him. His dog Lula is judging you right now.
Follow him on Twitter RIGHT HERE.