What the Darn-Diddly-Doodily? Did Mike Pence Make Another Fib?
Russia
September 02, 2017 02:14 PM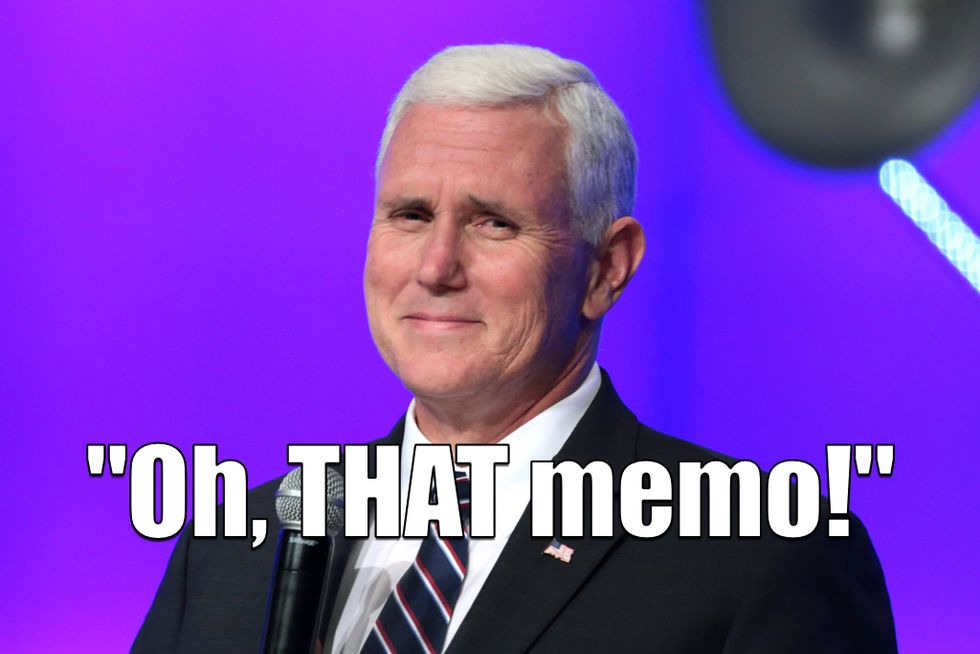 ---
Well, they may be destroying the country, but the Trump administration is definitely making the media great again. IT IS ALWAYS SCOOP O'CLOCK! Also, Good Morning, Mike Pence!
Just yesterday, we told you about Poppy Trump huddling up in New Jersey with Javanka and that rancid little weenus Stephen Miller to plot James Comey's ouster. They used their all the best words.
"UR MEAN!" They said. "Y U wont go on TV & say IM innocent? U suck!"
But when they got back to the White House on and showed everyone their bitchin' memo, White House Counsel Don "Buzzkill" McGahn totally spazzed out. Per NYTimes,
Mr. Trump was back in Washington on Monday, May 8, when copies of the letter were handed out in the Oval Office to senior officials, including Mr. McGahn and Vice President Mike Pence. Mr. Trump announced that he had decided to fire Mr. Comey, and read aloud from Mr. Miller's memo.

Some present at the meeting, including Mr. McGahn, were alarmed that the president had decided to fire the F.B.I. director after consulting only Ms. Trump, Mr. Kushner and Mr. Miller. Mr. McGahn began an effort to stop the letter or at least pare it back.
So after McGahn said, OMG!WTF! you can't send this thing!, they turned to Jeff Sessions and Rod Rosenstein and asked them to write a memo with some not-illegal reasons to fire James Comey. Because both those guys were right there in the room for the whole discussion!
Liz Dye
Liz Dye lives in Baltimore with her wonderful husband and a houseful of teenagers. When she isn't being mad about a thing on the internet, she's hiding in plain sight in the carpool line. She's the one wearing yoga pants glaring at her phone.