White People Beware! There Might Be Black People Peeing Or Existing Nearby
Post-Racial America
July 05, 2018 11:20 AM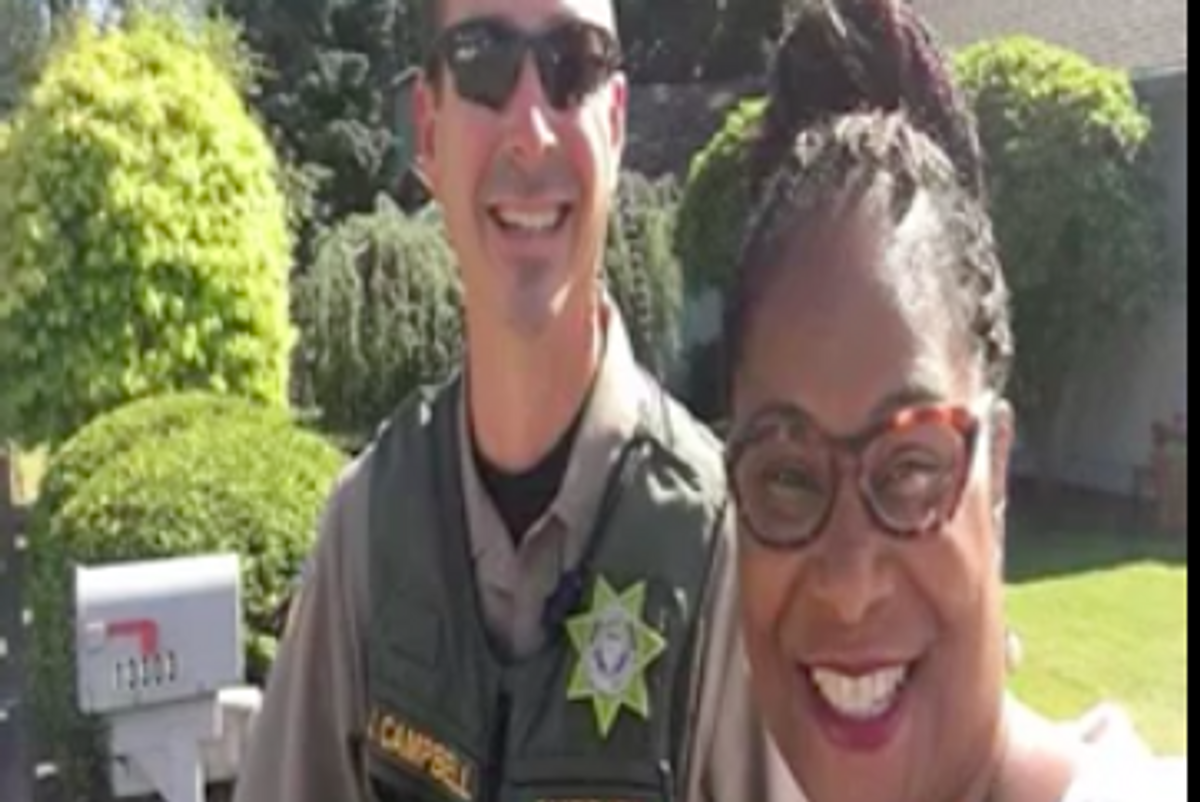 Urinating in public is a dangerous proposition for black folks these days. You'll recall how two young brothers were arrested for trying to use a Starbucks bathroom without visible signs of a latte. Now at Subway, that cornerstone of American strip malls, the police were summoned to stop a daring daylight peeing.
On their drive home to North Carolina, Felicia and Othniel Dobson stopped for dinner at a Subway on Newnan Crossing Boulevard [in Georgia] with their children -- ages 8, 12, 13, and 19, -- and the children's aunt.

"I have a 24-year-old sister who's a recent graduate of North Carolina A&T (State University). My daughter's 19. She's entering sophomore year at Wake Forest University," Felicia Dobson said.

The family was at the restaurant for about an hour when a Subway employee made an urgent 911 call.

"I need somebody to come through here please, ASAP. Now," the employee said. "There's about eight people in a van, and they've been in the store for about an hour. They keep going back and forth to the bathrooms by my back door."
The employee also thought she'd seen the family "possibly" filling their water cups with soda. It's not clear if they also attempted the "old lady on vacation" scam of stuffing a purse with ketchup and sugar packets.
---
This family had 911 called on them because a Subway employee thought they were going to rob her https://t.co/Xx3lJV4DzZ

— Raw Story (@Raw Story) 1530755704.0
After not seeing any crime greater than the willing consumption of Subway sandwiches, the police officer on the scene apologized to the Dobsons and explained that the skittish employee had "been robbed before and thought they would rob her." I'm not sure who previously held her up but I can't imagine the gang included three children.
I don't wish to promote sexist stereotypes, but honestly, is it really that strange for a group of women to use the bathroom a lot, especially while on a long car trip? It's as if the employee didn't see them as women or even as children but just a potential threat. Someone out to capitalize on the rising black market for tasteless bread.
Starbucks famously shut down 8,000 of its stores so it could train employees to not be racist in four hours. Will Subway do something similar? Subway had managed to stay under the radar for the past few years, continuing to sell mediocre sandwiches to people who didn't know any better (sorry, Dad) while hoping everyone just forgot that they had for years provided material aid and comfort to a pedophile.
Yeah, he never stops making your skin crawl. If I were Subway, I'd just be happy that anyone was bringing their children within 50 feet of the establishment.
Subway franchisee Rosh Patel sent Channel 2 Action News a statement that says:

"I take this very seriously, and I am fully investigating. I have also used this opportunity to reiterate to my staff the importance of making everyone feel welcome."

Felicia Dobson said the owner called her Tuesday evening and apologized. She said she was told the employee is on administrative leave.
The "Sandwich Artist" is on "administrative leave"? That's a thing? Did she shoot an unarmed black kid with a 6-inch Cold Cut Combo and she's "riding a desk" until Subway's internal affairs clears her?
I would now like to take this moment to say something nice about Subway: When I was in high school, I worked at a grocery store on weekends and for my dinner break, I'd go to the Subway across the street. The young woman there would always ring up my meatball subs as a much cheaper veggie sub and wink at me as she put it in the bag. That was the most sex I had in my teens.
Now, let's quickly head west to Oregon where your not-so-friendly neighborhood white woman called the cops on a black state representative who was out canvassing door-to-door in a community she actually represents.
Rep. Janelle Bynum, a Democrat who is running for a second term this fall in the state House of Representatives, said she was knocking on doors and talking to residents for two hours along Southeast 125th Avenue in Clackamas. She was taking notes on her cellphone from the conversation she'd had with someone at the second to last of about 30 homes on her list around 5:10 p.m. when a Clackamas County deputy pulled up to her.

She looked over at the deputy in his patrol car and thought, "I don't believe this." He asked if she was selling something. She introduced herself as a state legislator and said that she was out canvassing and that she guessed someone called him.

The deputy said someone called and reported Bynum appearing to spend a long time at houses in the area and appearing to be casing the neighborhood while on her phone.
Scared white people are hilarious. You guys always think we're doing something you've seen in some crime thriller you watched the last half of on a plane. These past few months have just been ridiculous: A white woman in May called the cops on black Airbnb guests in her neighborhood because they apparently "didn't wave" at her, which recalls "black codes" in the Jim Crow South.
UPDATE: The owner of the Airbnb says the situation could have been avoided "if the kids had simply smiled at (my ne… https://t.co/mMNFalPnU2

— Okayplayer (@Okayplayer) 1525888355.0
What Bynum experienced reflects some perhaps hard-wired racism in a state where it was illegal for black people to even live until 1926. Yes, even liberal Portland had "White Trade Only -- Please" signs outside restaurants in the 1950s.

"It was just bizarre," Bynum told The Oregonian/OregonLive. "It boils down to people not knowing their neighbors and people having a sense of fear in their neighborhoods, which is kind of my job to help eradicate. But at the end of the day, it's important for people to feel like they can talk to each other to help minimize misunderstandings."
The sense of fear stems from our very blackness. When I canvassed for the Sierra Club back in the mid-1990s, I freaked the hell out of some residents in a suburban New Jersey neighborhood. "Who's there, Gladys?" one lady shout-whispered from inside the house after I rang the doorbell. "Let me see," came the response. "It's A BLACK PERSON!"
It occurs to me now that this wasn't just a scared white woman's physical description of the guy wearing a Lynda Carter Wonder Woman t-shirt outside her door. She was actually leveling a charge against me. And perhaps something also hard-wired caused me to flee the premises quickly before the police arrived.
You love Wonkette very much, yes? Please DONATE to our snarky cause.
Stephen Robinson
Stephen Robinson is a writer and social kibbitzer based in Portland, Oregon. He writes make believe for Cafe Nordo, an immersive theatre space in Seattle. Once, he wrote a novel called "Mahogany Slade," which you should read or at least buy. He's also on the board of the Portland Playhouse theatre. His son describes him as a "play typer guy."