Who Wouldn't Want To Jerk Off To Kim Davis Erotica?
Featured
September 23, 2015 09:00 AM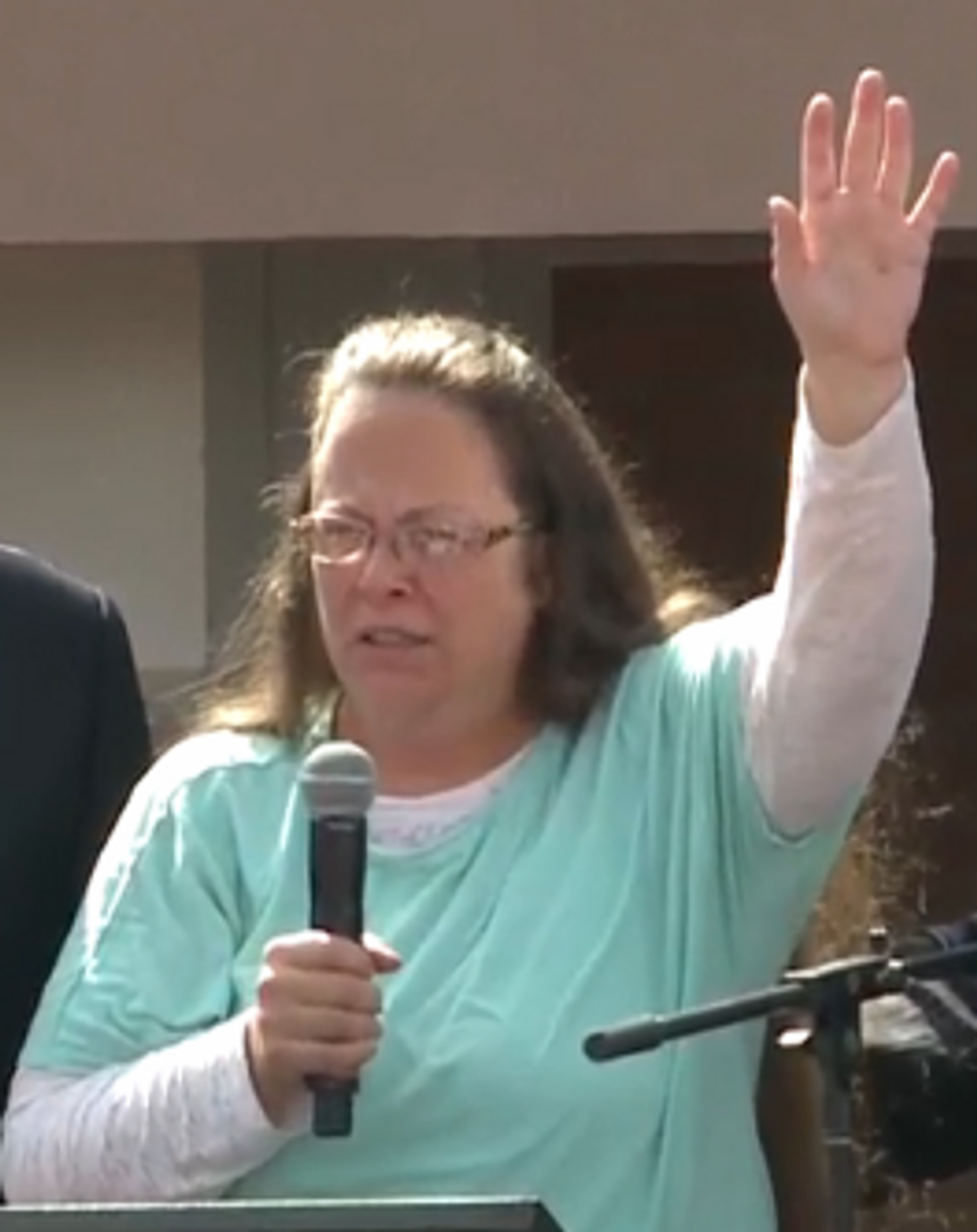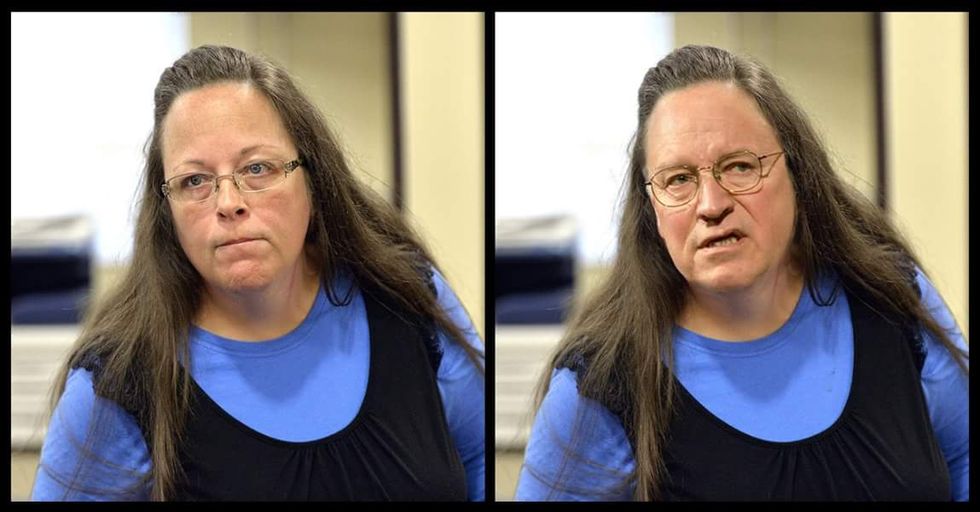 For you to fap to
---
If long-haired homo-hatin' harlots gettin' nailed like Jesus makes you tingly in your down-theres, you're in luck. Also, potentially in need of a lot of therapy, not that we're judging. Authoress of "biblica erotica" Lilith St. Augustine (no way is that her real name) has written, for your shades-drawn pleasure, a hot tale of forbidden jailhouse love between Kim Davis, the martyr of Rowan County, and -- GASP! HIDE THE CHILDREN! -- a jailhouse lady. (Is it Myrtle? No, it is Krystal. Close enough!)
The book is titled Kim Goes To Jail: An Erotic Story, and it's only $.99, so good deal if you want to slam your clam to some satirical sexytime. Let's sexplore:
Kim is a simple, small-town woman who finds herself thrown in jail in a dispute over religion and sexuality. She quickly discovers the importance of knowing friend from foe in the notoriously horny women's wing and, with the help of her beautiful cellmate, sets out to learn the ropes.
[contextly_sidebar id="Cnhb0OoQ8sjmjC52EmNQDCaVDSjPKtxt"]
Ohhhhhh yeah, baby. Can we get a little taste of Kim Davis (ewww, gross) doing the lesbian sexing to her "beautiful cellmate" (EWWW, GROSS)? Oh, yes we can, uh huh:
"One day I'm standin' on the side of the Lord against sexual perversion, and the next I'm in prison orange watchin' a buck nekkid mulatto vixen 'bout to do impure things to herself and to my soul in one single, terrifyin' act," one of the book's more-SFW passages reads. In another: "She was strokin' my thigh and makin' her way for the promised land, so I slipped my other hand under the table and kinda put it in her way 'tween my legs just under home base."
Thank you, sir, may we have another?
Krystal leaned in. "Tell me Kim," she said with hushed voice as she put her baton on my chest just below my neck. "Do you know what happens to girls after they come here? Prison's got a way of... changin' a person." She started slidin' that big black stick of hers down between my kitties and over my stomach, which was knotted up like a hog during the annual Pigs n 'Pokes Jubilee. I took a step back, but she stepped forward again.
So. Sizzlin'. HOT. Sorry, you'll have to spend your own $.99 if you want to find out what happens next. You can put it next to your virtual copy of the Kirk Cameron sexxxytime story you like to read when no one's watching.
[contextly_sidebar id="KKBfN9bT7Nom9MMY3dOQjid3NxnYN3kv"]
The author sexplained to Huffington Post why she wanted to mock the ever-lovin' bejesus out of dumb Kim Davis, and as both a connoisseur of Davis-mocking and occasional reader of supposedly stroke-worthy smut (shut up, for a friend, and also for "work"), we support this endeavor!
St. Augustine told The Huffington Post in an interview that she sees the novella, which is available as a Kindle eBook, as an "opportunity to poke fun at [people who use religion to deny others their rights]" while also "giving readers satisfaction not only in the typical erotica sense but also of seeing a character do some things that, in the real world, would obviously be anathema to the kinds of people we're talking about."
Also, she just really likes sex. A lot:
And when doing it isn't enough... and thinking about it isn't enough... and reading about it still isn't enough... you might just find yourself deciding to start writing about it, too.
You do you, girl. Because unlike the real Kim Davis -- who, even according to God, is an a-hole -- your fictional version isn't actually hurting anyone. Except maybe for American Jesus, but he doesn't read satirical lesbian jailhouse erotica anyway. OR DOES HE?
[HuffPo]