Whom Will Trump Screw Today? Wonkagenda For Tues., Jan. 24, 2016
Culture
January 24, 2017 09:06 AM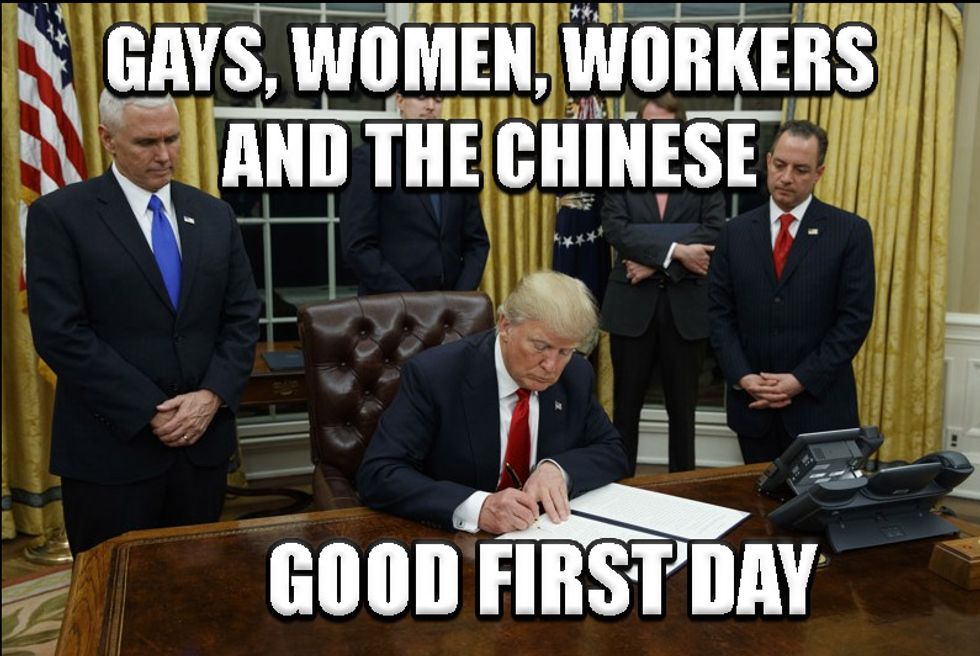 ---

For better or worse, Trump killed the TPP. Don't pother poking it with a stick, or wondering if it's going to come back as a zombie Jeebus or Obi-Wan, China's already snuggling up with all the signatory countries.
Trump's inner circle is a contemporary Game of Thrones parody, and Sean Spicer can only look in while swallowing heaps of shit and chewing gum.
Trump was beating the dead Messican horse again when, in a meeting with Congress critters, he whined about losing the popular vote because of the millions of illegals that couldn't, wouldn't, and didn't actually vote.
Trump instituted a hiring freeze for federal workers as they cost more money than hiring contractors who don't have to adhere to federal standards. Screw the bureaucrats, with their rules and ethics laws!
MORE of Trump's cabinet nominees will face Senate panels today as America grits its teeth and wonders how much more C-SPAN it can possibly take. SHHH, you know you love it, babby!
Mike Pompeo was confirmed and sworn in as the new CIA chief last night, so stop complaining about America's super best Russian friends making bad things happen in the election.
Trump will keep his secret hetero-lifemate, James Comey, as FBI director. Why spoil such a special friendship?
Trump pulled the funding of U.S. NGOs who like to talk about abortions in Not America because, as we all know, people can't have babies if they don't know how to make babies.
Just before leaving office, Obama gave $227 million dollars in foreign aid to the Palestinian Authority and U.N organizations. I guess we should think about it like a severance, or back pay.
The Supreme Court rejected an appeal to hear a Texas voter ID law since courts in Texas are still arguing about how racist the law might be.
Chelsea Clinton thinks you should leave Barron Trump alone. The kid's home life was already questionable, you guys, don't make it worse. We're better than that.
You may have heard that the all the ladies marching in Washington left a big, 'ol mess this past weekend, but that's just a big, fat load of faux news. Of course, Yr Wonket already knew that because we were there!
Sean Spicer doesn't just hate the press, he hates fancy futurist ice cream Dippin' Dots and swallows "two and a half packs" of gum before noon each day. Stick around and make your own poop jokes!
Here's some bonus Nice Time! It's people attack-hugging John Lewis as he arrived back in D.C. last night.
Here's some bonus 'splainerings from Seth Meyers about Trump's Alt-Reality and the women's march.

And, finally, here's your regularly scheduled morning Nice Time: OTTERS!
Dominic Gwinn
Dominic is a broke journalist in Chicago. You can find him in a dirty bar talking to weirdos, or in a gutter taking photos.