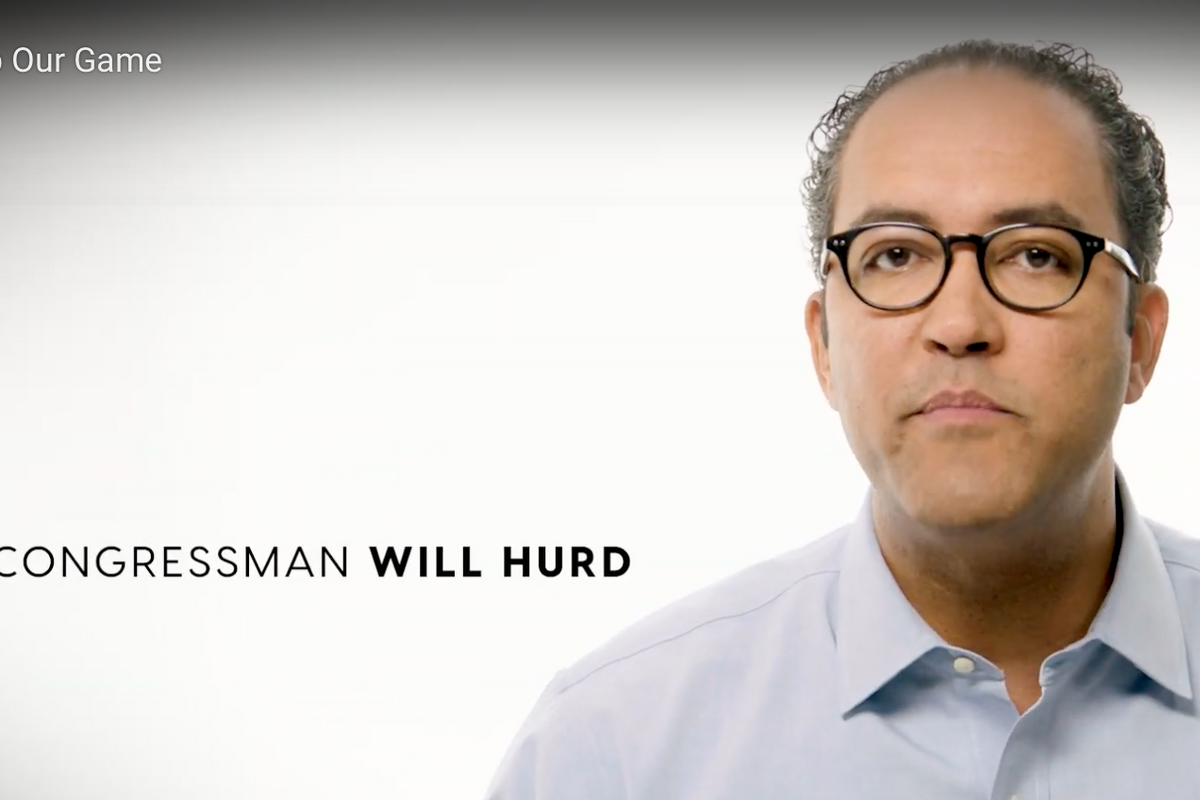 Will Hurd of Texas, the GOP's lone black Republican congressman, announced in August of last year that he wasn't running for re-election. Some of us were naive enough to believe Hurd might feel free to recognize his constitutional duties and vote to impeach Donald Trump for all those crimes he committed in plain sight. Instead, Hurd readied himself for his Fox News closeup. He claimed that "weaponizing impeachment" would set a dangerous precedent where presidents, regardless of political party, might have to obey the law.
HURD: We have 435 folks in the House, 100 senators. That means there's 535 definitions for impeachment. I've sat through the hundreds of hours of depositions and hearings and didn't see any evidence presented of bribery or extortion.
Republicans are bummed that they're going to lose such a colossal moral failure in a bland, unassuming package. Hurd's district, which is majority Hispanic, is competitive. But potentially losing one swing seat is a small price to pay so Hurd can work on losing many other seats across the country. Hurd's already filmed a video for the Future Leaders Fund, a super PAC his former campaign manager, Justin Hollis, leads. The Future Leaders Fund is "determined to create a diverse crop of future elected officials to be ambassadors to our party."
---
Hurd shares the Future Leaders Fund's concern that if the Republican party doesn't start "looking like America and resonating with Americans," we won't have a Republican party any more and then who would look out for the interests of the powerful? Where would a corrupt president turn if they needed a quickie sham trial?

The PAC doesn't have a lot of money -- just $36,000 on hand -- but major GOP donors are starting to pay attention. They want to party to at least look diverse even if actual Republican voters aren't that diverse. The MAGA hats only come in one shade of red.
From The Dispatch:
"Any kind of effort that is about bringing more diversity to the table, to the voter box, on issues regarding, whether it's free enterprise, strong national defense, you name it, I'm all for it," Lisa Wagner, a Chicago-based political fundraiser who has experience and relationships with Republican donors across the country, said. "And I think many, many folks would be, because … elections are about a game of addition. And if Will's super PAC can help us add more, awesome."
There's not an original thought in there, but at least the GOP fundraiser didn't use the term "net-net." The Future Leaders Fund's first spot, featuring Hurd, is all rosy, upbeat, morning in America with images of Ronald Reagan and the minorities his policies at no point benefitted. That was in November. The PAC's spots from January, post-House-impeachment are a little different. They don't play the "game of addition" but are straight-up division. Take this one attacking Democrat Lizzie Fletcher, who represents Texas's seventh district.
SCARY POLITICAL ATTACK AD NARRATOR: Lizzie Fletcher promised to be an independent voice, but in Washington, Fletcher put impeachment and a radical agenda ahead of results for Texas families. Fletcher voted for impeachment, bringing more division and dysfunction to Washington. Fletcher voted with Nancy Pelosi and the "Socialist Squad" more than 90 percent of the time. Lizzie Fletcher is wrong on impeachment and wrong for Texas families.
Donald Trump probably approved this message. Despite the ad's title, "Move On," the intent is to attack potentially vulnerable Democrats for their impeachment vote. It's crazy to think Republicans would focus on impeachment at all, given how shameful their actions were during the process, but how else can they get Trump re-elected and avoid further losses in Congress? It's also scuzzy but not surprising that Republicans would try to tie Fletcher's votes to the "Socialist Squad" as if Alexandria Ocasio-Cortez is co-speaker of the House.
The Future Leaders Fund also pulls the same crap with Abby Finkenauer from Iowa.
SCARY POLITICAL ATTACK AD NARRATOR: Abby Finkenauer promised to change Washington but Washington changed Abby Finkenauer. Abby Finkenauer promised to be a bipartisan problem solver. Instead she's been a rubber stamp for a radical liberal agenda. Finkenauer has voted with Nancy Pelosi, AOC, and the "Socialist Squad" over 90 percent of the time. And Finkenauer even voted to impeach President Trump, bringing more chaos and dysfunction to Washington.
Yes, it was impeaching Trump that brought "chaos and dysfunction to Washington," not Trump's own corrupt-ass administration.
The Future Leaders Fund spends most of its time attacking actual, current Democratic leaders (both women) like common Lee Atwaters. It does eventually get around to hyping Republican candidates such as Wesley Hunt and Ashley Hinson.
It seems like what this PAC considers a true "future leader" is someone who'll never hold Trump accountable for anything.
Follow Stephen Robinson on Twitter.
Yr Wonkette is supported by reader donations. Please send us money to keep the writers paid and the servers humming. Thank you, we love you.
Stephen Robinson
Stephen Robinson is a writer and social kibbitzer based in Portland, Oregon. He writes make believe for Cafe Nordo, an immersive theatre space in Seattle. Once, he wrote a novel called "Mahogany Slade," which you should read or at least buy. He's also on the board of the Portland Playhouse theatre. His son describes him as a "play typer guy."