Will Obama's Hair Please Just Go Gray So the Media Can Shut Up About It?
News
January 21, 2011 03:26 PM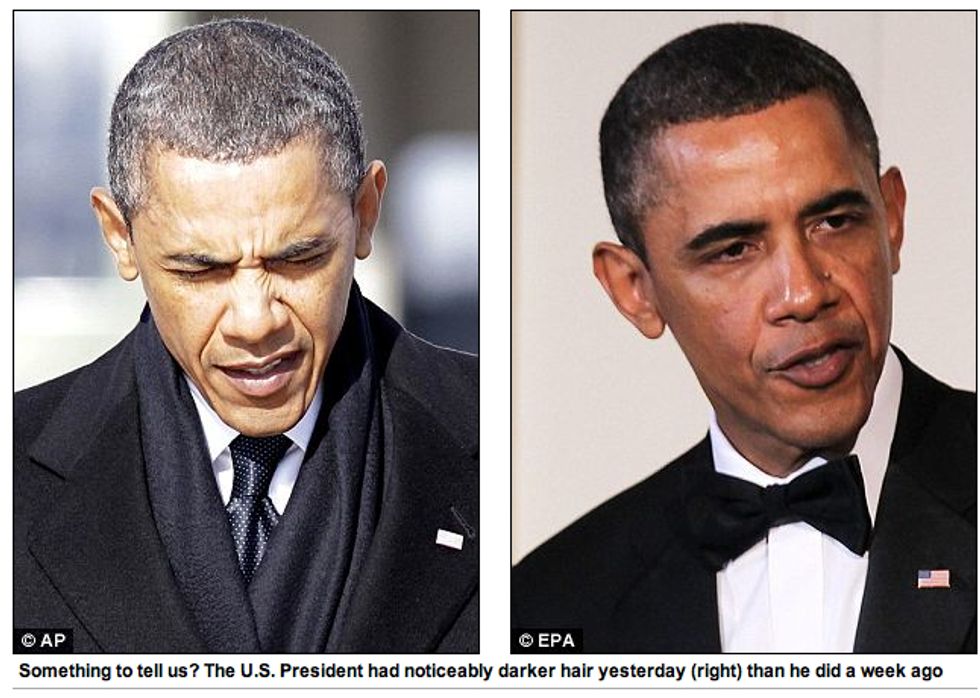 For years now, the media has waited with bated breath for Barack Obama's hair to turn totally gray. The stresses of the job are supposed to do this to a president, we've been told. But why is it taking so long? The media is always right about such important matters. The only answer:conspiracy. The Daily Mailhas decided Obama is now dyeing his hair "jet-black" to cover up all the "grey," because it noticed Obama looked different in a photo taken in bright sunlight than a more recent photo taken inside in a dark room. Dyeing is cheating, Obama! Sure, that prayer hog Gabrielle Giffords has taken all of God's miracles for herself, but you should have to live with being gray.
---
It's being seen as the most important visit by a Chinese leader in 30 years and, with all the world's eyes on him, who can blame Barack Obama for wanting to look his best.

For it appears that he has dyed his greying hair jet-black - giving him a new more youthful look.
Yes, how could Obama possibly look cooler than Hu Jintao and his ridiculous hipster glasses? Only hair dye. Damn Brits.
If this is true, Obama's flag pin got a dye job too. Look how white it is in the first photo! The pin and Obama must have gone on a makeover teevee show together, because if you look at that first photo, Obama doesn't even have any eyes! What an amazing transformation. Those eyes really look real. Must have been expensive. And to top it all off, his skin is darker now, because he's racist against being white. [Daily Mail]