'Co-Prophet Of These End Times' William Tapley Sings Sweetest Donald Trump Jam You'll Ever Hear
Culture
July 28, 2016 02:25 PM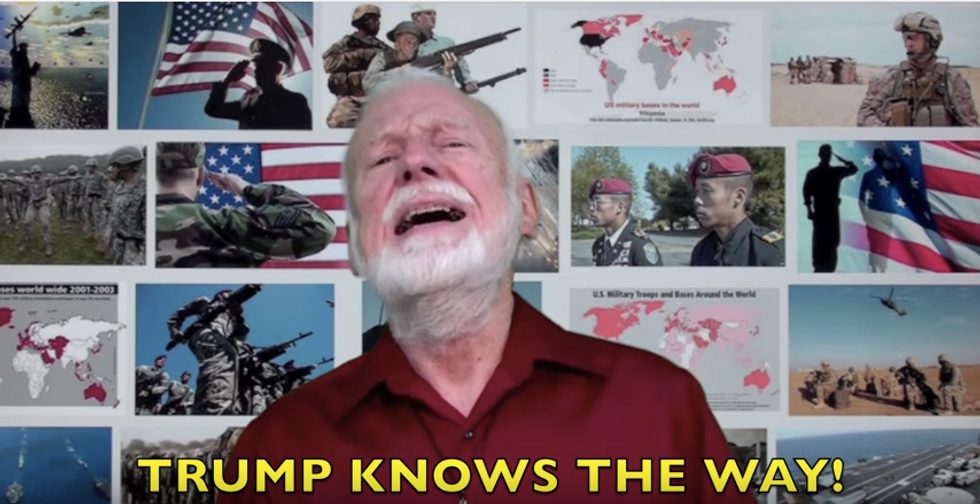 WHO ARE THE FIRST TWO EAGLES??
---
So far this week, the DNC has had a pretty impressive list of performers! Demi Lovato, who turned out to be way better at singing than I thought she would be (first time hearing her, honestly!), Paul Simon, Lenny Kravitz, Alicia Keys, Andra Day... and almost literally all of Broadway. Which was very, very exciting! Look at BD Wong's face and how happy he is singing with Ben Vereen and tell me your heart is not warmed!
And Cagney and Lacey! And Idina! And Audra! And Brian Stokes Mitchell! And Alice Ripley! And Ricky from My So-Called Life! And Jan Brady! And Montego Glover and Adrienne Warren who were both SO GOOD HOLY CRAP. Also a lady I thought briefly was Patti LuPone because my screen was too small, who turned out to not be Patti LuPone!
So YEAH, you could say that we are really winning the talent portion of the competition. Which is not hard, given that the RNC had... what? G.E. Smith and some random guy whom we are pretty sure they found doing Blues Traveler covers at a bar down the street with a floor covered in peanut shells? PSSHT.
BUT WHAT HO? It appears we have some competition, and it is FIERCE. The world famous William Tapley -- The Third Eagle Of The Apocalypse and Co-Prophet Of These End Times -- who is also your gentleman lover, has finally laid down his TRUMP JAM, titled "Trump Knows The Way." Which I have actually been checking his YouTube page very regularly for since the beginning of this election:
Now, I'm not gonna lie. I am SLIGHTLY disappoint. Because this song is basically the same song as Tapley's Mitt Romney/Paul Ryan jam, "Take The R Train," but with different lyrics:
quite derivative
. I was really looking forward to a fresh new Tapley jam, and now here I am, a cliché, saying that I liked his first album best! It just seems like he's trying to recreate his greatest hit here, and not really putting any new effort into crafting something Trump-specific. A new classic that we can all enjoy. Nevertheless, his vocal and lyrical talent is not to be messed with, with lines like "Criminals love those weapon free zones, when guns are banned then how the hell do we fight with iPhones," he is definitely establishing himself as a modern day wingnut Bob Dylan. A true poet, if you will.
selfish demands for payment,
maybe Donald Trump can enlist the Third Eagle as his opening act?
With a co-prophet like Tapley on Trump's side, we'd all better start to get a little nervous. After all, this is the guy who first won my heart when he proved that Danny DeVito was the antichrist!
There is no word yet on who the first two Eagles of the Apocalypse are endorsing in this election, but word on the street is that their horseback-riding friends have been on the Trump Train for decades.
[YouTube]
Robyn Pennacchia
Robyn Pennacchia is a brilliant, fabulously talented and visually stunning angel of a human being, who shrugged off what she is pretty sure would have been a Tony Award-winning career in musical theater in order to write about stuff on the internet. Follow her on Twitter at @RobynElyse