Wingnut Can't Wait For 2016 To Tell Everyone What A Lezzie Slut Hillary Is, And Bill Is Not Even Chelsea's Dad Either
News
October 14, 2013 09:15 AM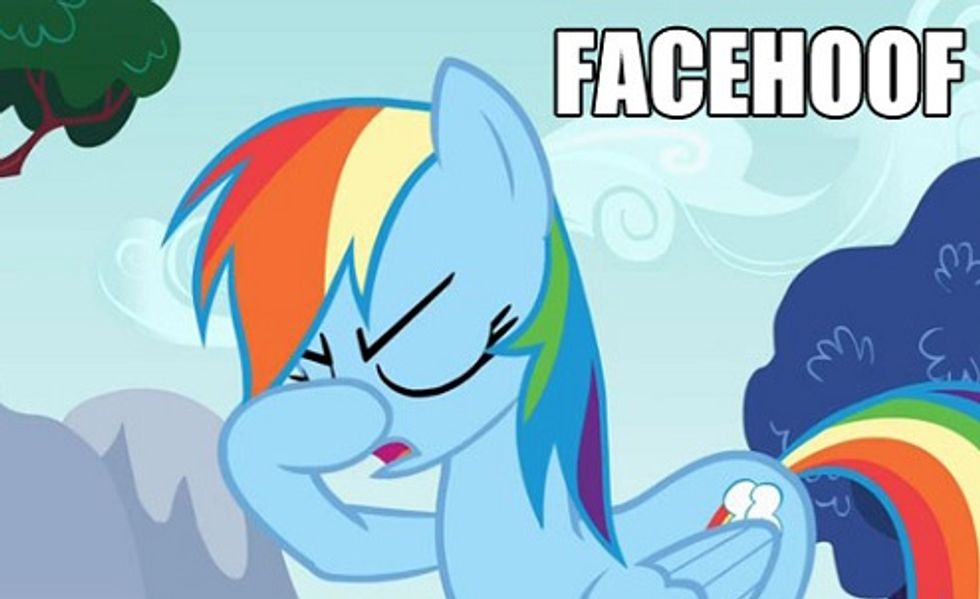 Some days the Wonkette tipline brings in an abundance of pure batshit craziness, but seldom does quite such a large helping of it arrive in a single dose like the incredibly long email we received over the weekend from self-appointed Clinton inquisitor Robert Morrow of Austin, Texas. Mr. Morrow, who has been at this lonely missionfor quite some time now, got our attention with his subtle topic heading: "Hillary and her Terror Campaigns on Bill's Sex Victims and former Girlfriends," which we suppose he must have discussed somewhere in there. But the link at the beginning of the message goes to another claim altogether, this weird post about how Chelsea is not actually Bill's daughter, but is in fact the daughter of longtime Clinton friend Webb Hubbell. Morrow claims that this fact is pretty much an open secret among "most or all of the high level political and journalistic insiders" in Washington DC. You want proof? How's this for damning? Morrow says that in 2007, he said to Time reporter Karen Tumulty,
---
"well you do know that Chelsea is the biological daughter of Webb Hubbell and not Bill Clinton?" Tumulty's response was interesting -- she did not deny or challenge this blockbuster assertion but rather just seemed to confirm it by her awkward silence and accepting non denial.
Because nothing confirms the truth of an accusation like the embarrassed silence that results when someone is looking for a clear path to the nearest exit to get the farthest possible distance from a crazy person.
Morrow has other evidence: an unnamed "longtime high level Republican operative" told Morrow that he'd known about Chelsea's true father since 1992, and confirmed Morrow's suspicion that "most high level Republican and Democratic political operatives" were also aware of the facts. And "historian and political commentator" Dave "DC Dave" Martin also knows it, whoever he is; Martin claims to have heard it from the highly credible Chris Ruddy, who took lots of money from Richard Mellon Scaife to popularize the idea that Vince Foster was murdered by a shadowy conspiracy, and then took more money from Scaife to start Newsmax.
Morrow is only interested in the truth, you see:
So if most or all of the high level political and journalistic insiders know that Chelsea is the biological daughter of Webb Hubbell and not Bill Clinton, it is time that YOU knew, even if it is 21 years too late because it says a lot about the Clintons, the dysfunctions in their lifestyles, the deceptions they have pulled on people and it perfectly illustrates that Hillary is not some sort of victim of Bill's epic philandering, but rather an adultery perp herself and a malevolent & cynical force in covering up all this "Jerry Springer" insanity.
We don't think he likes her very much.
"But what about the proof?" you may ask. WELL! just look at this fact: Chelsea Clinton "has had plastic surgery to minimize the "gumminess" of her lower lips," and her lips and chin look a whole lot like Webb Hubbell's! What's more, there is a whole lot of other evidence that Chelsea is Hubbell's daughter, except before getting to it he has to go on for about eleventy squillion words about all the people Bill and Hillary have had sex with, because of course he has to show you that Hillary is a bisexual nymphomaniac and Bill is a serial rapist for Chelsea's true parentage to make sense, and oh, by the way, Bill's purported father wasn't really his daddy either and everyone in Arkansas knows it but is afraid to tell.
We have to admit we started skimming in there somewhere.
One crime Morrow is willing to absolve Hillary of any blame for, though, and that is the death of Vince Foster, because of course she was sexing him, too. Also Bill sexed a lot of hookers and was the father of a black hooker's child, she says so and everything, and he probably killed Kathleen Willey's cat Bullseye, and Clinton is a CIA asset who conspired with George HW Bush to run drugs during Iran-Contra, while "skimming tens of millions off the top." This only makes sense, really.
So finally, after much scrolling and talk of Bill's inability to satisfy Hillary sexually (just like Obama, both George Bushes, Lyndon Johnson, Jack Kennedy, and Richard Nixon, she is bisexual -- you need to know this, "for context"), we get to the bottom of the page and the incontrovertible proof that Chelsea is Webb Hubbell's daughter, which is: Ummmmm... Morrow, you fucker, it's her lips and chin again? Also very telling, Bill Clinton pardoned a bunch of people, but not Webb Hubbell, so that's pretty much all you need to know. And of course, there's this bit of inspired literary close reading:
Hillary, in her book It Takes a Village, says that "a burly ex-football player" gave her advice on how to hold Chelsea as a baby: "Think of a baby like a football and hold it tight." Hillary is probably referring to Hubbell who played as an offensive tackle for the Arkansas Razorbacks
After all, how many "burly ex-football players" could there possibly be in the world? Also, in his own book, Hubbell mentions seeing Chelsea as a child, which is about as big a giveaway as is humanly possible.
We're convinced: Robert Morrow desperately needs a new hobby.