Wisconsin GOP Vote Suppressing F*ckery Bites 'Em In The Ass
State/Local Politics
April 14, 2020 10:59 AM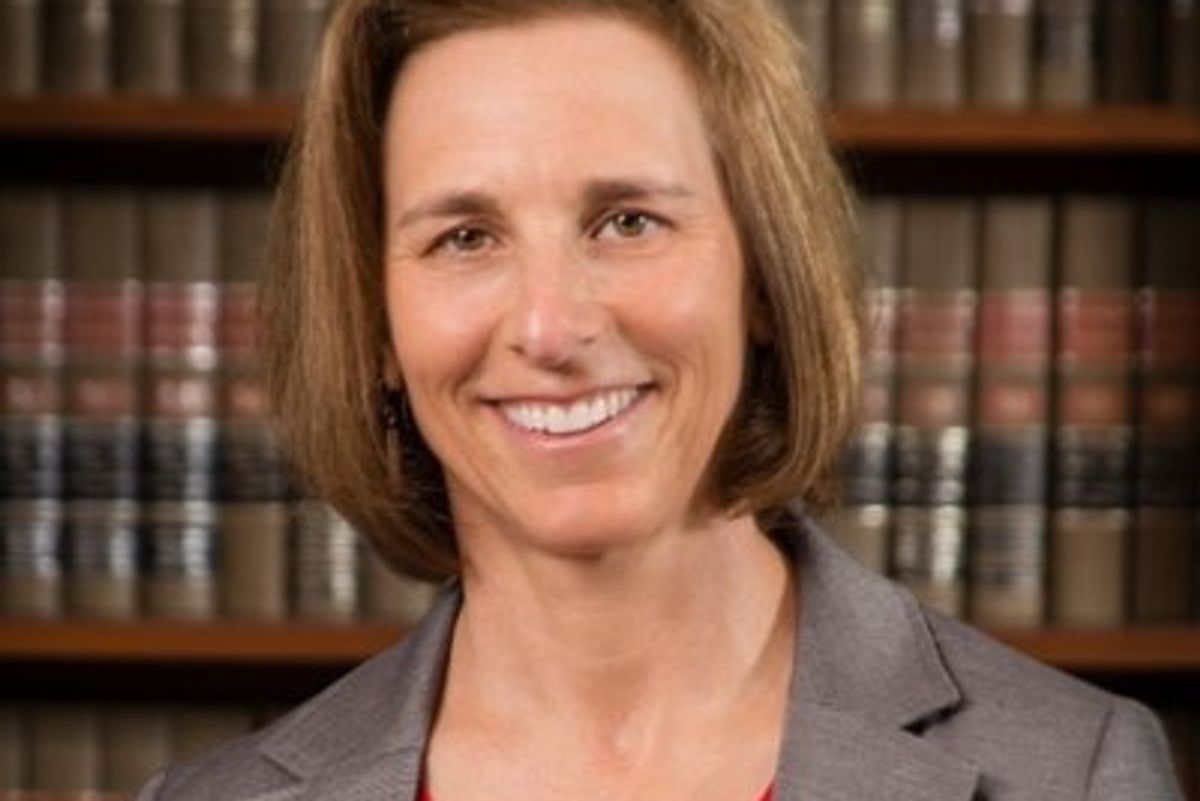 GOOOOOO BADGERS! The Wisconsin GOP's gambit to rig last week's election by forcing in-person voting during a pandemic backfired spectacularly. Last night the votes came in, and Republican hack Supreme Court Justice Dan Kelly got crushed at the polls by progressive Dane County Judge Jill Karofsky. Remember 2016 when Donald Trump won Wisconsin by fewer than 23,000 votes? Well, last night Karofsky won by more than 163,000 votes. Because we are madder than they are!
"Obviously I had hoped my service would continue for another decade, but tonight's results make clear that God has a different plan for my future," Kelly said last night. Indeed, God and the people of Wisconsin seem to have expressed their preferences pretty strongly, despite multiple tweets from the president endorsing Kelly and urging Wisconsinites to go out and vote for him.
This election was batshit from the jump. Kelly was appointed by then-Governor Scott Walker to fill out the last four years of a retiring Justice's term in 2016, and Wisconsin Senate Majority Leader Scott Fitzgerald publicly mused about moving the election so it wouldn't coincide with the Democratic primary for the express purpose of depressing turnout for Kelly's advantage.
The same Scott Fitzgerald teamed up with Republican Assembly Speaker Robin Vos to block every single change that would have made voting safer for Wisconsinites. No postponement of the election, no switch to vote by mail, no waiving the signature requirement, no accommodation at all for the hundreds of thousands of Milwaukee voters who would have to cram into five polling places instead of 182 because the state couldn't muster enough poll workers during a highly contagious pandemic, and no extending the deadline for absentee ballots — with a special assist from Chief Justice John Roberts, who torched his last remaining shred of credibility for nothing.
---
Here's Vos on election day, decked out in PPE that could have gone to a frontline hospital worker, reassuring voters that all is well.
Republican Speaker Robin Vos says "you are incredibly safe to go out" on election day. He said that while dressed… https://t.co/pcd99UrXL1

— UpNorthNews (@UpNorthNews) 1586298697.0
Vos and Fitzgerald were fighting for their political lives, because their lives depend on Wisconsin's maps being gerrymandered to shit. Those maps netted the GOP 64 percent of the seats in the Wisconsin Assembly on the strength of 46 percent of the actual vote. Dan Kelly would have blessed that gerrymander for all eternity, which is why Vos and Fitzgerald were willing to risk the lives and health of millions of their own constituents to keep him on the court when the electoral districts get redrawn after the 2020 Census. (And if we can oust conservative Chief Justice Patience Roggensack in 2023, we can take this court back.)
But in the short term, Kelly would have greenlighted the purge of 200,000 voters from the rolls before the November election. With Karofsky being sworn in on August 1, that plan is dead. The court will still have four conservatives and three liberals, but conservative Justice Brian Hagedorn voted against the purge last time, and Kelly had recused himself. With Kelly out and Karofsky in, Democrats at least have a fighting chance against whatever insane vote suppressing fuckery the GOP is plotting for the fall.
The maddest of MAD PROPS to Ben Wikler, chair of the Democratic Party of Wisconsin, who organized under these ridiculous conditions.
With the extreme caveat that Bernie Sanders hadn't dropped out when Wisconsin voted, so Democrats had a semi-competitive primary last week where Republicans didn't, last night's results should make us cautiously optimistic about our chances there in the fall. It's not a straight throughline between the 2016 presidential election, the 2018 gubernatorial contest, and yesterday, but Trump won the state by less than 1 percent, Democratic Governor Tony Evers won by 1 percent (a 2 point leftward swing), and Karofsky managed a 10.5 point rout. Because the GOP is increasingly toxic in the suburbs.
For instance, in the WOW suburbs of Milwaukee — that's Waukesha, Ozaukee, and Washington Counties — the GOP has lost a lot of its shine.
Waukesha: Trump +28, Walker +34, Kelly +22
Ozaukee: Trump +20, Walker +28, Kelly +12
Washington: Trump +32, Walker +44, Kelly +36
Remember, Walker was an incumbent governor, and even with those high margins, he still lost.
And in the cities, it's worse. Trump squeaked out a 1 percent win in Kenosha County in 2016, Evers won it in 2018 by 5 percent, and last night Karofsky's margin was 15 points. Remember, Biden doesn't have to do as well as Karofsky; he just has to do a little bit better than Clinton, and we can take all 10 of Wisconsin's electoral votes. And despite Trump campaign spokesdick Tim Murtaugh's crowing that, "In November against hapless Joe Biden, President Trump will win Wisconsin again, as he did in 2016," the polling remains neck-and-neck.
So stay mad, Dems! Anger is energy, anger is fuel, anger is how we win. Luckily, with Trump in the White House, we have an inexhaustible source of vote-sustaining rage.
Follow Liz Dye on Twitter RIGHT HERE!
Please click here to support your Wonkette. And if you're ordering your quarantine goods on Amazon, this is the link to do it.
Liz Dye
Liz Dye lives in Baltimore with her wonderful husband and a houseful of teenagers. When she isn't being mad about a thing on the internet, she's hiding in plain sight in the carpool line. She's the one wearing yoga pants glaring at her phone.