GOOD MORNING MONTANA. Wonkagenda For Fri., Oct. 19, 2018
Russia
October 19, 2018 09:08 AM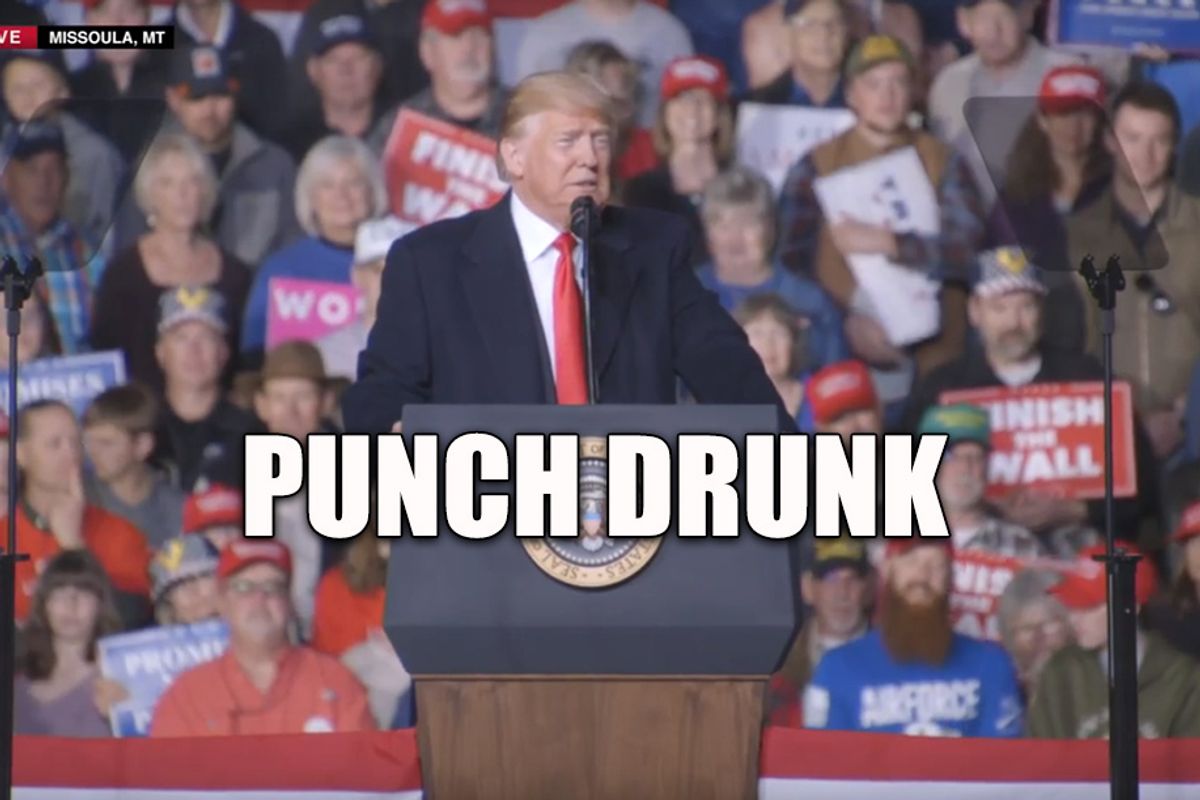 Morning Wonketariat! Here's some of the things we may be talking about today.
---
Republicans (and Saudi Arabia) are now trying to paint journalist Jamal Khashoggi as an evil Muslim trained in Satanic ninjitsu. Their implication is that Khashoggi helped plan 9/11 because he used to know Osama bin Laden and members of the US-funded Mujahideen in the 1980s, and supported elements of the Muslim Brotherhood during the Arab Spring, ergo, he's a "bad hombre" who hates freedom and doesn't want women to drive. Naturally Rush Limbaugh is screaming Khashoggi doesn't matter because "BENGHAZI," or something.

Senior Turkish officials are telling ABC News that Secretary of State Mike Pompeo heard the audio of Jamal Khashoggi's murder. Last night Turkey denied sharing the audio with Pompeo, and said it actually gave Pompeo a transcript. Trump's State Department is denying all of this with a hearty, "Nuh-uh," as Pompeo does his best Sgt. Schultz impression.

In a desperate effort to change the story, the Trump administration is once again trying to use a large caravan of immigrants from Central America to scare people. Trump is now threatening to send US troops to the southern border (again), and secure it from all the poor, disgusting refugees from "shithole countries."

At a rally in Montana last night Trump praised Rep. Greg Gianforte for assaulting Guardian reporter Ben Jacobs during the 2016 election, stating, "Any guy who can do a body slam -- he's my guy." Gianforte pleaded guilty to a misdemeanor assault charge.


House Freedom crazies on the Judiciary and Oversight committees will finally get a chance to yell at Deputy AG Rod Rosenstein for his "joke" about wiretapping Trump. Unfortunately, only Judiciary chair Bob Goodlatte and Oversight chair Trey Gowdy will question Rosenstein with ranking Democrats Jerry Nadler and Elijah Cummings. Everyone else will have to sit at the kids' table.
Trump seemed to call for $700 billion in defense spending cuts by 2020 during one of his reality show Cabinet meetings. This morning the DOD is all "WTF" and noting it was told to build new war machines in the last defense spending bill.
The Interior Dept.'s acting inspector general Mary Kendall will keep her job despite earlier reports that HUD Secretary Ben Carson's politically appointed IG Suzanne Israel Tufts would replace Kendall. The statement comes as Kendall readies a report that finds Interior Secretary Ryan Zinke was making taxpayer funded trips with his wife, and made staffers find a "volunteer" position at the Interior Department for his wife in order to ALLEGEDLY avoid the appearance of grift.
Trump's EPA is playing deaf, dumb, and blind, to a recent UN climate report that says we're all doomed if we don't start cleaning up the planet. When asked about the report, an EPA spox told the Daily Beast, "What report?"
The DOJ will investigate allegations of child sex abuse in Pennsylvania's Roman Catholic Church. Yesterday, subpoenas were sent out across the state demanding decades of private records of church officials in an effort to find out what the hell happened. Federal investigators are said to be considering a RICO case against clergy members and church officials following a massive grand jury report that found around 300 priests abused more than 1,000 kids over a 70 year period.
New emails show Trump personally put the brakes on a plan to move the FBI HQ out of DC and into the Maryland suburbs. Records show that Trump not only stopped the plan to move the FBI building near his hotel, but that Government Services Administrator Emily Murphy may have lied to Congress about Trump's role in building an even more expensive HQ in the existing location. OOOOPSS!
New details from a recent Military Times poll shows the polarization among US troops growing. According to the poll, women are more likely to vote for Democrats, men are more likely to vote Republican, and there's been a big shift towards Independent and Libertarian candidates.
Ohio Republican Rep. Jim Renacci is calling Democratic Sen. Sherrod Brown a serial sexual abuser on the stump. Renacci told the Cincinnati Enquirer that his office has heard from "multiple women" who claim Brown assaulted them before his last marriage in 1987. Brown and his ex-wife say Renacci is trying to "score cheap political points" with baseless accusations since September, to which Renacci says, "God bless her for forgiving him."
A repugnant attack ad from xenophobic and gay-hatin' conservative crackpot Vernon Robinson in support of Arkansas Republican Rep. French Hill paints Democrats as a vile lynch mob that will string up black men and boys for raping white women. That's not an exaggeration, that's the actual ad. Hill just recently condemned the ad.
Once again Wisconsin Republican Gov. Scott Walker is accusing his Democratic opponent of PLAGIARISM! According to the Walker campaign, Democrat Tony Evers's education policies steal liberally from various proposals already in circulation without citation. The Evers campaign calls this an oversight, and Politico notes that the "stolen ideas" don't involve budget numbers or projections.
As Hawaii Democratic Rep. Tulsi Gabbard hitches a ride onto Bernie Sanders's bumpy jalopy for 2020, Gabbard has been scaring the piss out of foreign policy geeks, echoing Steve Bannon's neo-nationalist rhetoric and spinning it for gullible progressives who don't understand why Bretton Woods still beats the hell out of Brexit.
Florida Republican Gov. Rick Scott has signed an order relaxing voting regulations for Bay, Calhoun, Franklin, Gadsden, Gulf, Jackson, Liberty, and Washington counties following Hurricane Michael's destruction of local infrastructure. The order extends early voting through election day, sets up additional voting sites, and allows displaced people to request mail-in ballots at forwarding addresses.
Russian President Vladimir Putin sat down to gaslight people at an international policy forum and brag about the size of his YUGE missiles. Putin said that Trump will "no longer have to look back" at "anti-Russian rhetoric" following the 2020 US election, and promised that Russia would only engage in retaliatory nuclear strikes, stating, "We would be victims of an aggression and would get to heaven as martyrs," adding that anyone who attacked him would "just die and not even have time to repent."
A massive report in Haaretz claims Israeli private spy companies have been helping dictators hunt down political dissidents, human rights activists, and LGBQT people through intelligence software sold to repressive governments in Bahrain, Mexico, Indonesia, Angola, Mozambique, the Dominican Republic, Azerbaijan, Swaziland, Botswana, Bangladesh, El Salvador, Panama, and Nicaragua.
Nikki Haley gave a speech at the uber fancy Al Smith dinner where she repeatedly ripped on Donald Trump with a series of one liners that, honestly, weren't that bad. Haley said Trump gave her some advice about speaking at the dinner he bombed at during 2016, "Just brag about my accomplishments. It really killed at the UN, I've got to tell you." #ShesRunning

Jason Miller is suing Gizmodo's Katherine Krueger for allegedly COLLUDING with his ex-lover and conservative talking head AJ Delgado to plant stories that Miller slipped abortion roofies into the drinks of a pregnant stripper. Now Miller is suing one of the dickholes form the Chapo Trap House podcast -- who is dating Krueger -- for tweeting, "rat faced baby killer and Trump PR homunculus, Jason Miller, is suing my girlfriend for $100 million, cool!" LOLOL, what a shit show.
The NYPD arrested their first Proud Boy on charges of riot and attempted assault stemming from the self-described gang's fight outside the Metropolitan Republican Club in Manhattan this weekend. One down, 11 more to go!
If you thought old fashioned mudslinging and fake news were bad, here's a decent 'splainery essay on "deep fakes," the super new tech that lets you put words in people's mouths, and what it could mean for the world.
And here's your morning Nice Time! PENELOPE the Pygmy Hippo! She's so cute (and so bad)!
Follow Dominic on Twitter and Instagram!
We're 100% ad-free and reader-supported, so consider buying us coffee, or get a subscription!
Dominic Gwinn
Dominic is a broke journalist in Chicago. You can find him in a dirty bar talking to weirdos, or in a gutter taking photos.