Jeff Sessions Got Some Jokes! Wonkagenda For Wed., June 27, 2018
Russia
June 27, 2018 09:15 AM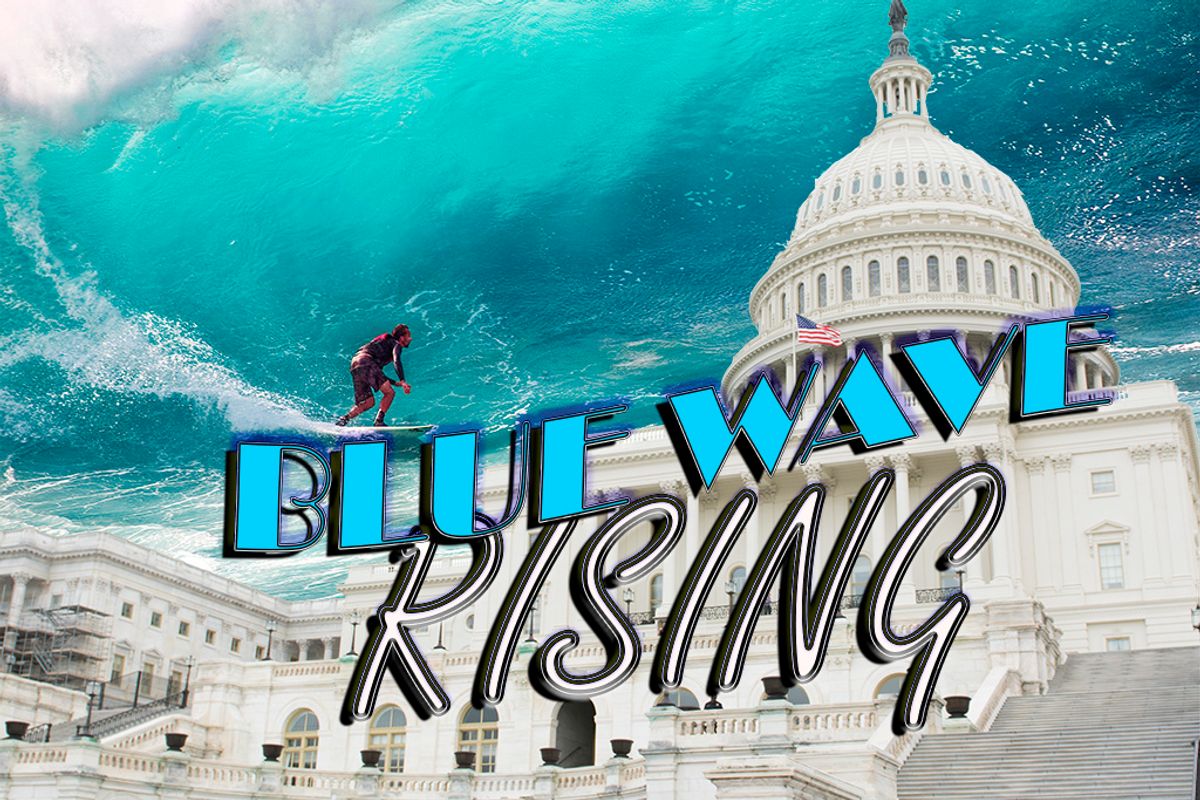 photo by Dominic Gwinn
Morning Wonketariat! Here's some of the things we may be talking about today.
---
Here's a quick rundown of all of last night's primaries and what that might mean going forward.
Mitt Romney easily won the Republican Senate nomination in Utah to replace Sen. Orrin Hatch by 76 to 24 percent. At least we'll get more absent-minded and folksy hijinks.
Republican Rep. Dan Donovan mercilessly beat pro-Trump ex-con and disgraced former Rep. Michael Grimm in New York's 11th with a hilarious 64 to 36 percent, but McClatchy has the best post-mortem on the scene at Grimm's watch party: "...in a half-empty Staten Island hotel ballroom, another Republican rejected by Trump took the stage and, over groans and an expletive from the audience, also conceded." LOLOLOL, and it actually gets worse from there too!
In a stunning upset, 28-year-old Democratic Socialist Alexandria Ocasio-Cortez defeated longtime establishment candidate Joe Crowley in the New York 14th.
New York Democratic Rep. Yvette Clarke just barely held her seat in the New York 9th, edging out challenges from some idealistic and inexperienced whipper-snappers.
Super rich Democratic fundraiser David Throne won the Maryland 6th, beating out State Del. Aruna Miller, 41 to 30. Trone spent a staggering $12 million to win the nomination in the sprawling, gerrymandered and safely Democratic DC suburb.
Democratic Army veteran Jason Crow will take on Republican Rep. Mike Coffman for the Colorado 6th after beating former Obama DOE official Levi Tillman. This race is being seen as a pick-up opportunity for Democrats!
Former NAACP head and devoted Berniecrat Ben Jealous will take on Maryland Republican Gov. Larry Hogan in November.
South Carolina Republican Governor Henry McMaster won his primary; the only problem is he now has to run for election while his state falls apart without federal funding.
New polls by CBS and NBC show Democratic Sen. Bill Nelson leading Republican Gov. Rick Scott, but just barely. Get it together, Florida!
Oklahoma voted to legalize medical marijuana as long as you have a doctor's note. Welcome to the party, Oklahoma!
An immigration attorney in Kansas City, MO suffered a broken foot after ICE agents knocked her down while she accompanied a child being reunited with their mother, and refused to provide medical attention. Classy.
An Air Force veteran set himself on fire outside a VA office in downtown Atlanta. Area police are continuing to investigate.
The FBI agent "You're Fired" by Robert Mueller, Peter Strzok, will head to the Hill this morning to set the record straight on all his anti-Trump sexts behind closed doors.
A judge in Virginia has ruled that Robert Mueller can continue to prosecute Paul Manafort for bank and tax fraud despite bitching out Mueller's team last month.

Trump's diaper babies in the House Rules Committee are moving to make the DOJ turn over a bunch of Trump-Russia documents, but Paul Ryan seems to be refusing to play political theater (for once).
There's new worry this morning that SCOTUS upholding Trump's Muslim bantravel restrictions on ethnic minorities from Muslim majority countries will embolden Trump to push the limits of his authority, with aides telling reporters that they're already concocting new nefarious schemes.
A judge in California has ordered US border officials to reunite separated families within 30 days, adding that children younger than 5 must be reunited within 14 days.
Alex Azar, Trump's head of HHS, told the Senate Finance Committee that he can locate "any child" held by HHS "within seconds," disputing media reports that cite firsthand accounts from parents. Azar told the committee that he can't do anything about Trump's baby jails, and that it's up to Congress to fix the immigration system, adding the Trump administration will only unite parents with children if they agree to be deported.
Bob Goodlatte's dumbass e-verify scheme failed to win support among House Republican leadership and the farm caucus, and now all hell is breaking loose as the vote heads to the floor.
Jeff Sessions was in California bragging about the Muslim ban, and cracking jokes about Trump's baby jails. While he yukked it up at the expense of imprisoned migrant children, 150 faith leaders protested by blocking traffic before many were arrested. [Morning Maddow]
As Mitch McConnell was leaving a super fancy function at Georgetown University with his wife, Transportation Secretary Elaine Chao, student protesters confronted Chao and McConnell. Chao began shouting back at protesters, demanding they "Leave [her] husband alone!" [Video]
A federal appeals court bowed to Jeff Sessions's request to stay a nationwide injunction against Trump's immigration orders, though the court noted it only applies to Chicago's sanctuary city policy.
The Toronto Star has a running list of every false statement Trump has made since he sidled into the Oval Office, and it's long!

ProPublica has a new story about how political orgs and tax payers have dumped $16.1 million in Donald Trump's pockets, most of it coming from his presidential campaign and the Republican House and Senate committees.
A new analysis by the CBO expects the federal deficit to to get even worse as debt has already reached 78 percent of our GDP thanks to the Trump tax cuts (for the super rich).
Thanks to the lack of civility in civil society, Sarah Huckabee Sanders will get Secret Service protection. Checkmate, libs.
Openly racist Iowa Republican Rep. Steve King retweeted a nazi because he thought "it was a Breitbart message."
A new upset in the ongoing case of the disgraced former congressman who turned his office into the set of Downtown Abbey. The lead prosecutor against Aaron Schock has suddenly been removed after Schock's lawyer bitched at Deputy AG Rod Rosenstein's office.
The NRCC suddenly quit-fired its digital director Daria Grastara after she gave an on-the-record interview explaining her voter mobilization efforts, and the GOP brass is kind of freaking out.
As the farm bill makes its way through the Senate, several senators are already attaching amendments, but Sen. Bob Corker's attempt to kill the trade war may doom the bill to legislative hell.
Luddites in the Senate are bitching about filing FEC reports electronically like every other elected official in the country. HEY, OLD GUYS! Get your shit together, it's the 21st century.
Russian state media is reporting that John Bolton is heading to Moscow with Russian President Vladimir Putin and set the stage for Trump's visit next month. This morning Axios reports European and NATO allies are worried Trump might sell them out, start a war, or get blackmailed (cough pee hookers cough) into screwing over the delicate balance of global stability.

Saudi Arabia is getting ready to turn the nation of Qatar into an island, literally deepening the divide in the Middle East and cutting it off from the UAE, Bahrain, and Egypt. Yes, that's as insane as it sounds.
New satellite images show North Korea is making improvements to its Yongbyon Nuclear Scientific Research Center. So much for Trump's "security guarantees."
Eurotrash neo-Nazis have taken over the governments of Austria and Italy, and now they're gunning for spy agencies.
Flanked by Nobel Peace Prize nominee and Rise founder Amanda Nguyen, actor Terry Crews gave an emotional testimony to the Senate Judiciary Committee as part of an effort create a Sexual Assault Survivors Bill of Rights, recalling his sexual assault, and criticizing the "cult of masculinity that exists in our society." Overnight, "rapper" 50 Cent tweeted and deleted a photo of Crews with the words"I got raped, my wife just watched." #CrewsCrew.
Disgraced former TV dickhole Mark Halperin is ALLEGEDLY plotting his return to TV after Page Six reported a meeting between TV executives, a CNN talking head, Charlie Rose and Kellyanne Conway ... and I just threw up in my mouth. GAMECHANGE
Facebook has grounded its plan to for a solar-powered WiFi-distributing plane after it failed to take off with NTSB officials. Maybe Facebook should focus on mounting allegations of mind fuckery first?
Stephen Colbert, Jimmy Fallon, and Conan O'Brien had a three-way and showed Trump how it's done.



And here's your morning Nice Time! Baby Goats!




We're 100% ad-free and reader supported, so consider buying us coffee, or get a subscription!

Follow Dominic on Twitter and Instagram!
Dominic Gwinn
Dominic is a broke journalist in Chicago. You can find him in a dirty bar talking to weirdos, or in a gutter taking photos.