Wonkagenda: Friday, September 23, 2016
Elections
September 23, 2016 09:29 AM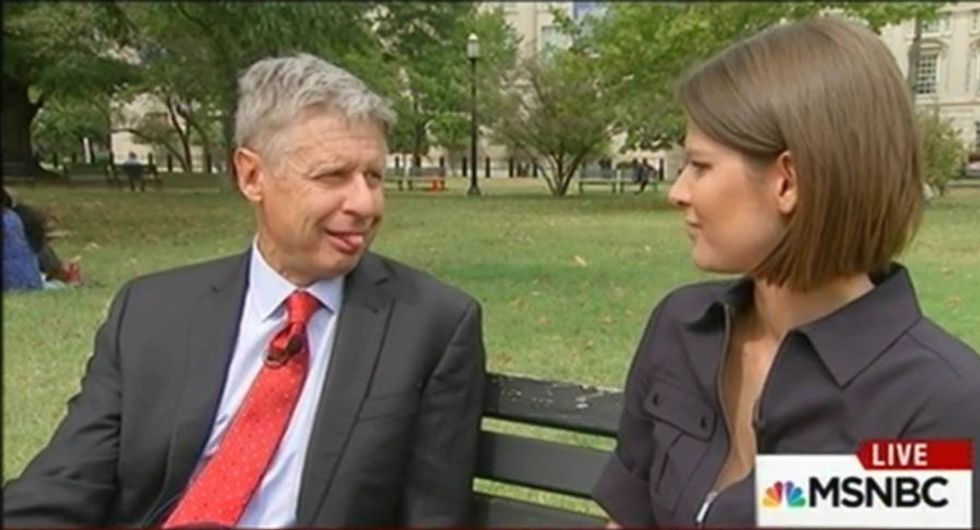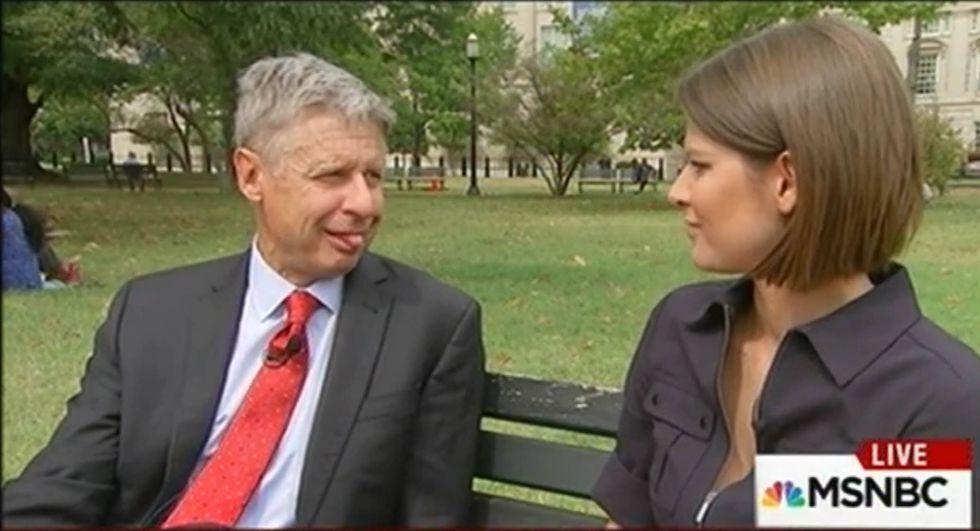 You will never be as high as Gary Johnson was when he stuck his tongue out at Kasie Hunt.
---
HEY EVERYONE! It's Friday, so go grab your delicious cup of black gold and get ready for the weekend with yr Wonkette! Here's some of the stories yr Wonkette may make funtimes pixels with today!
You should all call your grandmas and help her change your password since Yahoo was hacked in 2014 by "state-sponsored" jerk-offs and 500 million users had their emails Benghazi'd.
In a separate, more recent hack, emails of a low-level Democratic staffer were leaked on the Internets, including names and phone numbers for Secret Service agents, donors' Social Security numbers, Joe Biden's walking directions, and (ALLEGEDLY) a picture of Michelle Obama's passport.
Trump's higher education proposal is to pull tax breaks from universities in order to lower tuition costs.That's the joke.
With Monday night's debate just days away, Hillary Clinton and Donald Trump spend their weekend very differently. Hillary Clinton will nerd out and do her homework, and Donald Trump will pay someone to jerk him off while he eats cheese steaks.
The little shit who made Oculus Rift, that stupid "virtual reality" machine that lets tubby shut-in jerk off in the 21st century, has been secretly funding the shit-tier Trumpkin meme machine.
The Nevada Senate race has become a real shit show, and GOP congressman Joe Heck is going to have a bad day. First, Rep. Heck's kid has been trolling Reddit saying racist and sexist trash. Also, a former aide to Heck says Democratic Senate candidate Catherine Cortez Mastro, is not Mexican enough to count as Hispanican.
North Carolina Republican Rep. Robert Pittenger sure does have a finger on the pulse of his state. To prove it, Rep. Pittenger went on Not American teevee and said that all the black people hate white people, and that's why those poor welfare addicts are rioting.
Trumpkins think stop-and-frisk is A-OK, probably because they've never had their civil rights and naughty bits violated.
LOL Rand Paul is so mad that no one cares about Rand Paul's call for Hillary Clinton to prove she's not dying of pnuemon-AIDS, or super cancer.
Iowa Rep. Steve King, a devout Trumpkin, thinks the Congressional Black Caucus is racist because they "self-segregate," and don't let racist white people hang out at the cool kids table in the House cafeteria.
Trump's second ex-wife, Marla Maples, became a super religious zealot after Trump tossed her in the dumpster for a newer model.
Gary Johnson needs to seriously stop smoking weed (and as a college student, I can make that call). If you don't believe me, just watch Gary Johnson tank another interview by being a complete fucking idiot.
Seriously, just watch His Holiness the Dalai Lama do THE BEST Donald Trump impression you'll probably ever see. Is Trump secretly Tibetan? We are only asking.
If a tear doesn't creep into your eye while you watch this kid ask Bamz for his own Syrian refugee, you're not human and you're missing out on one of the best slices of life you'll see all day.
President Obama was giving National Medals of Arts and Humanities out to Mel Brooks, Terry Gross, and Audra McDonald, so of course Mel Brooks tried to pants Obama.
And here's your morning Nice Time, it's super cute working dogs that help the blind!
Dominic Gwinn
Dominic is a broke journalist in Chicago. You can find him in a dirty bar talking to weirdos, or in a gutter taking photos.