Wonkagenda: Monday, October 10, 2016
Elections
October 10, 2016 09:10 AM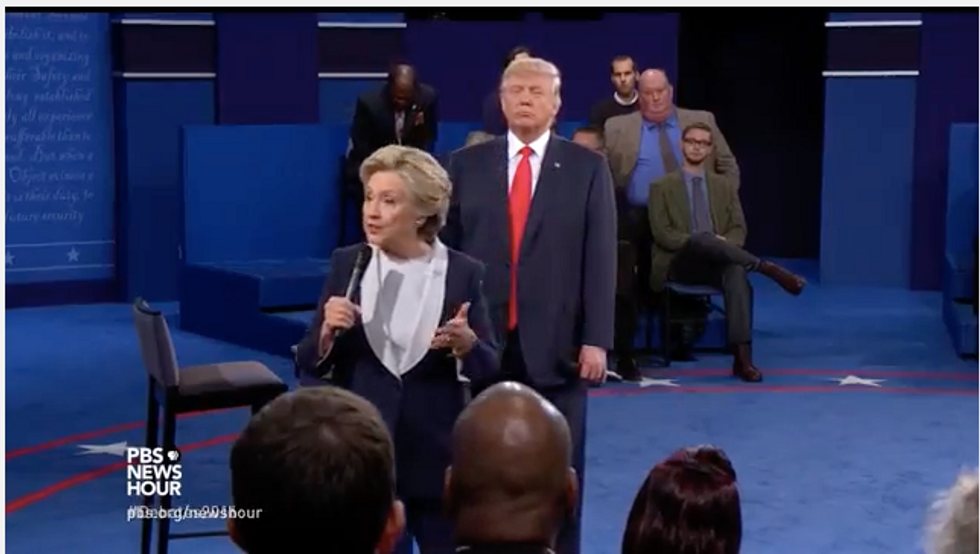 HILLZ! BEHIND YOU! LOOK OUT IT'S ALIIIIIVE!
---
Morning Wonkers! Did you catch that debate last night? *sniff*sniff* Hoo-boy, that was a rootin' tootin', six-gun shootin' bar room brawl, wasn't it? Here are some of the stories Yr Wonkette might be talking about today!
If you didn't drink yourself into a stupor last night, Hillary Clinton showed up to debate a rabid Donald Trump who immediately covered himself in kerosene and lit himself on fire rather than risk having an actual policy discussion. [Transcript]
Teevee news talking heads were losing their damn minds last night after Donald Trump threatened to jail a political opponent, a human rights violation we usually condemn other countries for doing.
Debate moderators Anderson Cooper and Martha Raddatz were just so mean to Donald Trump! Why does handsome teeve man Anderson Cooper hate Donald Trump so much to ask him mean questions? It's so mean!
Donald Trump trotted out the women who've accused Bill Clinton and tried to sit them with his family, except they're just filthy commoners and not dignified. Like, OMG, Paula Jones was wearing TWO hoodies? As if!
Despicable bastard Roger Stone admitted to paying to bring Bill Clinton's accusers to the debate, proving once again that Roger Stone is incapable of being a human being.
After all the dust settled after last night's debate, people discovered two things: Hillary Clinton kind of sort of said that those leaked transcript excerpts were real, and Donald Trump kind of sort of admitted he lies and cheats on his taxes.
The tweet machines were fluttering last night about Trump's body language as he stalked Hillary Clinton around for an hour and a half like some sort of fat creepy orange clown in a cheap, poorly tailored Chinese suit.
Trumpkin donors are calling up Donald Trump and asking for refunds, only Donald Trump doesn't offers refunds to his victims.
Back when Kellyanne Conway was "younger and prettier," she saw lots of Congress critters ramming their deplorables down the ladies' throats, so she's cool with Donald Trump sexually assaulting women.
Chuck Todd was on a Chuckin' role again! First thing Sunday morning, Chuck Todd left Rudy Giuliani speechless in his defense of Trump's rapey tape.
The Supreme Court will hear arguments between Samsung and Apple on patent infringement for Samsung's exploding, handheld timewasting machines.
Check out these Congress critters who were hold-out votes on legislation that literally everyone else voted for.
The DOJ has opened an investigation into prisoner abuse following a strike in U.S. prisons because it seems like U.S. prisoners are performing dangerous work without basic living conditions or pay, a practice more commonly known as institutional slavery.
The saddest tweet of the night wasn't something Donald Trump said, it was the dictionary pointing out that "What is a lepo?" was actually a trending Google search.
You should know Republicans are still trying to rip apart Obamacare piece by piece, and two bills introduced in the House and Senate want to give tax breaks to people who need a doctor more than write off.
Why doesn't anyone want Messicans to register to vote? How else will we get our taco trucks on every corner, osmosis?
The Insane Clown Posse still wants to hold a rally in Washington D.C. even though the FBI labels them a "hybrid gang" rather than an example of face-palm inducing embarrassment.
Okay, now here's your morning Nice Time! RED PANDAS! You earned it!
Dominic Gwinn
Dominic is a broke journalist in Chicago. You can find him in a dirty bar talking to weirdos, or in a gutter taking photos.