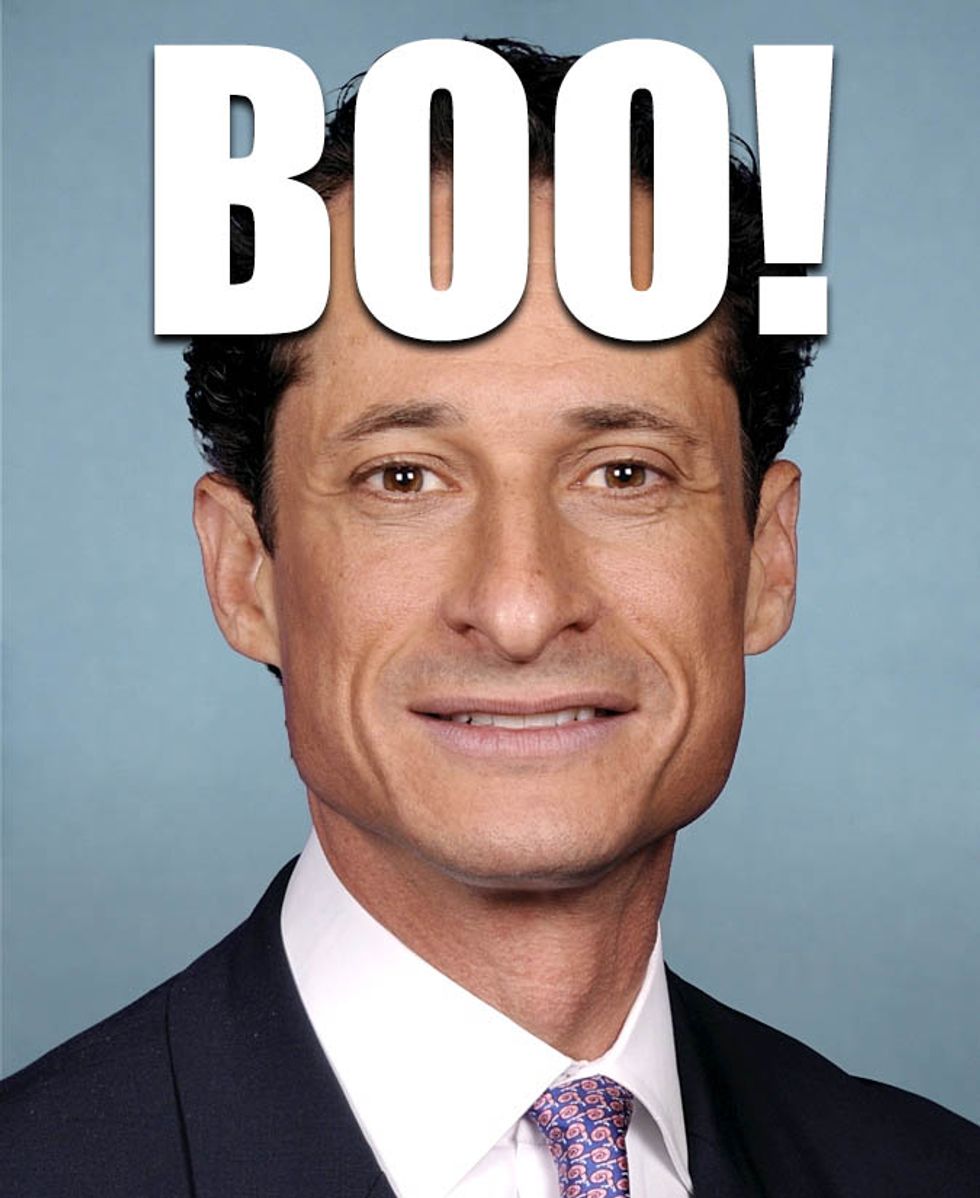 Happy Halloween, Wonketariate! We've got some stuff to cover here, so let's get right down into some of the spooky stories 'Yr Wonkette may be talking about today!
---
Last night the FBI obtained a warrant to search emails from Huma Abedin after they found a bunch of emails on a laptop belonging to Anthony Weiner. Makes you wonder who's a bigger dick, Comey for blathering before he had a warrant, or Weiner for being a pervert.
FBI agents are not-so-secretly bickering like children about Comey's decision to come forward about the investigation, with some siding with Comey's openness, and other calling Comey A Idiot. [Archive]
Breaking with the rank and file, Fox News talking head and shameless Trumpkin Judge Jeanine Pirro is criticizing the FBI and James Comey for talking about their investigation.
Just in case you missed it when we wrote about it Sunday, you will be shocked, shocked to learn that Donald Trump once waltzed onto the stage for a charity benefiting children with AIDS without donating a dime, causing actual philanthropists to wonder what kind of soulless bastard tries to steal a spotlight from children with AIDS.
Trumpkins are nervous as hell that Trump might completely screw up (again), so they had a few violent clashes with anti-Trump protesters in Albuquerque, presumably just to stir the pot.
Political intrigue and drama isn't limited to the U.S. election! After allegations that South Korean President Park Geun-hye has a cabal of secret advisors called the "eight fairies," and a secret whisperer not at all unlike a modern day Rasputin, who advised her on everything from policy to wardrobe, all her top advisers resigned.
Iceland's Pirate Party may actually win the upcoming national election which would make it the first country to (kind of) be governed by Internet polls, anarchists, furries, and other weirdos.
The race for City Council in Irvine, California, has seen some dastardly tricks that make this presidential campaign seem tame by comparison.
University of Texas-Austin's chapter of Young Conservatives of Texas decided to have a blatantly racist bake sale, reportedly to draw attention to affirmative action, so they decided to charge different prices for people based on their race and gender. The worst part? The cookies were store bought! Homemade libelz!
A lady in Des Moines was arrested for voter fraud after she voted twice, making her the third MORAN to be suspected of voter fraud in Iowa.
Even if LEGAL marijuana legislation grows after this election, many states still have harsh vibes and laws that bar pot shops from utilizing a bank, prompting proprietors in a number of states get creative about how to launder or stash their legal incomes.
Warren County, Ohio's Democratic headquarters once again found a truckload of manure in front of it. What a shitty thing to do!
Chicago WAS going to have one of the worst haunted houses in the country before Chicago Public School officials learned there would be depictions of dead children and the Pulse nightclub massacre at an elementary school haunted house, but they axed the event -- sponsored by a Christian group to scare people away from Hell -- before it could bury itself in more negative press.
OK! Now here's your bizzaro, two-part Halloween Nice Time, and boy is it a treat! The folks over at This American Life were wondering what was going through the head of our B. Barry Bamz, so they made a musical number with Leslie Odom, Jr.
Now, here's part two where Frozen songwriters, Robert Lopez and Kristen Anderson-Lopez use Neil Patrick Harris about what might be flowing through Speaker of the House Paul Ryan's head.
Dominic Gwinn
Dominic is a broke journalist in Chicago. You can find him in a dirty bar talking to weirdos, or in a gutter taking photos.