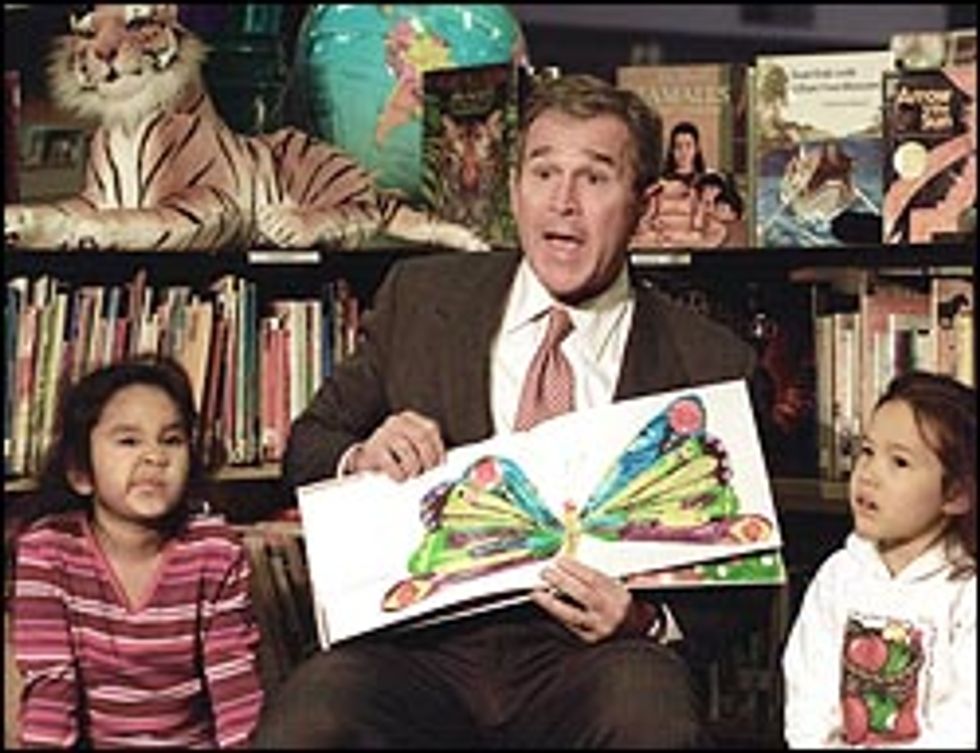 Woah, it's Wednesday, Wonkers! Now that you're no longer hungover, why don't you get fresh with your Wonkette and a nice adult beverage? Here's some of the dick jokes we might be fine-tuning today!
---
Nancy Pelosi and Paul Ryan reached a deal to give federal aid to Flint, Michigan proving that, on occasion, Congress critters are capable of having souls, and doing their damn jobs.
After Hillary Clinton left Donald Trump covered in blood from her wherever during Monday nights debate, Wall Street rallied to push the dollar and the peso up very, very bigly. Amazing growth. Huge.
Donald Trump didn't violate IRS rules when he hung his painting of himself on his golf resort's wall because he was simply "storing" it there, according to one dumbass advisor who is making the IRS geeks giggle-snort.
President Obama nominated Jeffrey DeLaurentis to be our first ambassador to Cuba in over 50 years. Naturally Republicans think this just a cheap ploy for Bamz to put a a hammer and sickle into the hands of every American.
Republican super-donors are dumping oodles of cash into a quiet fight against gambling on the Interwebs by banning financial institutions from processing their transactions. So much for a free market!
Trump's minions are SUPER pissed that he tanked during the debate, so they're planning debate practice sessions that Donald Trump will inevitably avoid for bacon cheeseburgers, hot dogs, and coke.
The Arizona Republic broke a 126 year tradition and endorsed a Democrat for president because Donald Trump scares the shit out of them more than Mexicans.
Former Virginia Senator John Warner, a REPUBLICAN, will also probably be voting for Clinton because he's a senile old flip-flopper!
As U.S. Supreme Court Justices get ready to show up for work next week, they'll probably just continue to sit patiently while the Senate continues to spin around on the thumbs up their own asses.
A couple of Senators are really mad at Yahoo! for not telling anyone about their data breach, so they've sent Chief Executive Marissa Mayer a really angry letter letting her know that they're angry. That'll show'em!
Remember that plane that was shot down in Ukraine in 2014, and everyone stood around wondering how the fuck someone could accidentally shoot down a civilian airliner? A Dutch investigation concludes t'was a Russian missile trucked in from Russia, fired by people who may or may not have been speaking Russian, and then the launch system was driven back to Russia after that 'ol oopsie-daisey. Not that they're implicating Russia or anything.
An audit of top Afghan officials reveals the U.S.-backed Afghan national government is full of corrupt money laundering fuckwits. Good thing we're not giving them millions of Ameros in aid and military assistance to stop religious fundamentalists from mass murdering everyone in Afghanistan.
The Ricketts family is dumping a lot of money into Donald Trump's campaign because the people of Chicago are too drunk on the Cubs winning streak to even notice...and Trump also threatened to blackmail the entire family.
Forbes estimates Donald Trump's net worth is down almost a billion dollars, bringing his real net worth to MAYBE $3.7 billion -- Forbes never bought that "$10 billion" stuff. Of course the only thing that gives Donald Trump a hard-on more than his next ex-wife is where Trump stands on the Forbes 400 list since those are the only people whose opinions matter to Donald Trump.
DOCTOR Howard Dean knows why Donald Trump was sniffling like a Snuffleupagus during Monday night's debate-a-palooza, and it rhymes with, "Slow-cane."
According to the guy who orchestrated the whole damn thing, Chris Christie knew all about Bridgegate while it was happening because his people told him it was happening while it happened. What a twist!
Pat Robertson thinks Dungeons and Dragons is evil and lures people into real dungeons away from Jeebus, which is actually sort of true. But the same could be said of model airplanes, reading Jane Austen, and fishing.
Tremendously inadequate man-baby Scott Adams has switched his vote from Clinton to Trump because Trump is dumb and likes to party. In other words, Scott Adams has tiny penis envy.
The Anti-Defamation League has added a poorly drawn picture of a frog pushed by Trumpkins to its list of hate symbols.
And here's your morning Nice Time: It's a Polar Bear growing up over the last year!
Dominic Gwinn
Dominic is a broke journalist in Chicago. You can find him in a dirty bar talking to weirdos, or in a gutter taking photos.