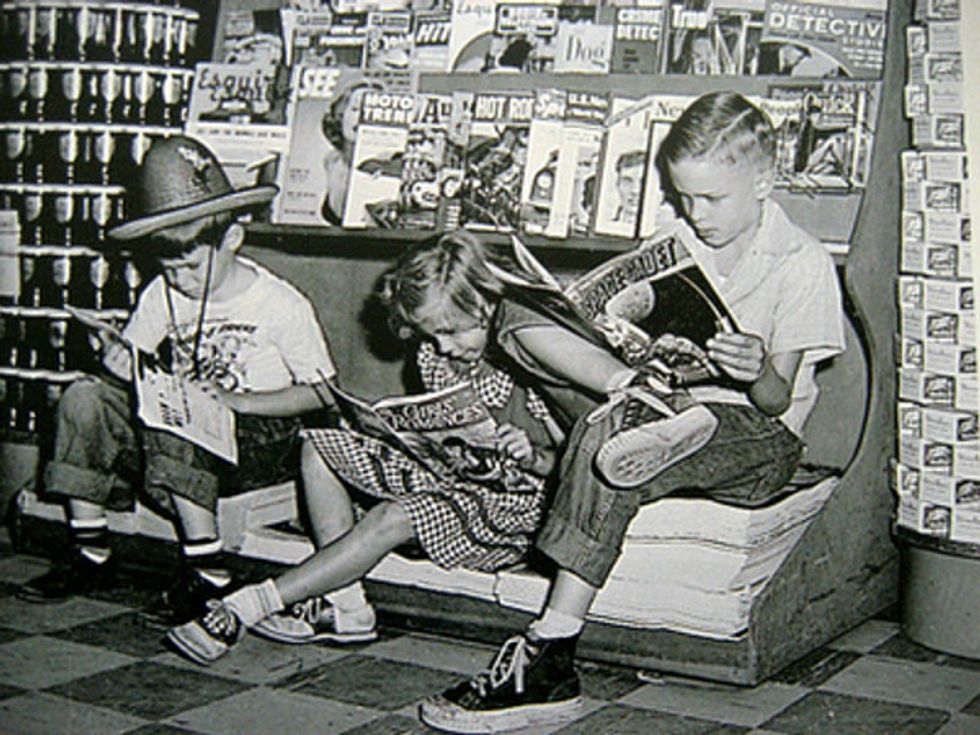 Morning, Wonketariate! Here's some of the stories Yr Wonkette may be talking about today.
---
Republicans are losing their minds, and their money, at the thought of losing the Senate, so the Senate Leadership Fund PAC (which is NOT Mitch McConnell's rainy day Scotch fund) is dropping $25 million to bail out GOP Senate races in Indiana, Missouri, Nevada, New Hampshire, North Carolina, and Pennsylvania.
Our election has boiled down to two 70-year-old men threatening to fight each other behind a barn, and we're rootin' for Old Handsome Joe Biden to clobber Donald Trump. Go Scranton!
In a focus group comprised of "Wal-Mart Moms" it turns out that they know next to nothing about down-ballot races, and have some pretty idiotic ideas about presidential candidates.
National Intelligence Director James Clapper thinks that North Korea won't stop loving nukes, Russia would shoot down U.S. planes in a Syrian no-fly zone, and that U.S. backed forces taking and holding the Iraqi city of Mosul will be, like, super-duper hard. What a freaking buzzkill!
Donald Trump has NO interest in his own teevee network, do you understand? It has nothing to do with the fact that a Trump T.V. network would likely be a complete failure, he's just busy trying to win the election that he will lose (as long you VOTE ON NOVEMBER 8, 2016).
Sean Hannity has absolutely had it with President Obama! Last night Hannity offered to buy a plane ticket for him to fly to Jakarta, Kenya, or Canada. Clearly, Hannity hasn't though through the ramifications of a super squad composed of our B. Barry Bamz and the super sexy Justin Trudeau.
Incumbent Texas State Rep. Craig Goldman wants everyone in Texas's District 97 to know that his Democratic opponent, Elizabeth Tarrant, is a "self-proclaimed atheist" who "does not have the values you want to represent you in Austin" because she supports women's rights, religious freedom, and a separation between church and state. Jeebus Crisp!
Newt Gingrich is very butthurt with Megyn Kelly because she is so fascinated by SEX, sexual predators like Donald Trump, and sexxy sex stuff. Is it possible that Newt Gingrich just isn't getting enough sex?
Rush Limbaugh was shocked (SHOCKED!) when he heard the story about a 63-year-old man (a gay man) who wrote a letter asking for ladies to stop wearing yoga pants only to have them all parade in front of his house, and he wasn't able to "do anything" with them. SHOCKED, I say!
Sheryl Crow wants to shorten elections cycles because this election has made her super sad and stuff, so she made a petition on Change.org since Internet petitions always work.
Here's your special Morning Maddow about how Donald Trump just kind of stood around nodding his head while his rich, racist daddy, Fred Trump said he doesn't rent to [African-Americans].
And here's your Morning Nice Time: PUPPIES AND CHEETAH CUBS! You deserved this one!
Dominic Gwinn
Dominic is a broke journalist in Chicago. You can find him in a dirty bar talking to weirdos, or in a gutter taking photos.