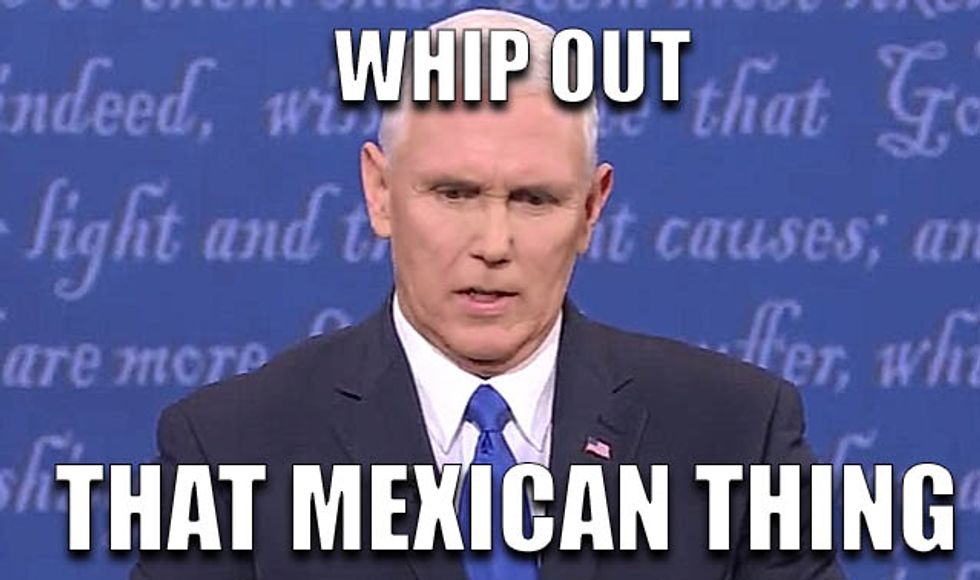 ---
Morning Wonkarinos! Boy, that was some debate last night. Did you guys get tacos for National Taco Day? Tim Kaine sure did, and Mike Pence was sooo jealous! Here's some of the stories yr Wonkette might be talking about today!
Tim Kaine and Mike Pence slapped each other like little children at a shitty tea party for an hour and a half last night, and the only thing we got out of it was great hashtag. Whip Out #ThatMexicanThing!
Here are a few things Mike Pence lied about last night when he played the soothing cream to walking human hemorrhoid, Donald Trump.
Mike Pence was shocked, and appalled, and hurt that Tim Kaine quoted Donald Trump to insult Mike Pence. It's just not nice!
Donald Trump is NOT happy with Mike Pence's debate performance because Mike Pence might have made Donald Trump look like a racist, sexist tax cheat who probably hates puppies!
The real loser at last night's vice presidential debate was LGBQT rights because they didn't even come up at all.
Those economic questions debate moderator Elaine Quijano asked last night look outsourced via fiscally conservative lobbying groups. So, the debate today is whether or not you like Quijano.
The IRS announced new rules for the Estate Tax and Gift Tax, which only the super rich like to bitch about incessantly.
Russia says it is TOTALLY not screwing with the U.S. election! and you can't prove it, no matter what all the intelligence agencies say! Nope, nope, nope!
Donald Trump's not a genius, but his accountant sure is! Trump's accountant actually did all that fancy math work that got Trump his billion dollar tax bailout.
Looks like that Wells Fargo scam screwed over thousands of small business customers as well as individual consumers, again reminding us all why we have banking regulations.
New polling data suggest that Democrats stand a decent chance to unseat Republicans in North Carolina in the Senate, House and governorship. Hot damn, ya'll!
When the super secret U.S. spy organizations asked Yahoo to spy on its users' email, CEO Marissa Mayer was all, "Okie Doke," making it the first time an Internet company actually complied with a government spying request.
And here's your morning Nice Time: SLOTHS!!! You know you love sloths!
And one last thing, here's an extra special "thank you" to all the Wonkers who came out to the Chicago drinky thing! We'll see you Sunday!

The beautiful hosts from Chicago's VP Debate Drinky Thing!
Dominic Gwinn
Dominic is a broke journalist in Chicago. You can find him in a dirty bar talking to weirdos, or in a gutter taking photos.