Wonkette Wins ONE MILLION FAKIE AWARDS, For 'Best Dick Joke' And 'Not Being The Fucking New York Times'
Mommyblogging
January 18, 2018 02:13 PM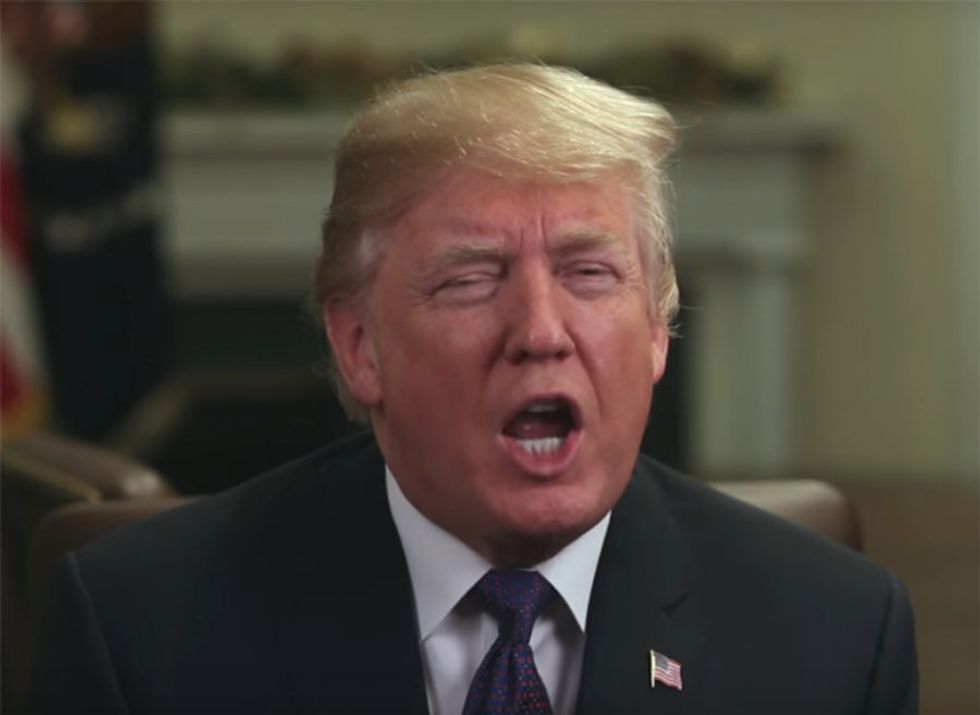 Donald Trump says SUPPORT YOUR LOCAL FAKE NEWS DICK JOKE EMPORIUM!
---
Did you see that weak sauce bullshit Donald Trump did for his big Fake News Awards, which were only hotly anticipated in that everybody hotly anticipated he would fuck it up and wanted to see how much? Well, he missed his deadline a week ago, and then again, and THEN he missed his 5:00 PM deadline last night and then when it finally came up, it was on a GOP website (#complicit) and the site didn't work, and when it finally did, it was kinda like the 45th president of the United States had faked an orgasm all over America's face. It was dumb. It was a boring PDF file. It was an absolute abuse of the freedom of the press, which is disturbing, of course, but all the press did was LOL and go back to filing their Russia stories.
But Wonkette won ONE MILLION OF THEM. (Fake news.)
Look!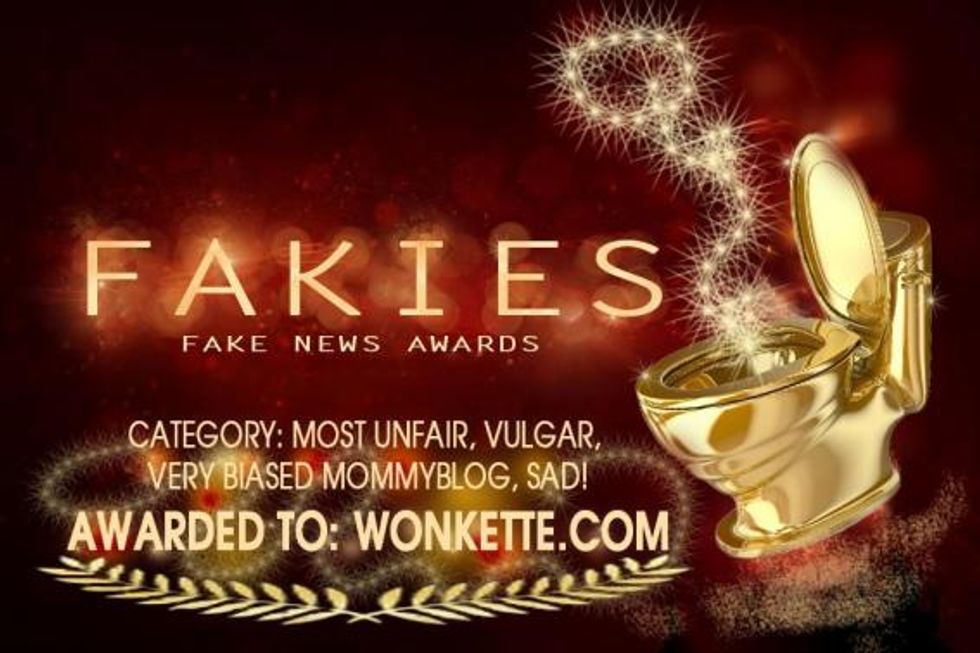 Now, it's not quite the end of the month, but something that is NOT A FAKIE is that this little mommyblog/warblog/recipe hub/sex site that occasionally writes about politics is 100% READER SUPPORTED BY YOU, the people who love the Fake News Wonkette the mostest! We have NO ads to take over your browser. So the only reason Wonkette is here, being FAKE NEWS and making you laugh, is because of YOU!
So we're asking you to pony up to let our FAKIE SELVES grow and grow and grow! The best way to do that is to CLICK RIGHT HERE and sign up for a monthly subscription if you don't have one, up your subscription if you do (and can afford it) or even give us just an extry one-time donation!
"But Wonkette, what do my moneys pay for?" We are glad you asked! On top of Rebecca Schoenkopf, the woman business owner who runs this whole joint, there is ...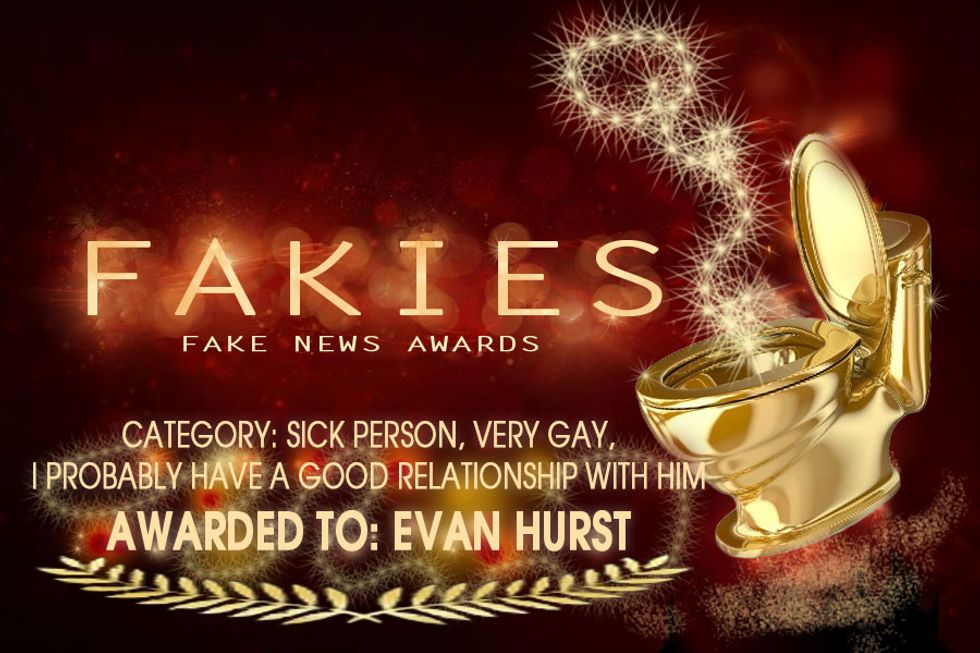 That's right, kids, Wonkette, it is I, Evan Hurst, writing at you right now! Your money buys ME! So if you have ever wanted a chance to support MYSELF, then MAKE LIKE A CLICKER AND CLICK!
And for real, we have some changes happening around here. First of all, there is a SUPER SECRET SEXXXXUAL NEW PLATFORM about to roll out on Ye Olde Wonkette, and we could really use an extra $5,000 for that (we've been scrimpin' and savin').
Also too, yr Editrix Rebecca has become a lady boss with a COMPANY HEALTHCARE PLAN. That's right, if you love Wonkette and contribute moneys to yr Wonkette, you are now officially paying for us to go to the doctor, and it's part of the benefits of our jobs.
You also pay for salary and healthcare for ...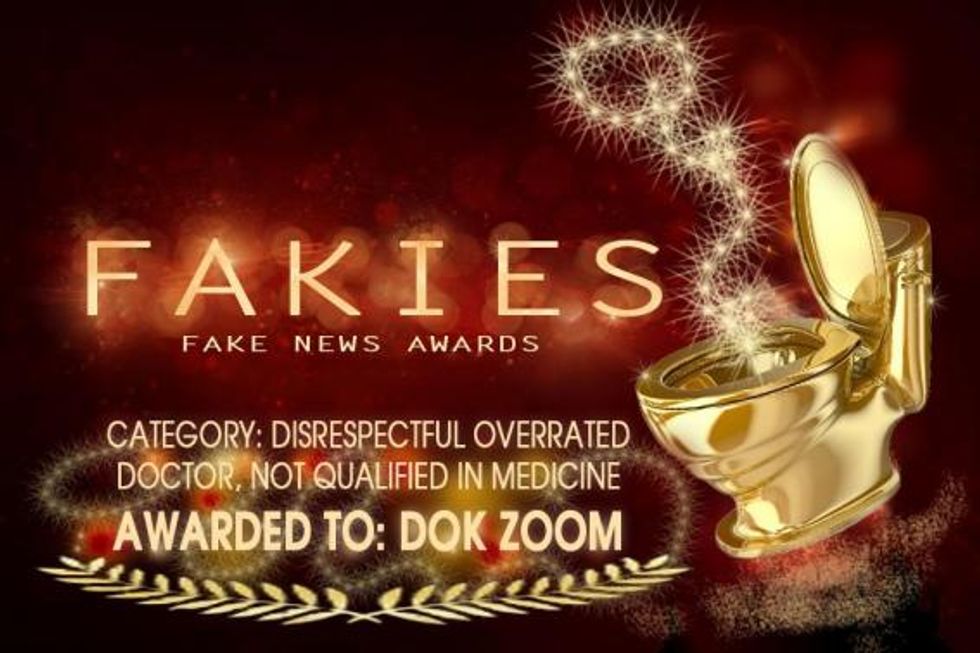 And also Rebecca's family, which includes Wonkette Toddler Donna Rose, who, LOL SAD, didn't even get a Fakie, because she's not old enough to lie at you yet: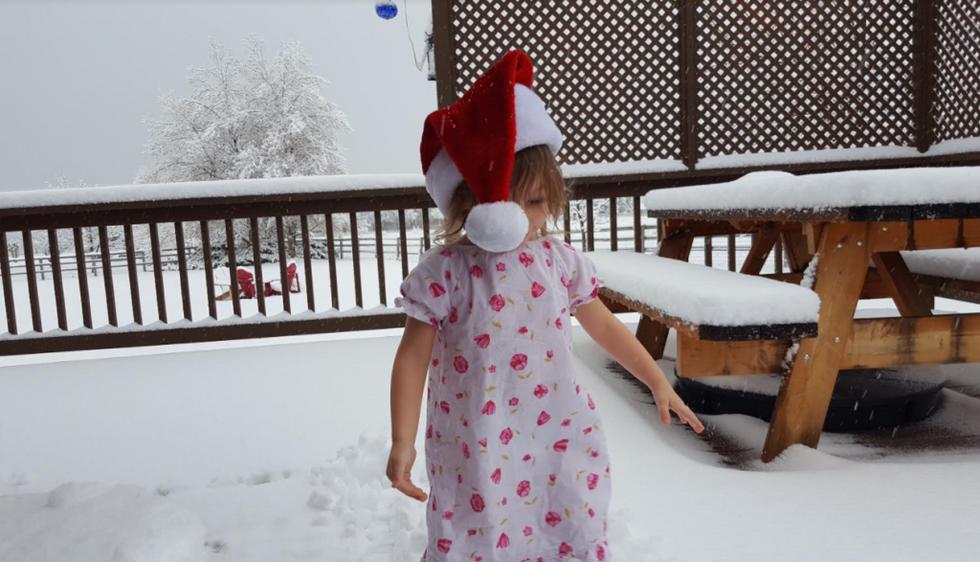 So that is the full-timers here at the Wonk, not counting Donna Rose who is always like "I will have my blog post finished when I am done BEING A TODDLER, OK?"
But wait there is more! Do you love weekend editor Robyn and freelancers like Five Dollar Feminist? You are paying for them too when you donate us moneys, and look, THEY GOT FAKIES: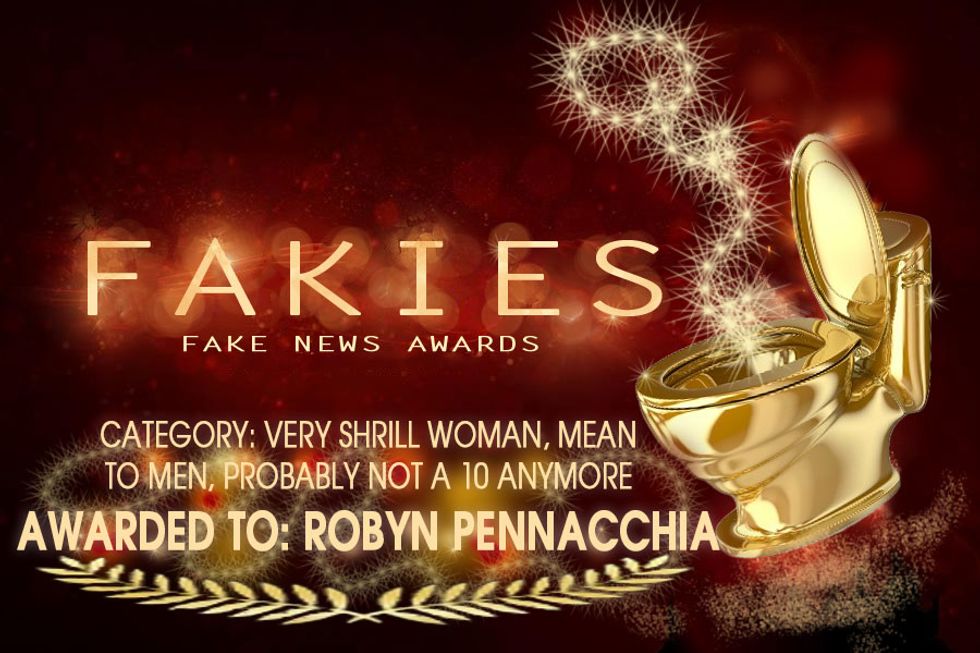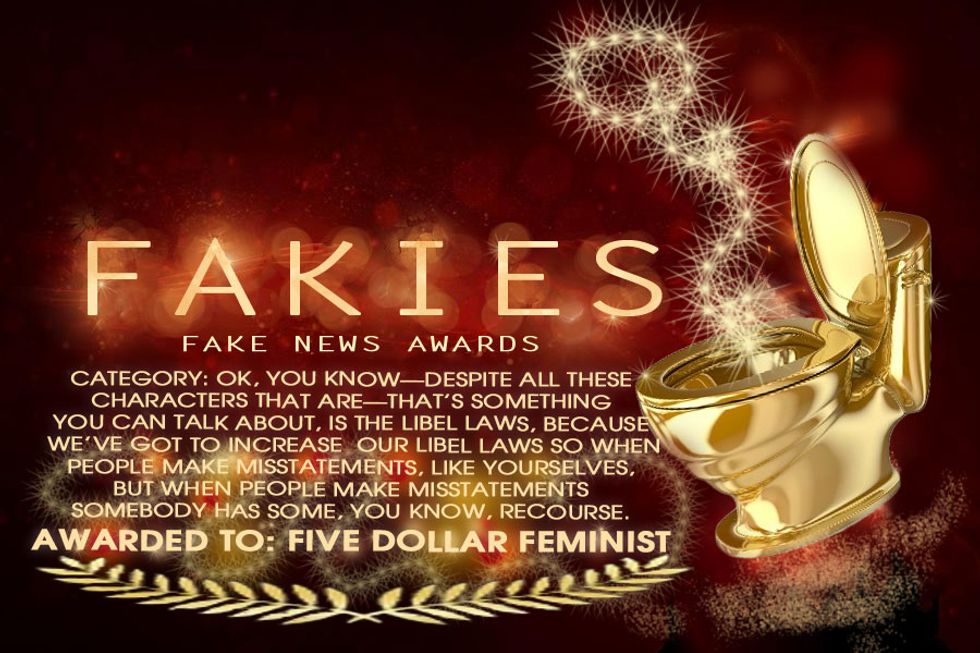 That's right, even our part-timers and freelancers are FAKE NEWS AWARD WINNERS. And don't you want to see MORE of them? $$$$$$$$$$$$$$!
Look, we know you love Wonkette, whether you are here all the time or just every now and then. The average reader spends an average of SIX MINUTES at a time at Wonkette, which is quite a lot for a news website, actually. (Hell, it's three minutes longer than you guys spend looking at porns in one sitting LOL ZING!) In comparison, most people only spend FIVE minutes at a time looking at the New York Times (which they are actually very proud is a 35 percent increase), guess because WHEN YOU GIVE YOUR OP-ED PAGE TO 60 TRUMP IDIOTS NAMED CLETUS TO WRITE ABOUT WHY DONALD TRUMP MAKES THEIR LOINS RUMBLE, people get real bored after five minutes.
Maybe they click on this op-ed by conservative never-Trumper climate denier (who is actually kind of sexy, and it bothers us that we think that) Bret Stephens called "A Modest Immigration Proposal: Ban Jews," and they think, "Oh God, Bret Stephens is Jewish and we get what he is saying and it's a really good point, but good LORD that is the worst headline in the world, like how did that ever get published? Especially on THE ONLY DAY Trump idiots are buying the NYT, on account of how all their dumb Cletus letters are in the newspaper that day? WTF YOU IDIOTS?"
That'll make folks click off a news website before their five minutes are up, yes siree boy!
Why not just give moneys to a website that A) pays writers a living wage, B) gives them health insurance, C) doesn't let Trump idiots write whack-off letters to themselves on our site and D) WRITES THE BEST HEADLINES ON THE INTERNET?
We think this is not a very hard choice. Please contribute early and often! New sexxxy platform comin' atcha REAL SOON!
WE LOVE YOU KISS KISS KISS.
PS: Thanks to the lovely commenter who made these Fakie Awards for Wonkette! Take a bow in the comments, which are not allowed!
Follow Evan Hurst on Twitter RIGHT HERE.
Did you like this post? Did you know we're ad-free? You should probably give us some money.
Evan Hurst
Evan Hurst is the managing editor of Wonkette, which means he is the boss of you, unless you are Rebecca, who is boss of him. His dog Lula is judging you right now.
Follow him on Twitter RIGHT HERE.