Yes, Ted Cruz Is Running For President Of The United States Of Jesus
Featured
April 04, 2015 10:00 AM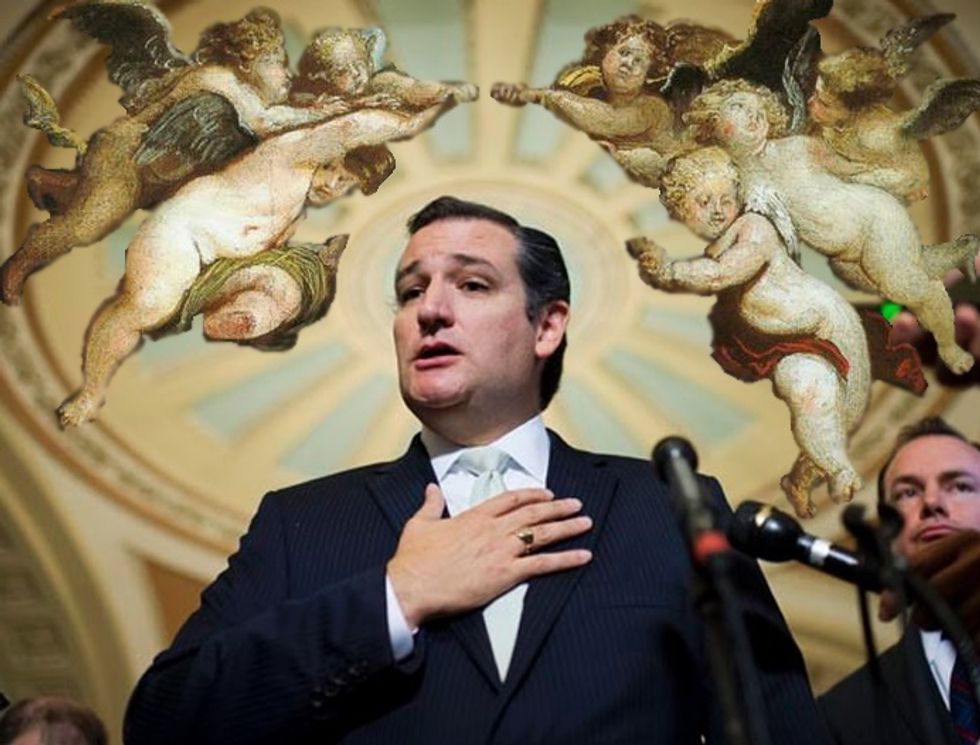 Ted Cruz is launching his first television ad this weekend -- which just happens to be Passover and Easter, a coincidence, no doubt -- and, and it's called "Blessing," and it's really subtle!
Were it not for the transformative love of Jesus Christ, I would have been raised by a single mom without my father in the household. God's blessing has been on America, from the very beginning of this nation. Over and over again, when we faced impossible odds, the American people rose to the challenge. This is our fight, and that is why I'm running for president of the United States.
See, Cruz's daddy Rafael used to be a deadbeat drunk until he Got SavedTM, so he could be a good father and raise his son right and tell everyone his boy Ted has been hand-picked by God to be president, and also, this is a Christian nation for Christians only, praise the Lord!
---
[contextly_sidebar id="jWfhfHLZsx7ZGtfx4FAfCRMfM9yFl0l7"]
In case the ad itself is a little too nuanced for you, please note: It will be running on Fox News, on Friday and Sunday, during its broadcast of the teevee movie "Killing Jesus." It is based on the very important and historically accurate snuff book by Bill O'Reilly about how liberals killed Jesus, and everyone should watch it because otherwise, you are part of the secular progressive left's war on Judeo-Christians.
[contextly_sidebar id="fdy4p8T1kgNDgQYmeCIlxtQvJ19vETnH"]
This is a fantastic way for Cruz to reassure the Judeos he's has been trying to woo -- poorly, thus far -- that when he talks about "religious liberty," every five minutes, he's talking about everyone's liberty. Really he is, as long as they've discovered the transformative love of Jesus Christ. For those who haven't, Cruz is here to remind you, this very weekend, it's not too late.
[NYT]