You All Sure Do Love Pat Robertson's Gay Blowjob Advice! Your Weekly Top Ten.
News
May 03, 2015 02:40 PM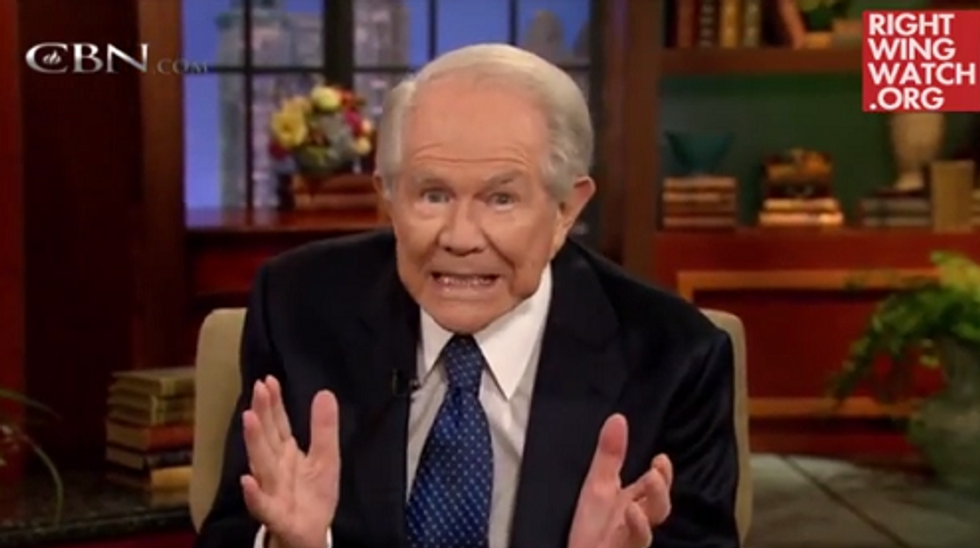 It's Sunday Funday, Wonkers! How is everybody doing? We are fine, thank you for asking! Let's take a moment to reminisce about the week's most hilarious stories, for us to laugh at together.
---
But first, remember that your Wonkette loves you, which is why we work very hard to make you laugh, while also informing you of everything you need to know about. And it takes money to do that, because we all have to put food on our families, and our bellies. So do us a solid and throw us $5, will ya? If enough of you do it, that will add up to a lot of moneys, for our bills! It's easy! Just click this link and say "here are five of my dollars, Wonkette should have them!"
We'll wait while you take care of that.
Okay, so your top stories this week have a lot in common, in that you really focused on pointing and laughing at people who are A Idiot! Let's all point and laugh again, together, as we run down the top ten posts of the week:
1. Your favorite story of the week, by far, is Pat Robertson telling a lady that she should totally forgive her husband for getting drunk with one of his male Bible friends and exchanging blowjobs. Because who among us has never found ourselves in that situation?
2. Your next idiot, to point and laugh at, is dumb homeschooled moron Josh Duggar, of the vaginal clown car Duggars, who had quite a few mouthwords to say about gay marriage.
3. Sen. Tom Cotton did his yapping Pomeranian thing in Iran's direction, when he picked a Twitter fight with Iran's foreign minister and ended up getting BURNT.
4. Rand Paul has some parenting advice for those Baltimore rioters, which is funny, because Paul's own son is a drunk, criming jerkwad.
5. Can you believe that an anti-gay Republican lawmaker got caught sending dick pics to men on Grindr? We can't either!
6. Here's a corrupt Missouri town that physically prevented their new mayor from entering city hall. No, not Ferguson. Another corrupt Missouri town.
7. People really seemed to think this Bud Light slogan was rapey, just because it was really rapey. The company has now killed the rapey slogan. Now if they'd just concentrate on making drinkable beer.
8. Wingnuts got really creative this week, trying to find lies to explain away Freddie Gray's severed spine!
9. Here's a dumb guy explaining that we don't need gay marriage, because abortion and buttsex are already legal! What more could a person want?
10. And speaking of gay marriage, can you believe that Justices Ginsburg and Kagan showed up for work to hear the gay marriage arguments, even though wingnuts specifically told them to stay home that day? Amazing.
What a week!
Remember, we are also at your service on the Facebooks, the Twitters, and the Tumblrs! Wonkette is all the places, and all the places are Wonkette!
[wysija_form id="2"]
Oh, and you should sign up for the Wonkette newsletter, so that you can get a secret gay love note from your Wonkette every day! (Mostly.)
And if you haven't put Elizabeth Warren on your tits or your morning coffee yet, GO DO THAT in the Wonkette online swag emporium, where you will find t-shirts and coffee cups and stuff and all the other things!
Again, your Wonkette loves you very much! If you missed your opportunity above, don't even worry about doing hard stuff like scrolling up you can just click THIS link and give us $5. Or you can give us more. We are not opposed to that!
Okay, now go have a nice Sunday, doing whatever gross stuff you people like to do, and remember that if you need blowjob advice, Pat Robertson's got you covered.
Evan Hurst
Evan Hurst is the managing editor of Wonkette, which means he is the boss of you, unless you are Rebecca, who is boss of him. His dog Lula is judging you right now.
Follow him on Twitter RIGHT HERE.