Young Donald Trump Was Too Big A Pussy To Fight Wars For America
Featured
July 14, 2015 04:00 PM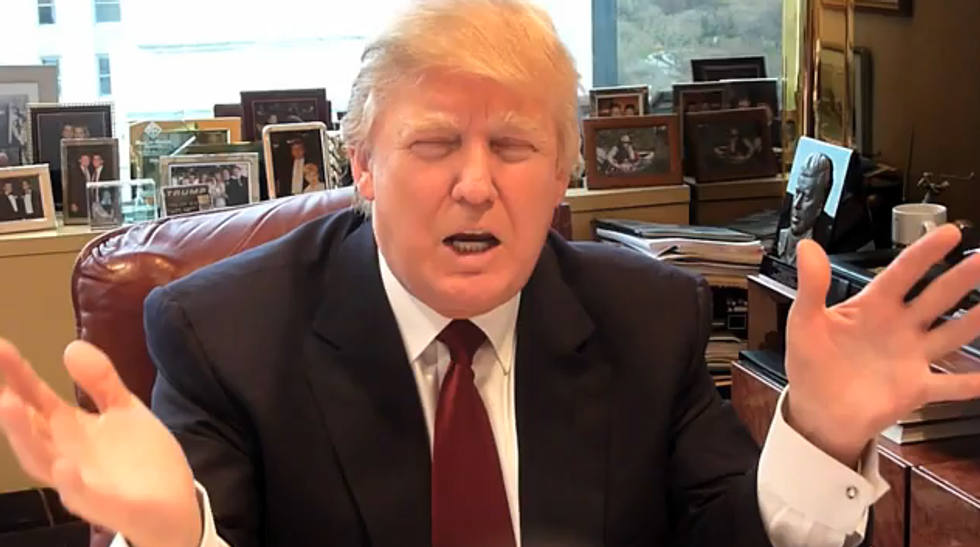 Bombastic semi-human dipshit Donald Trump has been telling his esteemed supporters lately all about how ISIS is going to "be in such trouble" when he's (LOL) president, and how he's the "most militaristic person in the room" -- all rooms, in fact. Even if he's in the room with the SEAL team that killed bin Laden, he's still the most militaristic motherfucker in the room, and everybody is like "Oh, Donald Trump, why do we feel like such pussies right now? All we did was killed the world's most wanted terrorist, but you made all those ugly hotels," and Trump says, "It's because you're weak," and then he gets on Twitter to do REAL WAR against an escaped Mexican drug lord and swears to "kick his ass!" Typical day for Trump.
---
[contextly_sidebar id="5cHOKXRQ5tTXn9AVCWEGUF9icRh4RNvw"]
But guess what, and SURPRISE, Trump is a draft-dodging pussy. Here are some facts from a 2011 Smoking Gun investigation:
Selective Service records reveal that Trump, the fortunate son of a multimillionaire real estate baron, took repeated steps to avoid serving in Vietnam.

By the time his number (356) was drawn during the December 1, 1969 draft lottery, Trump had already received four student deferments and a medical deferment, according to military records on file with the National Archives and Records Administration. An extract of Trump's Selective Classification record ... was provided in response to a TSG records request.

In fact, the December 1969 draft lottery occurred about 18 months after Trump graduated from the University of Pennsylvania, where he studied business at the Wharton School. So, while claiming that he would "never forget" being at Wharton watching the draft numbers being drawn, ... Trump seems to have misremembered, as candidates are fond of saying.
Trump's last get-out-of-draft-free card, in 1968, was different from the others, in that he was out of school, and also in that it was a 1-Y classification, which listed him as fit to be drafted "only in time of national emergency." In other words, a medical deferment, according to a 1992 Trump biography. We don't know what medical issues he was having then, but maybe that's when that thing with his hair started.
Anyhow, we're still all excited to hear about Trump's extra secret, super tough guy plans to murder ISIS dead, since his "militaristic" experience hosting reality shows and doing Twitter wars surely makes him the only candidate "militaristic" enough for the job.
[contextly_sidebar id="ufOHXlVGlgCidLqBCHkSY8LCvnPtEmUv"]
On second thought, maybe Trump thinks "militaristic" is a synonym for "dumb pompous asshole whom everybody laughs at," in which case, he's correct. He is ALWAYS the most "militaristic" person in the room.
Evan Hurst
Evan Hurst is the managing editor of Wonkette, which means he is the boss of you, unless you are Rebecca, who is boss of him. His dog Lula is judging you right now.
Follow him on Twitter RIGHT HERE.