Discover more from Wonkette
Wonkette is filthy, hilarious, liberal news. YOU CAN HANDLE THE TRUTH!
Over 15,000 subscribers
12 Creative Ways To Repurpose Food Scraps! Tabs, Mon., April 24, 2023
Morning news roundup!
Say, were Trump and his minions supposed to "breach" voting machines, or was that wrong? (CNN) 
Is E. Jean Carroll's civil rape lawsuit against Trump good for Trump, or badfor him? Oh, it's very bad. Very bad indeed! (Slate) 
Well at least he's still absolutely humiliating and crushing Meatball Ron. — Josh Marshall at Talking Points Memo 
This guy resigned from the Tennessee House for being a rapey piece of pigshit ("rapey" here is metaphorical, that we know of) . He was found to be guilty of gross grossness the day before the protests at which Reps. Justin Pearson, Justin Jones, and Gloria Johnson brought such shame upon the House by trying to protect children from gun murder, and was not censured nor expelled. — Talking Points Memo 
Stalking: Isn't it hilarious? Supreme Court Chief Justice John Roberts with the LOLs! (Slate) 
Hey, what good things happened under Joe Biden economically? Claudia Sahm will tell you! — Substack 
Millennials aren't doing as horribly financially as we all thought, despite those fucking horrendous student loans. Yay Millennials! (Noah Pinion)Insider though says Gen Z is outperforming Millennials in "having houses at 25," which, WHO DOES THAT ANYWAY! Not Gen X we didn't. (Also, we're still the worst.) (Insider) 
But how could the drummer for Guns & Roses be a bad landlord???!!! (Also, I'm not terribly impressed by the couple refusing an offer to buy them out of the year's lease they paid up front, or their insistence on staying in a place they hate and that makes it "impossible" to do their work, after the lease finally ended, for the principle of it somehow, but I am not their mother.) — Insider 
One thing though that's a matter of faith among Millennials, and which I find pernicious, is the belief that corporations are to blame for climate change so it's not up to us personally to try to do anything about it. Anyway, this guy at Semafor agrees with me — it's up to us to do what we can, regardless of what Big Company does — and therefore he is correct.
California farmers, time to go flood your fields! (No, really.) (Civil Eats) 
Why do the rightwingers care so fuckin much about our meat consumption? It's a whole thing. — The New Republic 
Architectural Digest's clickbaits are so bad and terrible and the worst, but "How this small French city became a green capital of the world"? Okay, I'll click that! 
Idaho's literally crumbling public schools. Guess who's 50th in the nation in school spending and school infrastructure? (Pro Publica) 
Zillow thought I should take another look at the Kresge Mansion. I live to serve! (Zillow) 
LOL your friend Martini Ambassador is now sending me kitchen island tabs. (House Beautiful)I traded her this one, about prep/work/pastry tables instead. SHY, LEARN HOW TO TURN A TABLE LEG AND MAKE ME AN ANTIQUE WORK TABLE! (Follow the Yellow Brick Home) 
I baked a motherfuckin pie. Added some blueberries, and some Penzeys vanilla sugar. — Savory Simple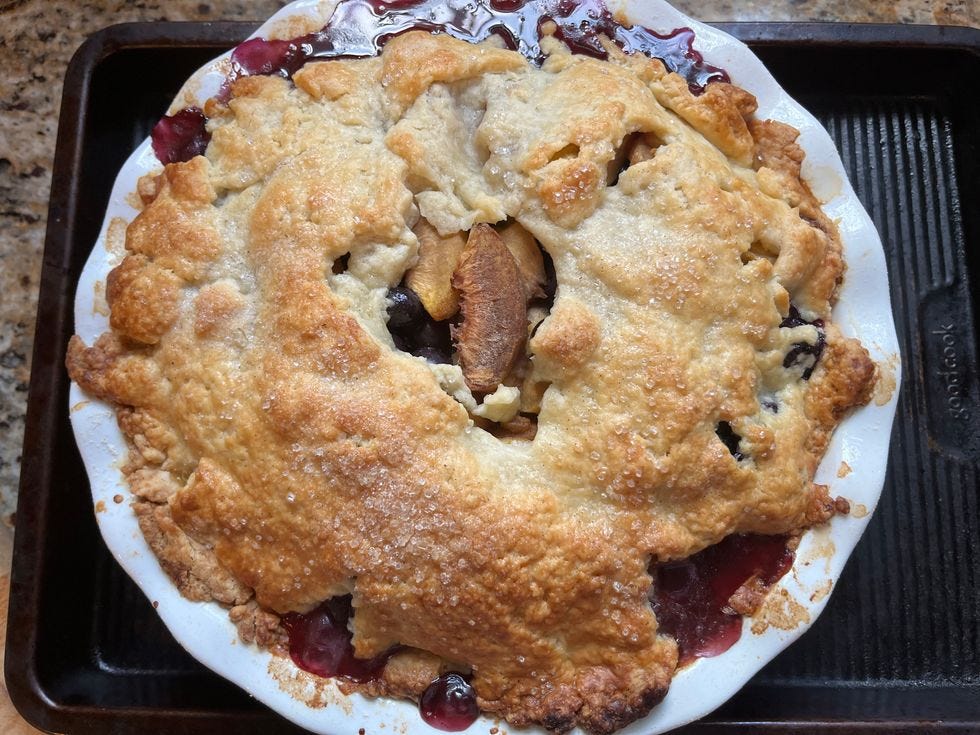 12 Creative Ways to Repurpose Food Scraps? I love every one of these, and never ever ever do them. (Better Homes & Gardens) 
If you are shopping on Amazon anyway, using the following link will give us a small cut of everything you buy during that session.
 Do your Amazon shopping through this link, because reasons .
Ugh I haven't even done a moneybeg this month and I don't want to but I guess I will eventually. Give us money! If you are able!