Discover more from Wonkette
Wonkette is filthy, hilarious, liberal news. YOU CAN HANDLE THE TRUTH!
Over 15,000 subscribers
Republicans have trouble with the genuine expression of joy, so it's no surprise they resent drag queens. No, sorry, mocking the less fortunate and otherwise relishing human misery is not "joyful." Try again. However, a drag brunch combines stacks of pancakes with double-stacked wigs. It is the definition of joy.
Here's the perfectly pleasant history of drag brunch:
So much fun! Obviously, Republicans want to send in theclownscops. Florida Governor and aspiring despot Ron DeSantis suggested "investigating" any drag show where parents dared bring children. He said, with his gross face, "We have child protective statutes on the books. We have laws against child endangerment."
That's true. However, proximity to a drag queen is not threatening to a child. Yes, children are encouraged to tip drag performers, but that's just polite.
State Rep. Anthony Sabatini proposed "terminating the parental rights" of any parent who took their kid to a drag show. That is of course deranged but typical of right-wingers' latest moral panic over anything just the slightest bit different. Daleks probably don't like drag, either.
PREVIOUSLY:
 They're Coming For Drag Shows. Really. 
 AZ QAnon A-Hole Kari Lake Will Sue ALL DRAG QUEENS Who Reveal How Full Of Sh*t She Is 
This week, former Bloomberg Opinion columnist Noah Smith tweeted the following nonsense: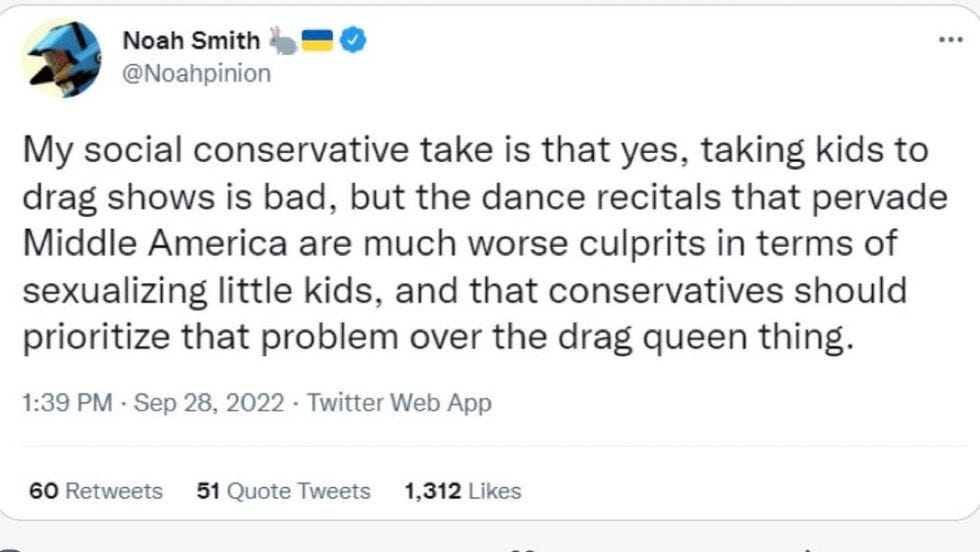 Twitter 
My social conservative take is that yes, taking kids to drag shows is bad, but the dance recitals that pervade Middle America are much worse culprits in terms of sexualizing little kids, and that conservatives should prioritize that problem over the drag queen thing.

Lyman Smith, who claims he "tweets from the hip," replied, "In fact, we should be critical of and reject all the various sexualizations of children, from weird dance recitals, to child beauty pageants, to drag-shows-for-kids, because all of them are bad. Gonna blow some minds here but: don't make kids into sex symbols."
It's as if these guys are the dad fromFootloose  but not as well-adjusted. What do they think goes on at drag shows? Drag queen story hours are literally just drag performers reading children's books to kids. Flamboyant eye shadow and killer heels aren't inherently sexual.
I think children's beauty pageants are weird, but conservatives insisted for decade that the Miss America, Miss Universe, and Miss Teen Jesus pageants were all wholesome family entertainment. Conservative pundits denounced spoilsport feminists for removing the "beauty" from "beauty pageant" and more or less admitted they only ever watched these pageants to look at women in bikinis. (Yet, the pageants have weird, sexist "morality" codes.)
Kids don't oggle drag queens. They just enjoy the entertainment. They don't pretend that the attractive pageant contest playing the xylophone is exhibiting an actual talent.
This current freakout over drag isn't even consistent. Some feminists have criticized drag as offensive to women (for reasons, I guess) and even compared it to "blackface" (sigh). If more of the extreme Left was leading the charge against drag or trying to get drag content pulled from TV, these same conservatives would probably reflexively defend drag against "cancel culture." They'd suddenly remember that Shakespeare's plays featured drag performances (with kids in the audience) for decades. They'd fondly recall Flip Wilson,  Milton Berle, and Martin Lawrence. 

Back in 2002, Dame Edna was on the "Hollywood Squares." This was during the dinner hour. They even put her in the all-American, extremely non-queer Center Square that Paul Lynde famously occupied.
Hell, Miss Piggy is a drag queen. They haven't tried to criminalize "The Muppet Show" … yet.
Drag as endured as an all-ages art form for generations. But Republicans noticed people they were conditioned to fear and loathe bringing joy to others and they couldn't handle it. When people can't share genuine joy, they set out to destroy it. That's all.
  Follow Stephen Robinson on  Twitter.   
 Do your Amazon shopping through this link, because reasons .

Yr Wonkette is 100 percent ad-free! Please subscribe, donate, and otherwise help keep us alive and kicking!