Discover more from Wonkette
Wonkette is filthy, hilarious, liberal news. YOU CAN HANDLE THE TRUTH!
Over 15,000 subscribers
Those Cakes We Like … Have Georgia On Their Mind
I suggest serving with a glass of champagne as the indictments continue to roll in.
As we continue to joyfully watch Donald Trump's legal woes pile up and eagerly await Georgia DA Fani Willis's turn in the batting cage, I thought now was the perfect time to suggest a recipe involving Georgia's most famous fruit. (Marjorie Taylor Greene does not count, she's more fruitcake than fruit.)
This recipe is more of a dessert than a traditional cake. It's a favorite of my teenaged daughter and myself and is the perfect summertime treat. You can change the fillings to suit your tastes, just make sure there is both a fruit and a cream element; jam, fresh fruit, macerated fruit, thick cream, clotted cream, ice cream … the world is your oyster (but canned clams are forbidden, we're not MONSTERS).
Today, we are baking shortcakes with macerated strawberries & peaches, mascarpone whipped cream, and strawberry and basil compote.
Shortcake is a very old recipe; its first recorded appearance was in an English cookbook in the year 1588. Shakespeare helped it rise in popularity by using the name Alice Shortcake in The Merry Wives of Windsor, and it has remained popular ever since. It made its way over to the United States by the end of the 19th century, and you guys loved it so much you even gave it its own celebration day (June 14, if you wanted to know).
This recipe makes 8 servings and comes in at a62.8g of carbohydrate per servingfor my fellow diabetics. I doubt any of you would be able to eat all 8 servings in one sitting,
You'll need a few basic pieces ofequipment, nothing too crazy.

Your trusty electric scale (available through the Amazon linky at bottom of the page)
Mixing bowls x3 (2 if you're organised and clea then one you used to make the shortcake before making the cream)
Measuring jug
Rolling pin
Circular pastry cutter (7 cm, or 2.5 to 3 inches)
Baking tray
Plastic wrap/clingfilm
Saucepan
Tea strainer/muslin bag/empty tea bag & string
Electric or hand whisk
Measuring spoons
And your ingredients: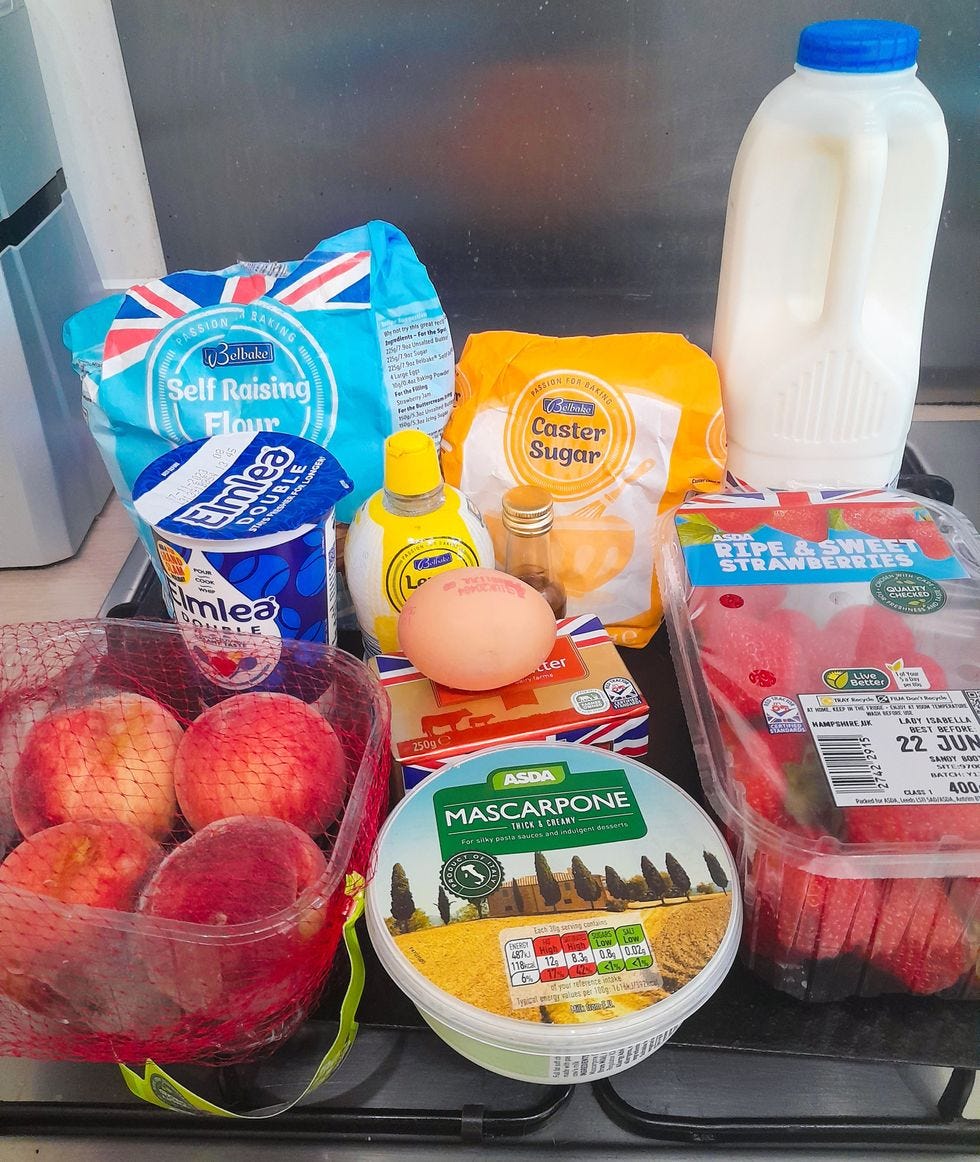 Lots going on in this recipe. 
For the shortcake
350g self raising flour (or add 25g baking powder and 5g salt to 320g all purpose flour)
100g cold butter, cut into roughly 2cm cubes (that's 1/4 cup, or half a stick)
100g caster/superfine sugar
1 tsp vanilla essence
100 ml milk, gently warmed
2 eggs (one is for glazing your shortcakes before baking)
For your macerated fruit
200g strawberries, sliced
3 peaches, sliced
1 tbsp sugar
1 lemon, juiced
For your mascarpone whipped cream
115g mascarpone
160ml heavy/whipping cream
1 tbsp granulated sugar (honey or maple syrup are suitable alternatives)
½ tsp vanilla essence
1 pinch salt
For your strawberry and basil compote
150g strawberries
2 tbsp sugar
1 lemon, juiced
20 fresh basil leaves
You'll need to do a bit of advanced preparation as your fruit will take around two hours to macerate. To do this simply combine your sliced fruit, sugar, and lemon juice in one of your mixing bowls. Give it a quick stir, then cover the bowl with your plastic wrap and leave in the fridge for roughly two hours.
For your shortcake, set your oven to390F/200C. Now simply combine the dry ingredients in a mixing bowl, then add your cubed butter. Rub the butter into the dry ingredients until you have a mixture with the texture of fine breadcrumbs. Or you could put the ingredients into a food processor and mix until you achieve the desired texture, if you want to cheat.
Add one of your eggs into your warm milk, along with your vanilla essence, mix until well combined
Pour your milk and egg mix into your dry/buttered ingredients and mix until it forms a soft, pliable dough.
Lightly sprinkle your workspace with flour (make sure it's clean first, of course), then tip out your shortcake dough. Roll it into a smooth ball and gently flatten it to a disc shape. Now roll it out to around 2cm (or just under 1 inch) in thickness using your rolling pin.
Lightly dust your baking tray with flour and then take your pastry cutter and cut your dough into eight circles; you will need to re-roll the dough at least once. Place the shortcakes onto your baking tray and glaze with a bit of beaten egg.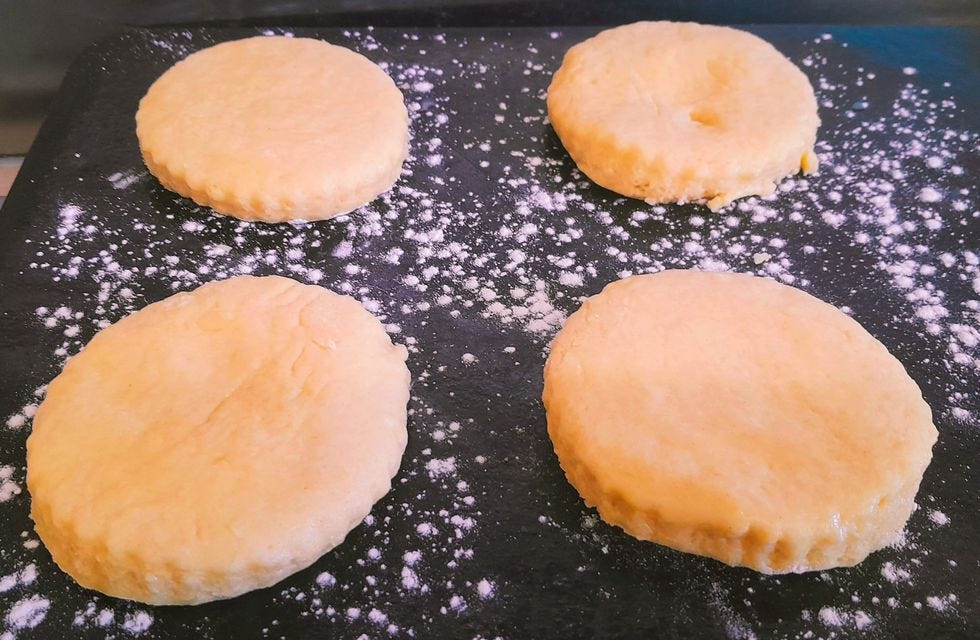 Here's a before baking photo... 
Remove from the oven and leave to cool.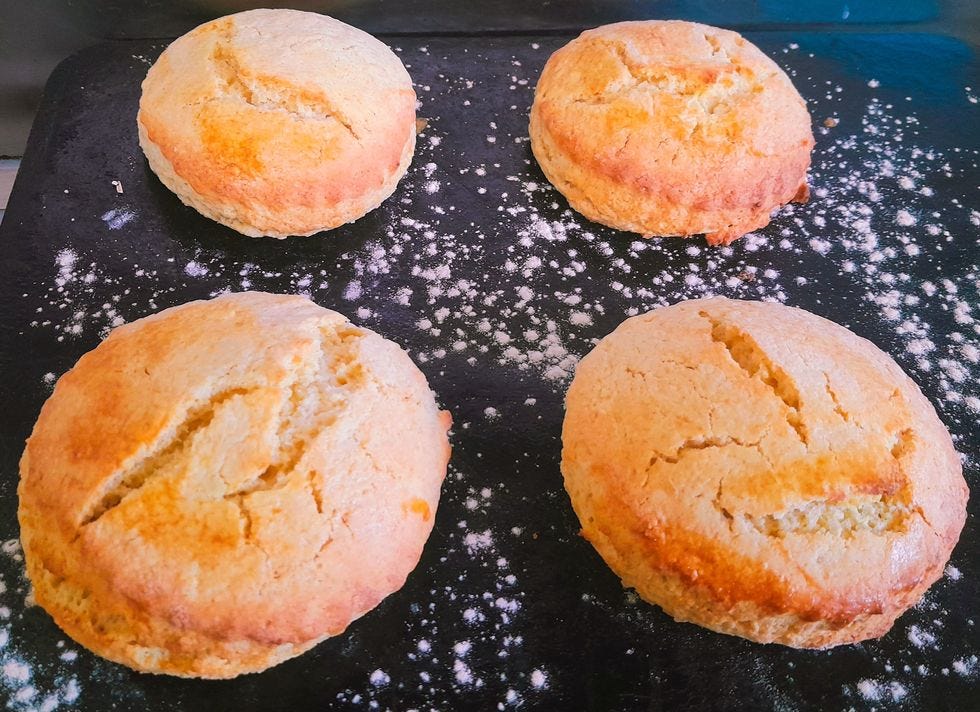 12 minutes later. 
Now take your compote ingredients, cut your strawberries into cubes and place these into the pan with the sugar and lemon juice.
Take your basil leaves and squash them into a ball that will fit into your tea strainer/muslin bag; alternatively, cut open a tea bag and empty it out, fill the bag with the basil leaves and then use the string to tie it closed (wrap it around the bag 2 or 3 times and then tie it off).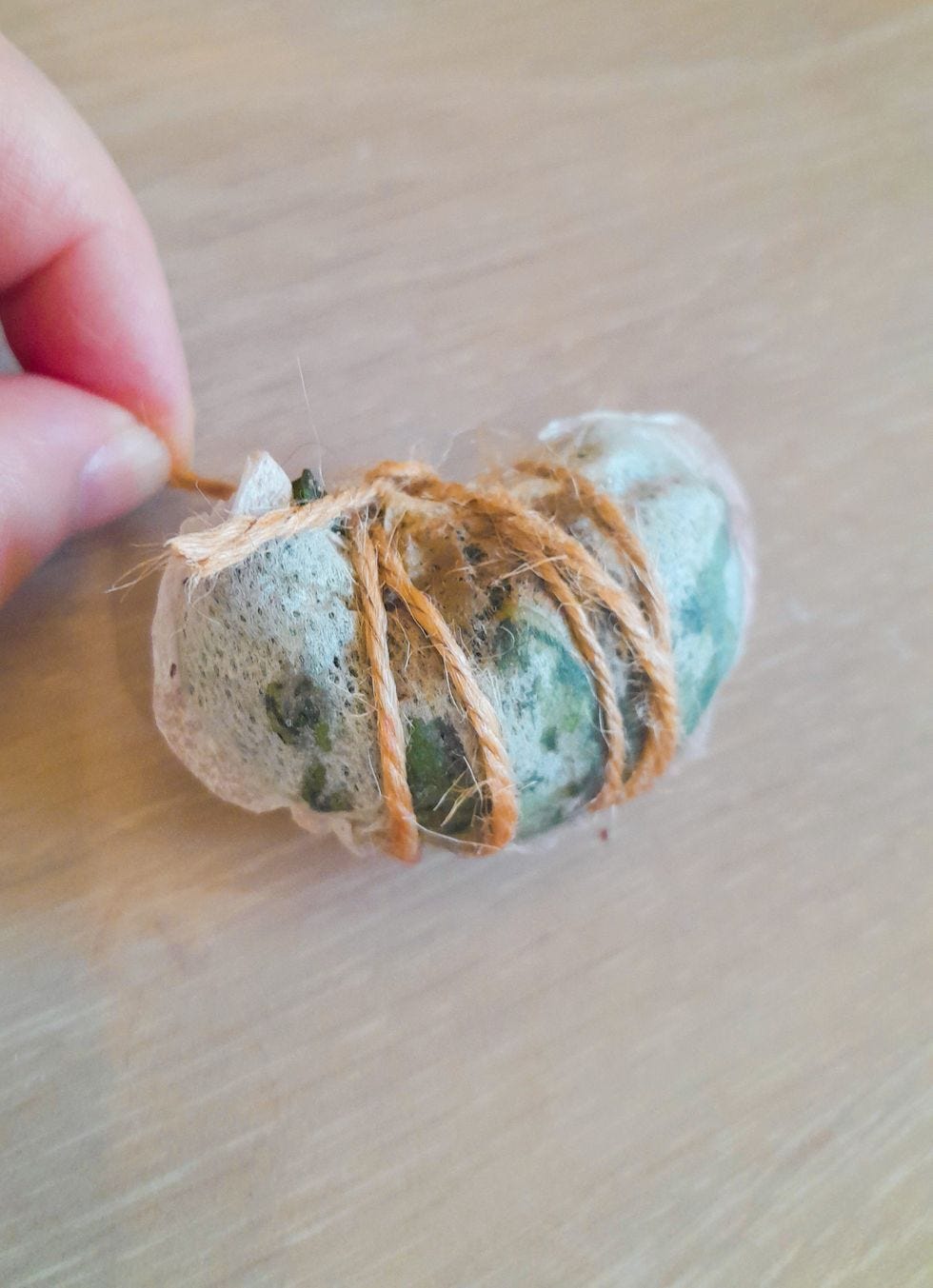 There's a fancy French term for this, it's a "bouquet garni." 
Add the bag of basil leaves to your pan and cook the ingredients on a low heat for about 15 minutes.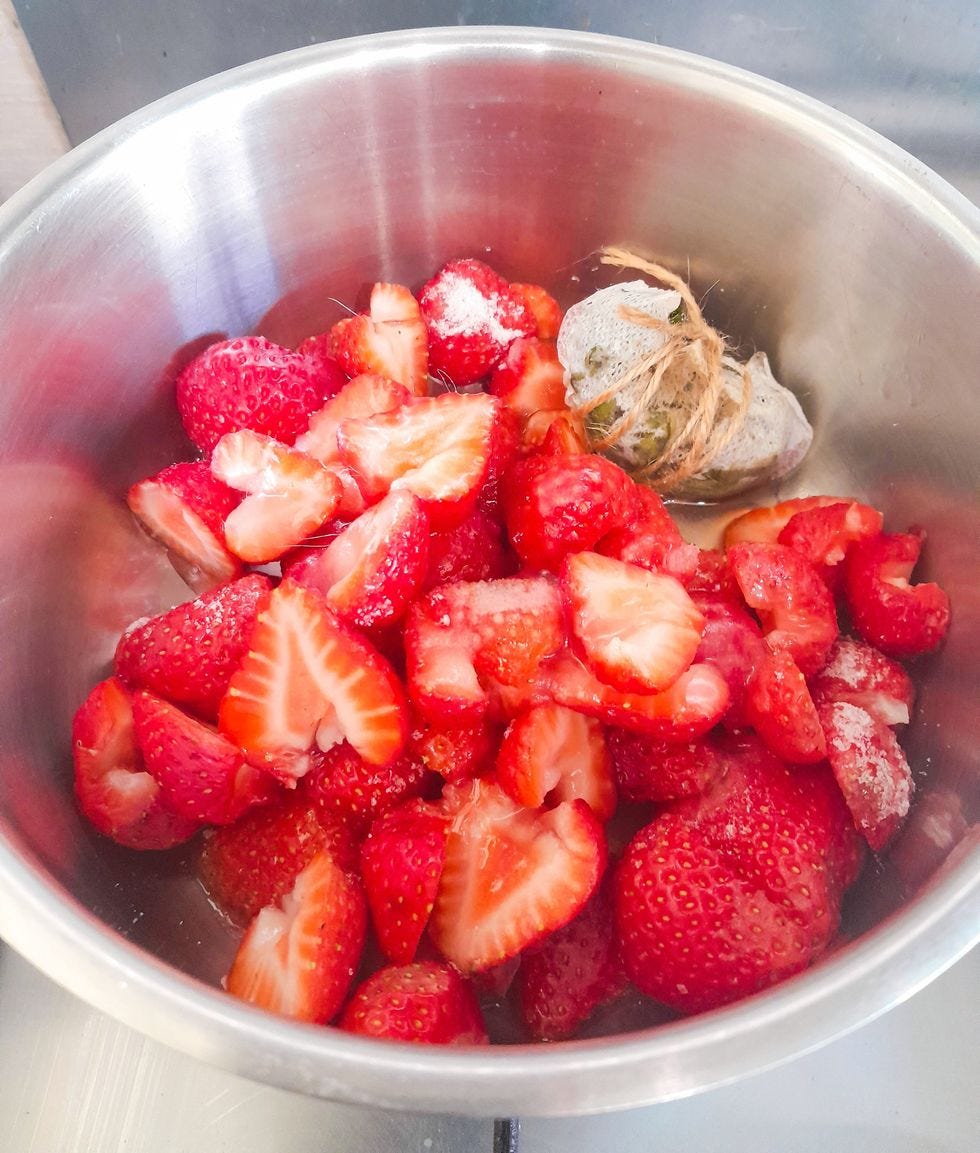 Let it all bubble away for a while, maybe grab a glass of something while you wait. 
The fruit should break down and the mixture should begin to thicken. Set aside ready to serve later.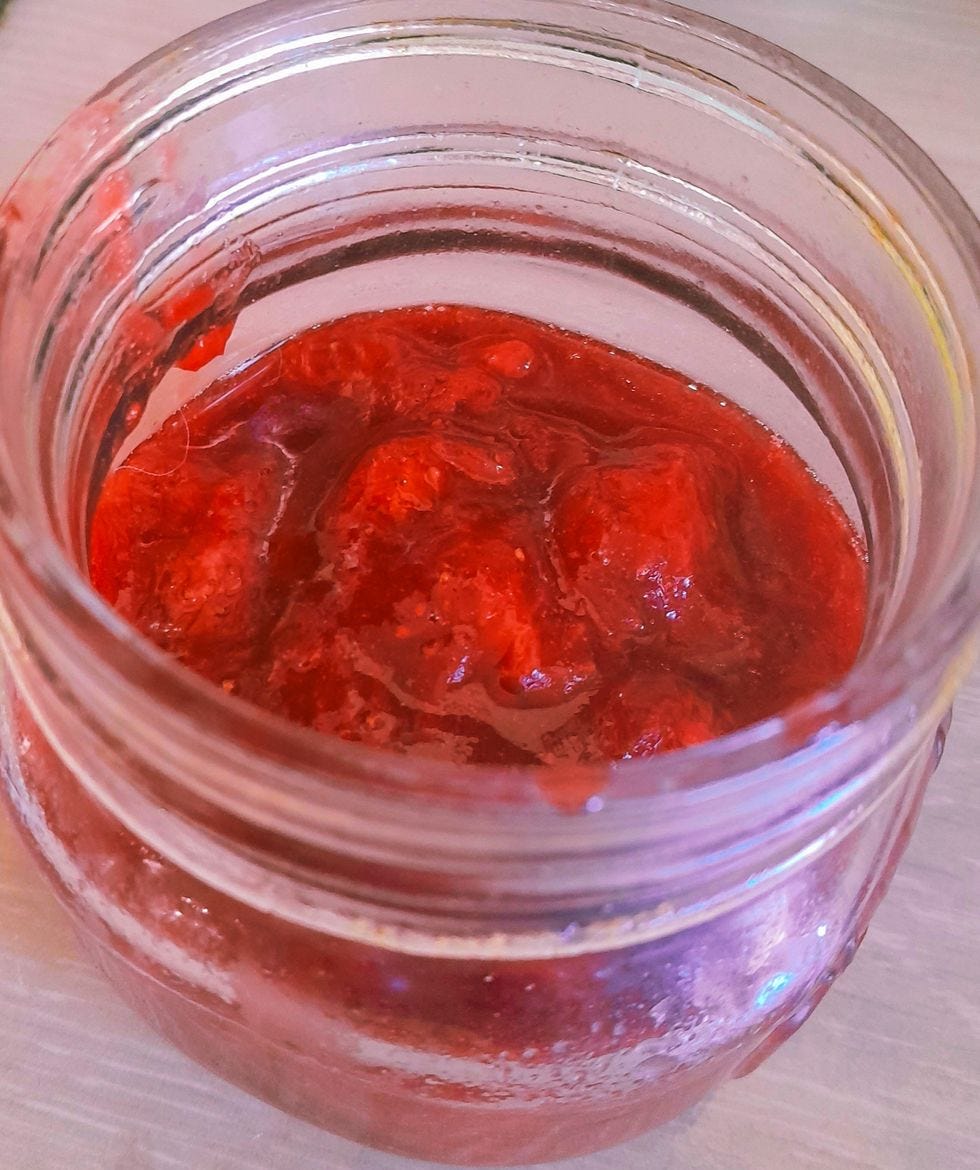 If you have more than you need this is also great on pancakes. 
Combine your cream, mascarpone, sugar, vanilla essence, and salt in a measuring bowl and whisk until it is thick enough to leave a peak when the whisk is removed.
Everything is now ready to serve. Cut your shortcakes in half and pile with fruit and cream, pour over your compote, then pour yourself a glass of bubbly and cheer on Fani Willis as she joins Jack Smith in making Trump's life a living nightmare.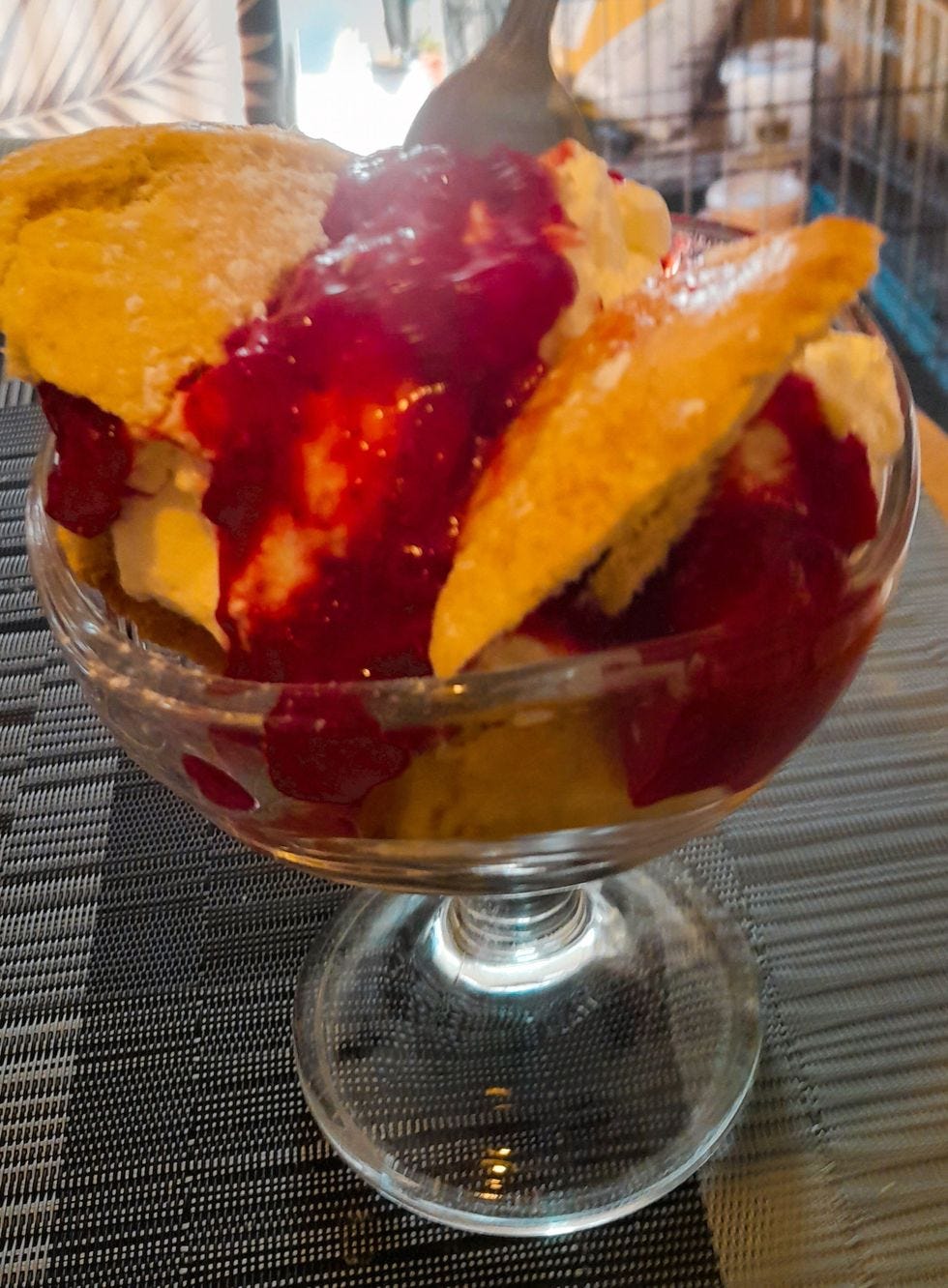 Dig in. 
Leftover shortcake (hahaha, who am I kidding) can be stored in an airtight container for up to three days, or frozen for up to three months.
If you need any baking gadgets, or just want to make sure your online shopping helps to keep Your Wonkette well stocked with those cakes we like, use this handy link
 Do your Amazon shopping through this link, because reasons .
If you want to support Wonkette and keep the cakes coming please consider a regular donation if you are able to.