Discover more from Wonkette
Wonkette is filthy, hilarious, liberal news. YOU CAN HANDLE THE TRUTH!
Over 15,000 subscribers
Welcome to Wonkette Happy Hour, With This Week's Cocktail, The Lemon Drop!
Lemony goodness in a glass.
Greetings, Wonketteers! I'm Hooper, your bartender. It's been eight weeks since we made limoncello together. Let's take that tasty lemon goodness and turn it into something pretty. Time to make a classic fern bar drink, the Lemon Drop. Here's the recipe.
Lemon Drop
2 oz Voudoux Vodka (or other local vodka)
1 oz limoncello (homemade or store bought)
1 oz simple syrup
½ oz fresh lemon juice
Pour a small amount of simple syrup onto a plate. Roll one half of a martini glass rim in the syrup. Pour a small amount of white sugar or sanding sugar on another plate. Roll the syrup side of the glass in the sugar. Place the glass in a freezer to chill.
Shake all ingredients over ice. Strain into the chilled martini glass. Garnish with a long lemon twist and serve at once.
The Lemon Drop was a hallmark of the fern bar, a swinging cocktail bar concept that was born in 1965 and lived on for entirely too long. I'm not a fan of singles hookup bars; they're the kind of place that makes newcomers nervous about bars in general. These bars gave birth to far too many terrible drinks designed to get your date drunk. That being said, I have to admire the gumption of the guy who invented the concept.
Norman Jay Hobday was an out-of-work Vietnam vet who borrowed a few thousand dollars from his grandparents to build a bar that he thought would appeal to young single women. He was absolutely right , and the drink menu supported that approach. The Lemon Drop is melted sorbet in a glass, rich and sweet and citrus-laden. It's a drink in the same style as a Cosmopolitan, and just as empowering for women in its own right. Yes, the whole idea of a "swinger's bar" seems tawdry in retrospect. But it's important to take these bars in context. Before the fern bar, saloons were dark, smoky, grimy places, meant exclusively for men. Enterprising owners like Hobday set out to make watering holes that would expressly cater to young women's tastes. They were bright, clean, domestic, and inviting. It was a fantastic commercial success.
The concept got out of hand after a while. As an example, the first fern bar in New York City was a place called T.G.I Friday's. To put it mildly, the franchise has wandered far from its roots. In addition, fern bar drinks have always been simple, often sugary and occasionally terrible. The fern bar was the place where the Harvey Wallbanger was created, a drink so vile I shudder to mention it by name. Still, for a while, fern bars were a place where the sexual revolution took root. For that, we should remember them, and enjoy the bright spots.
Let's talk ingredients: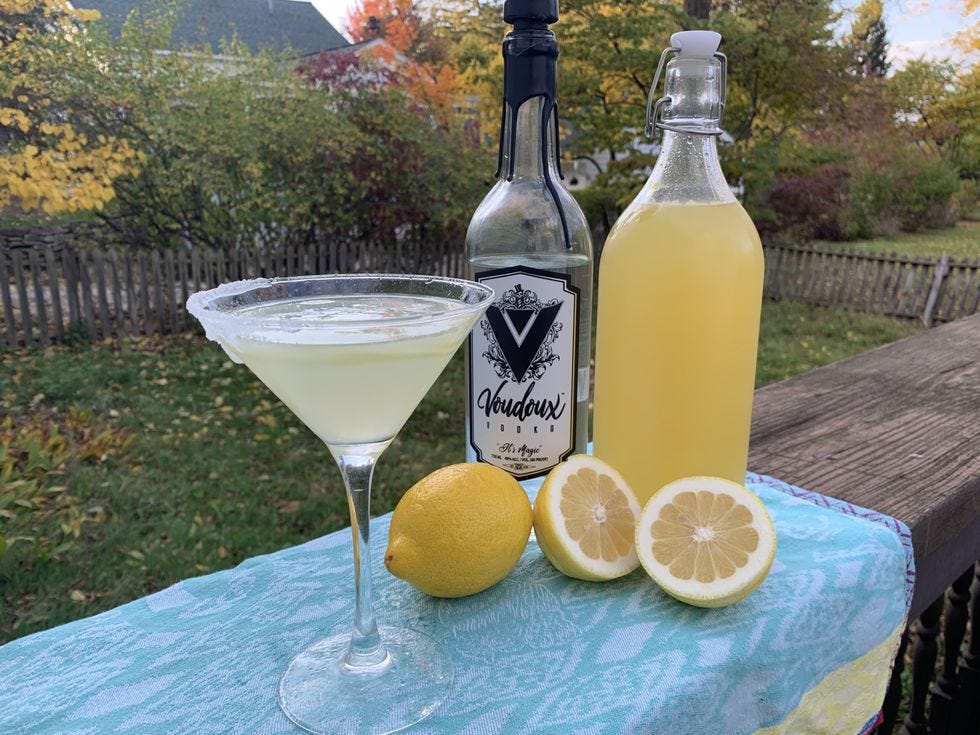 Ingredient shot. My wife reported the drink as missing shortly after this photo was taken. Matthew Hooper 

Voudoux Vodka: This vodka is made right in my hometown of Medina, Ohio, byBKO Distillery. It's incredibly mellow and sweet, far better than Tito's. BKO uses their own mash for the vodka instead of filtering neutral grain spirits, and you can taste the difference. I've been wanting to showcase them for months now, and I've finally found a great opportunity. If you're local to Ohio, do yourself a favor and buy a bottle of this. You won't regret it. If you aren't near Ohio, look around and see what the local microdistilleries are producing. There's probably someone in your neck of the woods making good vodka. Give them a try. They deserve the attention.
Limoncello: If you don't have homemade limoncello, store bought is just fine. But I really did have this drink in mind when I wrotemy limoncello recipe eight weeks ago. Limoncello is so very good in the cocktail, far better than the original triple sec from Norman's recipe. However you get your hands on it, some quality limoncello is terrific here.
Simple syrup: Equal parts sugar and water, heated until they're crystal clear. If you're too busy to heat some up, put the sugar and water in a squeeze bottle and give it a good shake. It'll make itself in a few hours.
Lemon juice: If you aren't using fresh lemon juice in this drink, I may cry. Juice from plastic lemons is plastic juice. Accept no substitutes.
Garnish: A long lemon twist is a must —some extra lemon oil in the cocktail makes the drink. Thoroughly scrub your lemons before cutting a garnish. You don't want wax from the fruit in your cocktail. Some recipes insist on a sugar rim. If you do want to try this, use simple syrup instead of water to coat the rim of the glass. Thoroughly dust it with sugar, then put the glass in the freezer. A few minutes of chill time for the glass lets the sugar harden up, so it won't slide off the glass when you drink it. I also recommend coating only half the rim of the glass, to give the drinker the option of tasting the rim or not. Sanding sugar is a really cool option that makes the glass sparkle. I usually bring it out when the holidays arrive.
In summary and conclusion, drink well, drink often, and tip your bartender — donate to Wonkette at the link below! And if you'd like to buy some bar gear or books from Amazon, please click here! 
OPEN THREAD!