Discover more from Wonkette
Wonkette is filthy, hilarious, liberal news. YOU CAN HANDLE THE TRUTH!
Over 18,000 subscribers
Republicans spent decades eroding Roe v. Wadebefore  their illegitimately appointed Supreme Court reversed it with the Dobbs v. Jackson Women's Health Organization  decision. Now the party is split into two camps: Ones calling for a "middle ground," and the religious zealots who now want to take it many steps further.
Lindsey Graham Knows Better Than You!
The mifepristone decision (that was ultimately stayed by SCOTUS) revealed Republicans who had kept insisting that abortion was a "states' rights" issues were just trying to get a foothold to ban it federally.
One of those is Sen. Lindsey Graham from South Carolina, who had already proposed a 15-week federal ban so horrendous, his own party disavowed it. Graham, ever the Sideshow Bob, walked into more rakes on CNN's "State Of The Union." First, Graham lied about mifepristone.
GRAHAM: But the issue is, was the drug lawfully approved? Did the FDA follow its own procedures, chemical abortion safe?
Mifepristone's safety was not only tested more than 20 years ago by the FDA, but its use since then has been shown to be safer than getting treatment for strep throat or giving Graham's Republican colleagues erections.*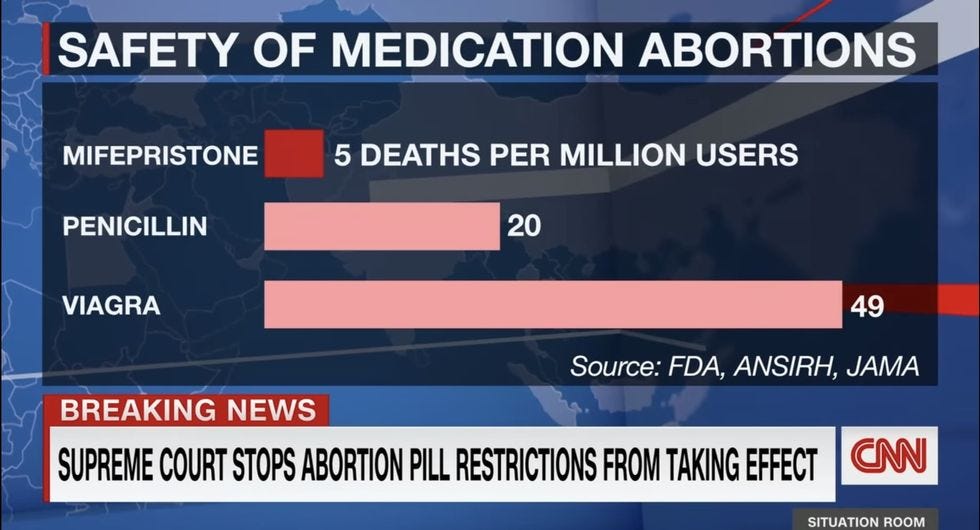 *Except for Mitch McConnell, who only gets erect from the lamentation of women and children 
Graham continued to lie about the bill to codify Roe precisely as it stood before SCOTUS undid it. He brought out forced-birthers' favorite strawman argument.
GRAHAM: The modern Democrat — yes, it's a human rights issue. Does it really matter where you're conceived? [...] to dismember a child at 15 weeks is a painful experience. It's barbaric. It's out of line with the rest of the civilized world. Only North Korea and China allow abortion on demand up to the moment of birth, except the Democratic Party. What the Democratic Party proposes on abortion is barbaric. Abortion up to the moment of birth, taxpayer-funded [...]I think is barbaric. I welcome this debate.
But when confronted with the truth by Dana Bash, Graham proceeded to get in a tizzy.
BASH: Just for the record, Roe went up to viability. But I just want to button this up. The...

GRAHAM: No, that's no — no, no, quit covering for these guys. No, no, no, your — media, you keep covering for these guys. They introduced legislation that allowed abortion on demand with taxpayer- funded — you paying for it, the taxpayer, up to the moment of birth. That was their position in Washington. That's the law they want to pass. And nobody in your business will talk about it.
It's barbaric.

BASH: Senator … Senator, I'm not covering for anybody. And you know that. [...] And when I have Democrats on — and I have had Democrats on — I have asked …

GRAHAM: OK. Well, just report — report the facts.

BASH: I have many — all of them about their position where — where they believe this issue should be.
Graham is lying again about the Democratic position and the position globally on abortion.But if you need a clearer view of his position, look at this picture of the "confirmed bachelor" senator with zero kids yelling at Dana Bash, who as a woman with a child would be actually affected by these authoritarian reproductive rights bans, for merely pointing out a fact.


A picture truly is worth a thousand words. 
Pence's Quest To Not Be President Continues
Former Vice President Mike Pence, of the January 6th gallows fame, continues appearing on news shows as if there's a snowball's chance in hell's fryer that he would ever be president.

But if his tough guy stances against dictators that his boss genuflected to during the Trump administration wasn't enough, Pence is convinced that his disingenuously toned views on abortion will help.
PENCE: I'm pro-life. I don't apologize for it.
Any party that says this while cutting education, food assistance and health benefits for children while glorifying guns that truly kill more children than anything else is truly full of shit.
Pence continued to make it clear that he's with Lindsey Graham's plan to ban abortion federally.
PENCE: The cause of restoring the sanctity of life to the center of American law is the calling of our time. [...] But it [Dobbs] didn't just return it exclusively to the states. And that's where I disagree with the former president. This isn't a states-only decision. [...] I think the American people would welcome a minimum national standard in Washington, D.C., 15 weeks.
We doubt the guy who is loathed more by the people who would technically be his voters than he is Democrats would know what the American people want.
The "Normal Ones" Would Like Republicans To Say Less
Those on the other side of the Republican party's abortion debate, such as New Hampshire Gov. Chris Sununu, would love it if the forced-birth extremists would just stop saying the quiet part out loud.
SUNUNU: Look, every time Republicans start talking about abortion, we're losing. We are. [...] And every time a Republican talks about banning this, or this many weeks here or there, we are losing [...] I don't think 50 years of precedent should've been broken with Roe v. Wade.
Or Rep. Nancy Mace from South Carolina:
MACE: Well, I want us to find some middle ground. [...]And as Republicans, we need to read the room on this issue because the vast majority of folks are not in the extremes. [...] And we just saw, you know, a fetal heartbeat bill signed in the dead of night recently in Florida. [...]South Carolina, there was a small – a very small group of state legislatures that filed a bill that would execute women who have abortions and gave right – more rights to rapists than women who have been raped. That is the wrong message heading into '24. We're going to – we're going to lose huge if we continue down this path of extremities.
Note that the " good Republicans " don't mention actual reproductive science or health, just their political prospects only.
Selfish to the end.
Have a week.