Discover more from Wonkette
Wonkette is filthy, hilarious, liberal news. YOU CAN HANDLE THE TRUTH!
Over 15,000 subscribers
Nice Alabama Ladies Feeding, Spaying Feral Cats convicted of CRIMING
'You're on the property. You've got cat food. It's pretty clear what your intent is.'
Two criminal scofflaws were finally brought to justice Tuesday, as a municipal court judge in Wetumpka, Alabama, found co-conspirators Mary Alston, 61, and Beverly Roberts, 85, guilty on multiple misdemeanor charges for their breaches of the peace. The two ne'er-do-wells were arrested in June because they'd been feeding feral cats on city property as part of a feline-smuggling ring in which they'd trap the unhoused animals, get them spayed or neutered, and re-release them, the most common method of controlling feral cat populations.
Don't you go wasting any animal lover tears over the cat ladies' comeuppance either, because the city had already told them to knock it off. They're repeat offenders. Hardened felines, if you will.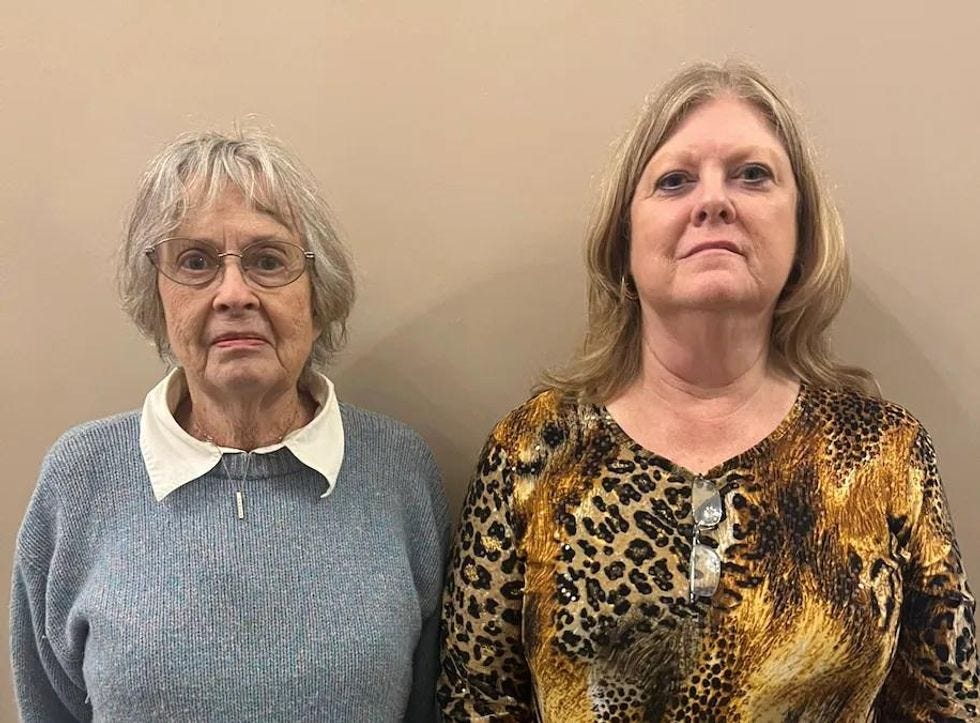 Beverly Roberts, left, and Mary Alston on Dec. 13. (Washington Post, Courtesy of Mary King) 
Their trial somehow took five and a half hours, the Washington Post reports (free gift linky). When it was over, both women had been found guilty of criminal trespassing; Roberts caught an additional conviction for disorderly conduct, while Alston will have the stain of "interfering with governmental operations" dogging her for the rest of her life, even though she was feeding cats. Judge Jeff Courtney threw the book ( B. Kliban's Cat  ) at them, too:
The women were sentenced to two years of unsupervised probation, $100 in fines, plus court costs and 10 days in jail — the jail sentence was then suspended.

"I realize the gravity of the situation, but also appreciate the absurdity of it all," Roberts told The Washington Post.
Roberts appeared unrepentant, brashly asserting, "A warning, an arrest, and a conviction all because maybe we were about to feed stray cats, and because we were solving a feral cat problem that the city couldn't solve." Isn't that the way of the criminal? No remorse at all. Like a cat who knocks everything off the nightstand and just looks you in the eye, coolly daring you to put your phone back on it again.
For a real sense of how brazen these women were, just watch the video of their arrest, complete with three (3) responding police cars and an officer explaining to Roberts that he'd caught her dead to rights: "Ma'am, you're on the property. You've got cat food. It's pretty clear what your intent is."
It's a wonder he hasn't already made detective.
Roberts's attorney, William Shashy, a former judge who came out of retirement to represent her, said, "I have never seen or heard of a case more absurd than this. [...] I was a lawyer for 20 years and a judge for 21, and I'm completely disappointed and shocked at this judgment." Yeah, and the Unabomber had a lawyer too, pal.
Alston's lawyer, Terry Luck, described the verdict as "a complete overreach of the city of Wetumpka." He told The Post that the city's claim that the women were promoting the cat population is "ignorant," given that the women were doing the work the city had failed to do.
The attorneys and their clients believe the city government was settling old scores, since Roberts has long been a rabblerouser over animal welfare.
A few years ago, Roberts helped pass an ordinance that banned citizens from chaining their dogs outside without shelter. "I think when I made ruckus about the dogs, those in charge of the city saw me as a troublemaker," she said.
The Post at least doesn't hold back in making clear that Roberts was completely out of control, as criminals can be when cornered:
The disorderly conduct charge came about when Roberts grew angry at being told she couldn't give her car keys to Alston. She slammed the keys into the police officer's hands and referred to him with an expletive [ "son of a bitch" — Dok ] according to police body-cam footage of the incident.
Let's see that again. We've cued the video to the moment of Roberts assaulting the Paw Patrol officer, kind of:
Honestly, she's lucky to be alive.
The Post doesn't appear to have asked either woman whether they've learned their lesson, but we doubt they have. Your cat people, they tend not to be dissuaded by mere authority, or even by a spray bottle.
Yr Wonkette is funded entirely by reader donations. Please give $5 or $10 a month to help us with expenses, like yarn and catnip.
 Do your Amazon shopping through this link, because reasons .